Photographer who captured moving pictures of a police officer playing with a refugee child describes moment
Claus Fisker photographed the interaction at the Danish-German border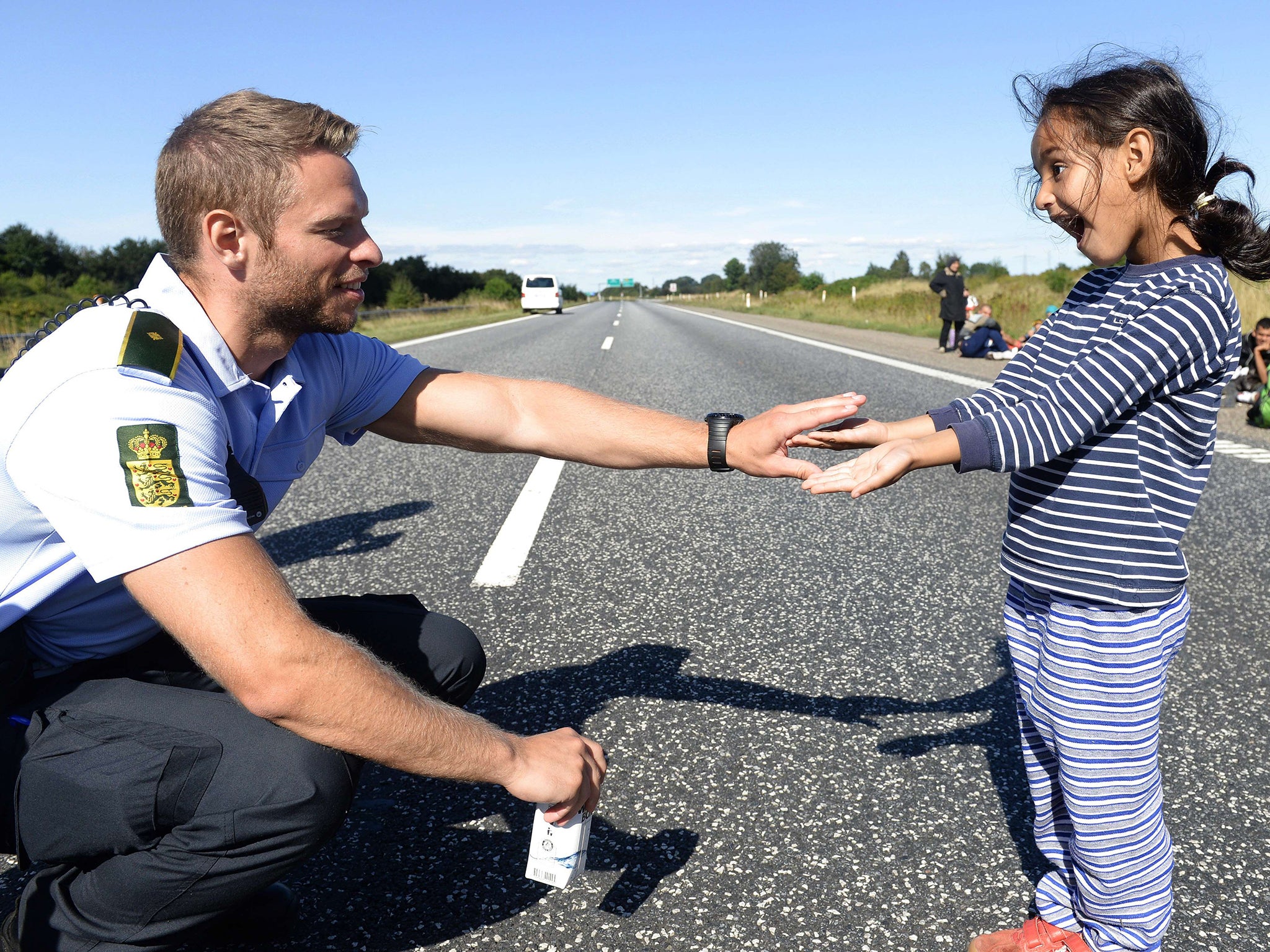 The photographer who captured the viral photo of a Danish police officer playing with a refugee girl has described it as a "touching moment to witness".
In an interview with Buzzfeed, Claus Fisker explained how he captured the interaction while photographing a group of around 300 refugees at the Danish-German border.
The group were at the frontier after Denmark closed its road and rail borders with Germany, preventing the group entering the country, so the refugees then walked along the E45 highway towards Sweden.
The photographs have been shared extensively on social media and forums such as Reddit.
Mr Fisker said the police officer and child "played together for a short while", with the officer hiding either his or his colleague's wedding ring in one of his hands and then encouraging the girl to guess which hand the ring was in.
"They both caught my eye because in all of this sad history, it reminded me that we must not say no to the people and children fleeing from war," Mr Fisker said.
The publishing of the photos came as it was revealed Denmark placed advertisements in Lebanese media with the aim of discouraging refugees from coming to the country.
Commenting on how his photographs went viral, Mr Fisker said he hopes they can "make a change", particularly in Denmark.
"The Danish government is under pressure — their policy is very hard on refugees — but these photos are being used by people in Denmark to encourage others to change their opinion," he said.
The police officer in the photos did not wish to reveal his identity to Danish press, reportedly saying he hoped the images would "tell the story on their own".
Join our commenting forum
Join thought-provoking conversations, follow other Independent readers and see their replies