Pilot helps mother feed babies on plane
Captain Tom Nystrom said the inclination came naturally to him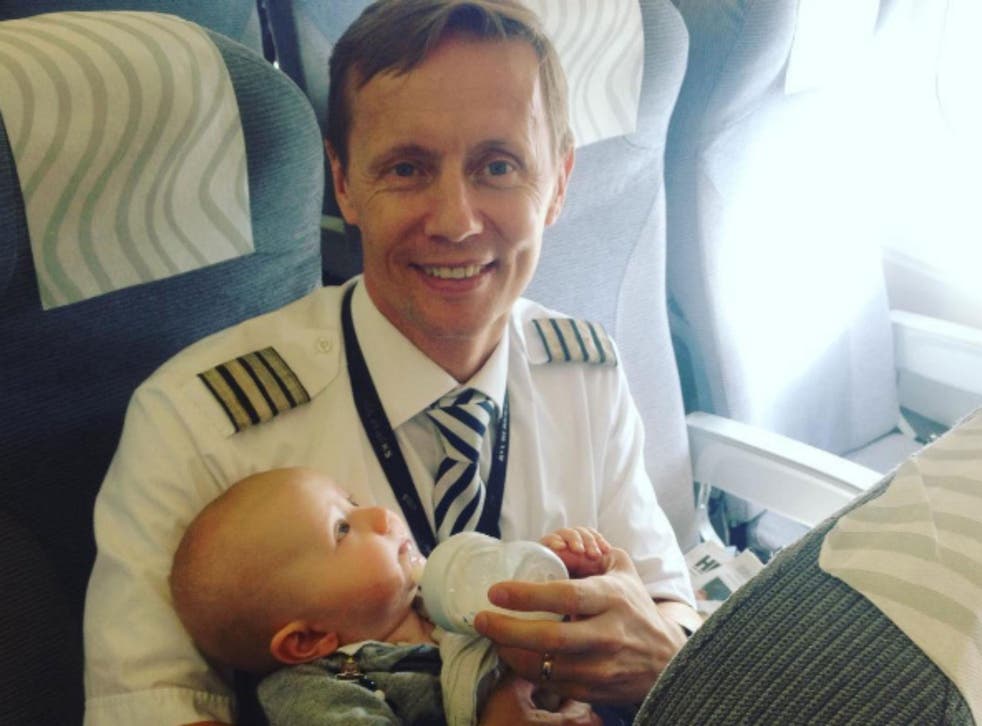 A pilot has been showered in praise after he helped a woman passenger to look after her children during a flight.
Captain Tom Nystrom, of Finnair, gave a helping hand after he saw that an overwhelmed mother had four young boys, two of which were babies needing a feed.
He offered to hold one of the babies on his lap and feed him the bottle.
"I have children of my own... so it came natural to me to help this customer with her babies," Mr Nystrom told Inside Edition.
When one child became fussy, he would hand the boy back to his mother and take another child instead.
A flight attendant on the plane, Ami Niemela, explained on Instagram how the rest of the crew also offered to pitch in.
"Naturally, one cannot travel with two babies on one's lap," she wrote on Instagram.
"So we had to solve the dilemma of [a] missing lap, otherwise it would have been a no-go for mom and the kids.
"Luckily we had our positioning crew on board and wonderful Tom took the task of being the extra lap."
The world's safest low-cost airlines

Show all 8
When she was at the Helsinki-Vantaa Airport, she shared a photo on the social media site of the baby and the smiling pilot.
The photo has been liked more than 1,000 times.
"Having strangers show you this kind of kindness during this stressful time means more than anyone can know," said one Instagram user.
"Acts of kindness, priceless," said another.
The airline was quick to jump on the positive publicity, tweeting the photo and an accompanying news story.
"Kudos to our purser @finami & pilot Tom! Story about a pilot looking after a baby is simply adorable," Finnair tweeted from its official account.
Ms Niemelä also gained attention when she posted a video of her colleagues singing to passengers and handing out chocolates aboard another flight.
The airline was awarded Best European Airline at the TTG China Travel Awards for the second consecutive year last month.

Register for free to continue reading
Registration is a free and easy way to support our truly independent journalism
By registering, you will also enjoy limited access to Premium articles, exclusive newsletters, commenting, and virtual events with our leading journalists
Already have an account? sign in
Register for free to continue reading
Registration is a free and easy way to support our truly independent journalism
By registering, you will also enjoy limited access to Premium articles, exclusive newsletters, commenting, and virtual events with our leading journalists
Already have an account? sign in
Join our new commenting forum
Join thought-provoking conversations, follow other Independent readers and see their replies