Pirate Party backed by almost half of Iceland's voters in poll following Panama Papers scandal
The Progressive Party's Sigmundur David Gunnlaugsson has stood down as Prime Minister for an 'unspecified amount of time'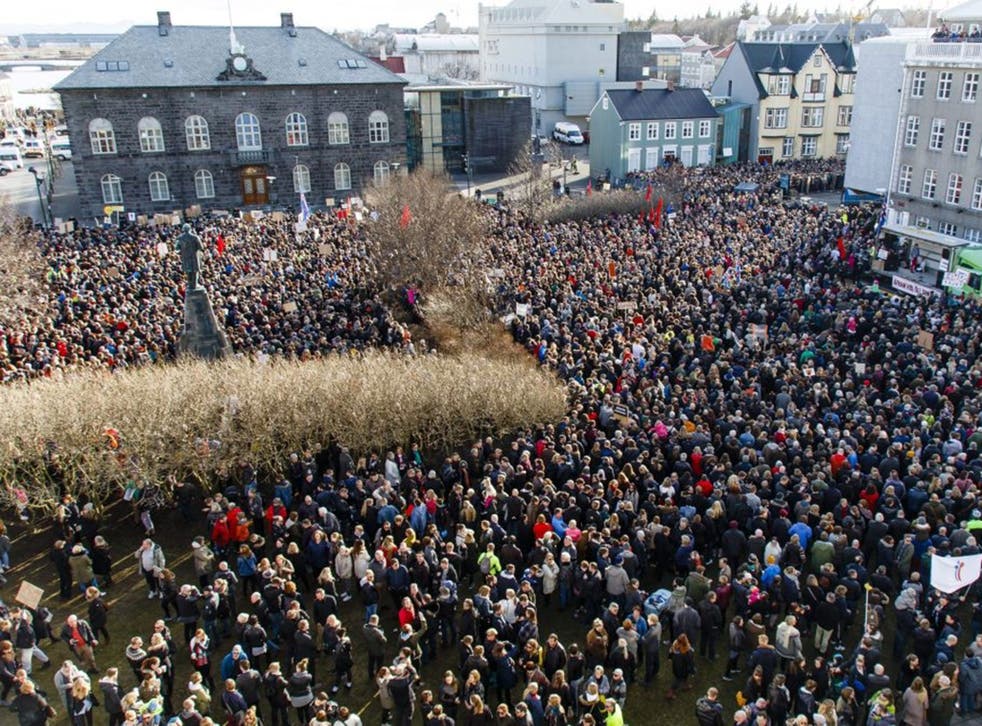 The Pirate Party would receive nearly half of voters' support if Iceland held a general election now, new statistics have revealed.
The anti-establishment party received 43 per cent of the vote according to research by Icelandic media organisations Fréttablaðið, Stöð 2 and Vísir.
The Progressive Party, currently in a coalition with the Independence Party, would only receive 7.9 per cent support, Iceland Monitor reports.
The rising popularity of the Pirate Party, which campaigns in favour of transparency and direct democracy, among people in Iceland is in response to the leak of the Panama Papers.
The documents from Panamanian law firm Mossack Fonseca reportedly revealed that Sigmundur David Gunnlaugsson, who stood aside as Prime Minister for an "unspecified amount of time" earlier this week, owned an offshore company in the British Virgin Islands with his wife.
Mr Gunnlaugsson did not declare Wintris, which held millions in the bonds of failed Icelandic banks, when he entered parliament, according to the International Consortium of Journalists. He has denied any wrongdoing and says he sold his shares in the company to his wife.
But MPs in the opposition have said it is a conflict of interest with his duties.
What are The Panama Papers?
The government has named Fisheries Minister Sigurdur Ingi Johannsson as Prime Minister and he is due to meet Iceland's president Olafur Ragnar Grimsson on Thursday.
However the opposition in planning on pursuing a vote of no confidence in the government in parliament.
Earlier, Pirate Party member Helgi Hrafn Gunnarsson said: "We will still push forward for a proposal to dissolve parliament and hold earlier elections."
Elections have now been brought forward to autumn.
World leaders linked to 'Panama Papers'

Show all 15
The Panama Papers has named a number of current and former world leaders who allegedly used the services of Mossack Fonesca. However, there is no suggestion that anyone named has done anything illegal.
Additional reporting by agencies
Register for free to continue reading
Registration is a free and easy way to support our truly independent journalism
By registering, you will also enjoy limited access to Premium articles, exclusive newsletters, commenting, and virtual events with our leading journalists
Already have an account? sign in
Register for free to continue reading
Registration is a free and easy way to support our truly independent journalism
By registering, you will also enjoy limited access to Premium articles, exclusive newsletters, commenting, and virtual events with our leading journalists
Already have an account? sign in
Join our new commenting forum
Join thought-provoking conversations, follow other Independent readers and see their replies