Podemos: Spain's anti-corruption party 'received illicit funding from Iran'
The El Confidencial news website claims the party received more than €5m through a Spanish TV station operated by an Iranian businessman and financed by the government in Tehran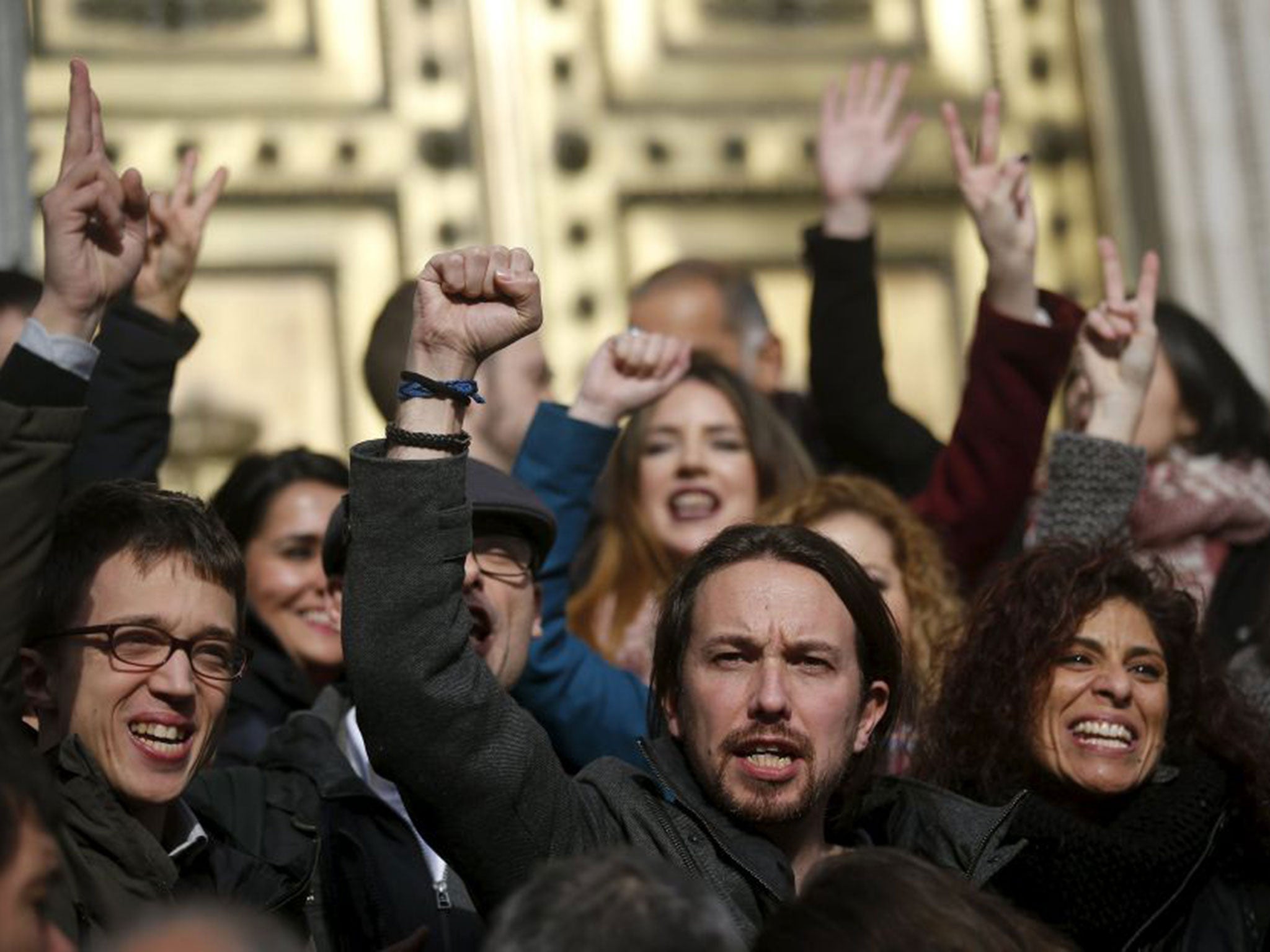 Podemos, the leftist party that emerged as the major success story in last month's indecisive Spanish general election, has been accused of receiving illicit funding from the Iranian government.
The party, which campaigned on a platform of combatting corruption and slowing the pace of crippling austerity, is reported to be under investigation by a division of the Spanish police that has previously looked into graft allegations against other political parties.
According to the El Confidencial news website, the party received more than €5m (£3.8m) through a Spanish television station, Hispan TV, which is operated by an Iranian businessman, Mahmoud Alizadeh Azimi, and financed by the Iranian government.
The website alleges that the money was paid by the Iranian businessman through a series of different countries, and via inflated invoices issued by Podemos for appearances by Pablo Iglesias, the leader of the party. Mr Iglesias has served as the host of a political talk show, Fort Apache, which is broadcast on the station. Mr Iglesias said he would be delighted to speak to officials at the Udef about the matter.
The reports appear to have been timed to cause maximum damage to the party, coming on the first day the Spanish parliament reconvened after the election.
It is illegal for Spanish parties to receive money from foreign governments. The allegations are potentially damaging for Podemos. Not only has the party tirelessly highlighted the corruption of its political opponents, but Spain's politicians could face another general election after last month's inconclusive vote. Podemos won 69 seats, finishing third, but i neither of the traditional big parties, the governing centre-right Popular Party (PP), and the leftist PSOE, won enough seats to form a majority in the 350-seat chamber.
The result has left Spanish politics in flux. The PSOE has ruled out joining a grand coalition with the PP, favouring instead a left-wing bloc like the one recently formed in neighbouring Portugal.
That grouping would necessarily include Podemos, but there is a major disagreement between the PSOE and Podemos over Catalonia. Podemos, which performed well in Catalonia, has promised a binding referendum on the region's independence, a policy that is an anathema to the PSOE.
The caretaker Prime Minister, Mariano Rajoy, earlier this week called for a coalition between his PP, the PSOE and the centrist, Ciudadanos, which finished fourth in the election. "We still think that any of the alliances required to form a new government are extremely unlikely, so we now see an 80 per cent probability that new elections will be called in the coming months," said Angel Talavera, of Oxford Economics.
Because the parties are so divided the Spanish king, Felipe, has not yet named a prime ministerial candidate who could command a majority in parliament.
Join our commenting forum
Join thought-provoking conversations, follow other Independent readers and see their replies