Polish police raid offices of feminist activists after abortion protests
'They are afraid of women's protest and want to find out all possible methods to devalue the Polish women's solidarity grassroot solidarity movement,' says leading campaigner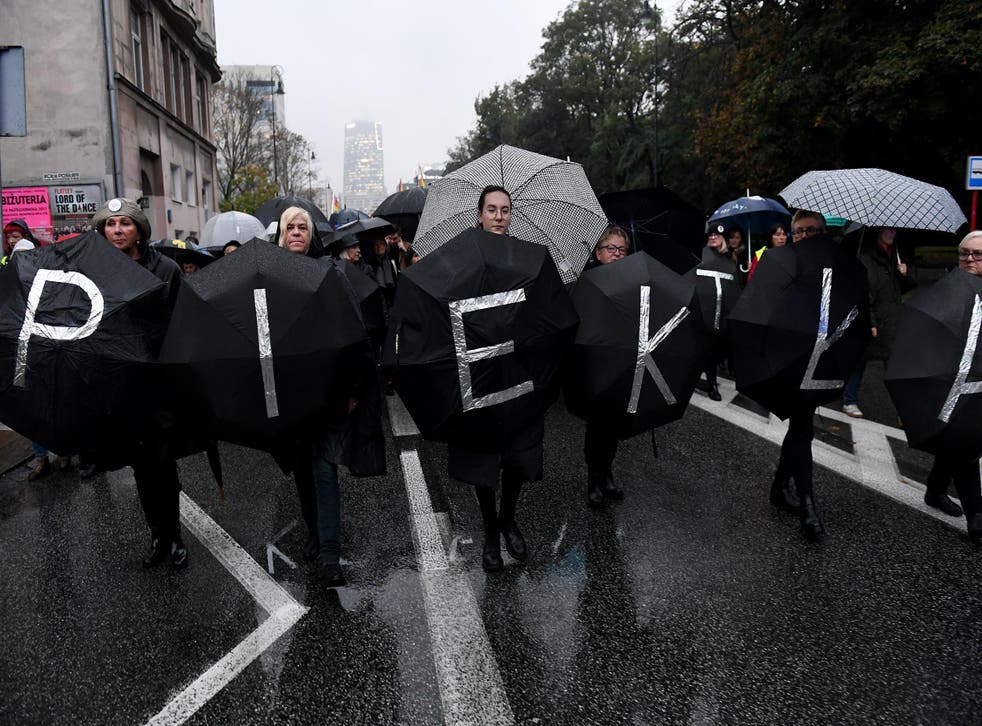 Women's rights groups in Poland have had their documents and computers seized in police raids which took place a day after thousands of activists marched against the country's restrictive abortion law.
The Women's Rights Centre, which works on a range of women's issues, and Baba, which helps domestic violence victims, had their offices in the cities of Warsaw, Lodz, Gdansk, and Zielona Gora invaded by police.
Both organisations took part in this week's anti-government protests marking the anniversary of the historic "Black Protest". The demonstration took place a year ago and saw people dressed in black come together to stop a plan in parliament for an almost total ban on abortion.
The activists have accused Polish authorities of attempting to intimidate them and said losing the files will obstruct the work they do.
"We have the impression they are afraid of women's protest and want to find out all possible methods to devalue the Polish women's grassroots solidarity movement," Krystyna Kacpura, the Executive Director at Poland Fed for Women & Family Planning, told The Independent.
"They also want us to be afraid of possible repression from the government's side. It started with women's NGOs working on violence against women and funded by the government in previous years."
World news in pictures

Show all 50
The organisations claim police informed them prosecutors were hunting for evidence in an investigation into suspected wrongdoing in the Justice Ministry which took place under the former government. The ministry was feeding funding to the women's groups at the time.
"They reassured us that the investigation concerned Ministry of Justice officers. We don't believe in this information because the raids occurred one day after women protested across Poland," Ms Kacpura said.
"We were shocked about the raids. Women's NGOs have nothing to hide but this operation stopped their work. They are not able to continue everyday important work for violated women and children."
She said women marched in front of the office of the Centre for Women's Rights on Friday to show that other NGOs are standing in solidarity with them.
Marta Lempart, the head of the Polish Women's Strike, which organised the protests, echoed the views of Ms Kacpura. She told Associated Press: "This is an abuse of power because, even if there is any suspicion of wrongdoing, an inquiry could be done in a way that doesn't affect the organisations' work".
Anita Kucharska-Dziedzic, who is the director of Baba, claimed police entered her office in Zielona Góra, which is in western Poland, at 9am on Wednesday and stayed there until 6pm working to remove files.
Kate Allen, Director of Amnesty International UK, said: "These heavy-handed police tactics amount to harassment of women's rights organisations. Coming a day after the protests against restrictive abortions laws, they risk silencing the discussion on abortion rights in Poland."
She added: "These raids targeted four organisations that provide support to women and girls, including victims of domestic violence. Confiscation of hard drives and computers with personal data appears punitive towards these organisations that openly supported the protest on Tuesday."
Prosecutors hit back at the accusations levied against them, claiming the fact the raids took place a day after the protests was merely coincidental.
The ruling Law and Justice party is founded on a socially conservative, Catholic ideology and has pursued a restrictive agenda with regards to female reproductive rights.
For instance, the morning after pill is no longer prescription-free because the minister of health, Konstanty Radziwiłł, raised concerns teenage girls would use it on a daily basis. The same minister also claimed that as a doctor he would not even prescribe the pill to a woman who had been raped, citing the conscience clause in defence.
In Poland abortion is illegal except in cases of rape or when a female's life is at risk or if the fetus is irreparably damaged. As such, women's rights activists took to the street this week to express their frustration at the fact abortion was still illegal in most cases and demand a radical overhaul of the country's laws.
In October 2016, legislation was proposed to completely outlaw abortion overall. The plans prompted around 30,000 people to assemble despite awful weather in Warsaw's Castle Square, chanting "We want doctors, not missionaries!".
The far-reaching protests were successful and triggered lawmakers to vote against the restrictive new law just three days afterwards. The eastern European country is one of the few countries in the world to outlaw abortion following decades of total legalisation.
Join our new commenting forum
Join thought-provoking conversations, follow other Independent readers and see their replies