Poland independence day: Far-right march banned over fears of violence
'This is not how the celebrations should look,' says Hanna Gronkiewicz-Waltz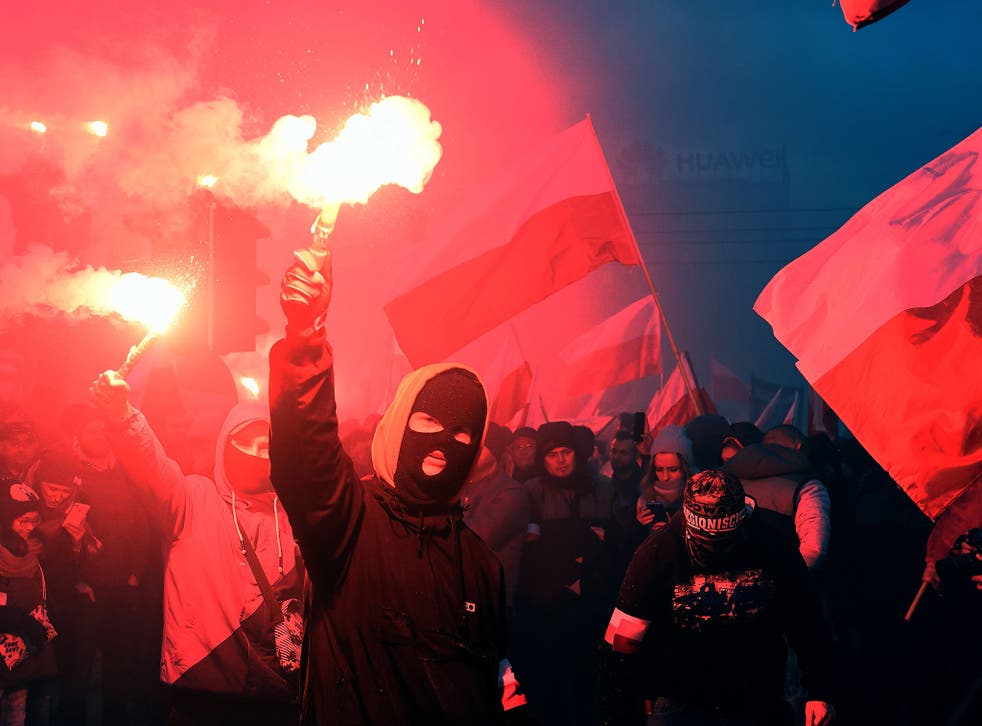 A Polish nationalist march has been banned in Warsaw by the mayor, who cited a risk of violence and hate speech.
One of the extreme right nationalist groups who were planning the annual demonstration to mark the centennial of Poland's independence vowed to defy the ban.
Tensions have previously run high at the rally, with far-right demonstrators involved in violence with counter protesters.
Polish leaders are planning a more inclusive march for citizens, marking a significant U-turn for the populist government, which has been trying to court far-right voters.
Fascists march in Poland in one of world's largest far-right gatherings
Warsaw authorities had faced the prospect of international criticism over the protest, which has previously drawn tens of thousands to the capital, with some demonstrators carrying white supremacist and Islamophobic banners.
Members of the European Parliament called the participants "fascists" last year, angering some in the Polish government, who said most people marched without the racist banners.
Mayor Hanna Gronkiewicz-Waltz told a news conference: "This is not how the celebrations should look on the 100th anniversary of regaining our independence.
"Warsaw has suffered enough because of aggressive nationalism."
She noted that the chief organiser of the Warsaw march is a leader of the National Radical Camp, which is rooted in an antisemitic movement of the 1930s. She said she has asked the government to outlaw it but has been ignored.
President Andrzej Duda and Prime Minister Mateusz Morawiecki met after the mayor's announcement and announced that a government-organised march would take place in Warsaw on Sunday instead.
Presidential spokesman Blazej Spychalski invited all Poles to march with national flags to show that "we are one white-and-red team", a reference to the flag's colours.
The government had held failed talks earlier with the nationalists, hoping to make their march a state event, but organisers refused the government's demand that marchers could carry flags only and no banners, Mr Morawiecki said.
The annual rally in the capital on 11 November commemorates Poland's rebirth as a nation in 1918 after being wiped off the map for 123 years.
World news in pictures

Show all 50
Polish Independence Day celebrates the country regaining its sovereignty at the end of World War I, after being partitioned and ruled since the late 18th century by Russia, Prussia and the Austro-Hungarian Empire.
Poland has seen a surge in nationalist thinking and activity since the collapse of communism, following years of living behind the Iron Curtain.
Additional reporting by Associated Press and Reuters
Join our new commenting forum
Join thought-provoking conversations, follow other Independent readers and see their replies