Woman who added LGBT+ rainbow halos to picture of Virgin Mary and Jesus could be jailed
'Targeting an activist over an artwork is one more ruthless tactic by the Law and Justice party to demonise LGBT rights and gender equality,' says Human Rights Watch researcher
Maya Oppenheim
Women's Correspondent
Wednesday 08 May 2019 16:34 Comments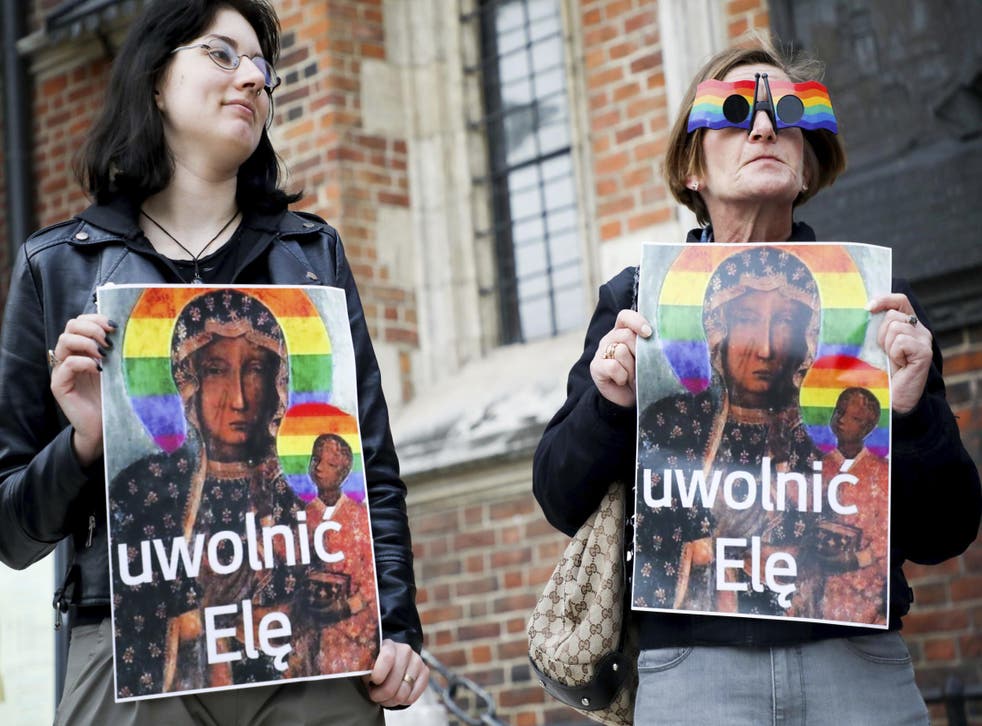 A woman in Poland could face two years in prison for putting up posters of the country's most revered Catholic icon with the LGBT+ rainbow on the halos of Mary and baby Jesus.
Police claim that Elzbieta Podlesna, a 51-year-old activist, put up the posters of the Black Madonna that showed the Virgin Mary and Jesus with rainbows from the LGBT+ flag as the halos, in the small city of Plock.
They say they found even more posters when they searched her car and home.
The incident has sparked outrage among rights organisations and about 300 people – with a giant rainbow flag and holding posters of the altered icon – listened to speeches from human rights activists at a protest in the Polish capital of Warsaw on Monday.
Human Rights Watch says the incident is the latest attempt by Polish authorities to target LGBT+ and gender equality activists. But government officials allege the work is blasphemous and are opposed to its presumed link to LGBT+ rights and gender equality.
World news in pictures

Show all 50
Amnesty International said the police searched Ms Podlesna's home and arrested her after she came back from a trip abroad with them. Police are said to have seized her laptop, mobile phone and memory cards during the search and reportedly asked for CCTV camera footage from her building.
Prosecutors are charging Ms Podlesna, who was held and questioned by police for several hours, with offending religious feelings. She faces up to two years in prison if found guilty.
"Targeting an activist over an artwork is one more ruthless tactic by the Law and Justice party to demonise LGBT+ rights and gender equality," Hillary Margolis, a women's rights researcher at Human Rights Watch, said.
She added: "The government claims to be protecting religion and Polish values, but in reality, it is targeting its own citizens and denying their basic rights. Perpetuating the notion that gender equality and LGBT+ rights threaten Polish society doesn't protect anyone – it only feeds dangerous intolerance, homophobia and misogyny."
The organisation said that Ms Podlesna is an independent activist and was one of 14 women attacked by far-right protesters after the women held up a banner reading "Stop Fascism" at an Independence Day March in Warsaw in 2017. Far-right protesters were marching with racist and fascist symbols and slogans such as "White Poland".
On Tuesday, European Council president Donald Tusk, who was in his native Poland, said the Polish authorities' harsh reaction was "inconceivable".
Ms Podlesna defended her actions on local Polish TV, saying: "This is certainly not an attack on religion, certainly not an attack on faith, this is not a form of attack."
She added: "How can you attack anyone using a picture, let's be serious."
The image of the Virgin Mary in the artwork is known as the Black Madonna of Czestochowa. The painting, which is located in Jasna Gora Monastery in southern Poland, is deemed to be a religious icon by many Catholics.
"No whim of freedom and 'tolerance' gives anyone the right to offend the feelings of believers," Polish interior minister Joachim Brudzinski said on Twitter.
Ms Podlesna was detained for her "peaceful activism", Amnesty International said. "Restricting activists from freely expressing their views in the country is unlawful and must stop immediately," the organisation said.
The ruling right-wing Law and Justice party has described the LGBT+ rights movement as a danger to Polish families and children in recent weeks.
A Human Rights Watch report from February documented attempts by Poland's government to roll back women's rights since Law and Justice came to power in 2015 – including via smear campaigns, public rhetoric, systematic defunding and other forms of attack on women's rights organisations and activists.
The study warned the tactics are putting women's rights and safety at grave risk – saying the government's overt disdain for women's rights and failure to counter misinformation campaigns has cultivated a climate of fear among campaigners.
The purported clampdown on women's rights campaigners is taking place in a climate of restrictive reproductive policies for women in Poland, which has one of the most strict abortion laws in Europe.
In Poland, abortion is illegal except in cases of rape or when a female's life is at risk or if the foetus is irreparably damaged.
Under the Law and Justice government, access to the morning-after pill, which has been rebranded "the early abortion pill", has also been restricted since July 2017 with the introduction of a requirement for a prescription for emergency contraception.
Register for free to continue reading
Registration is a free and easy way to support our truly independent journalism
By registering, you will also enjoy limited access to Premium articles, exclusive newsletters, commenting, and virtual events with our leading journalists
Already have an account? sign in
Register for free to continue reading
Registration is a free and easy way to support our truly independent journalism
By registering, you will also enjoy limited access to Premium articles, exclusive newsletters, commenting, and virtual events with our leading journalists
Already have an account? sign in
Join our new commenting forum
Join thought-provoking conversations, follow other Independent readers and see their replies