Poland's Prime Minister says country will accept no refugees as EU threatens legal action over quotas
Right-wing government holding ground after reversing commitment to resettle thousands of migrants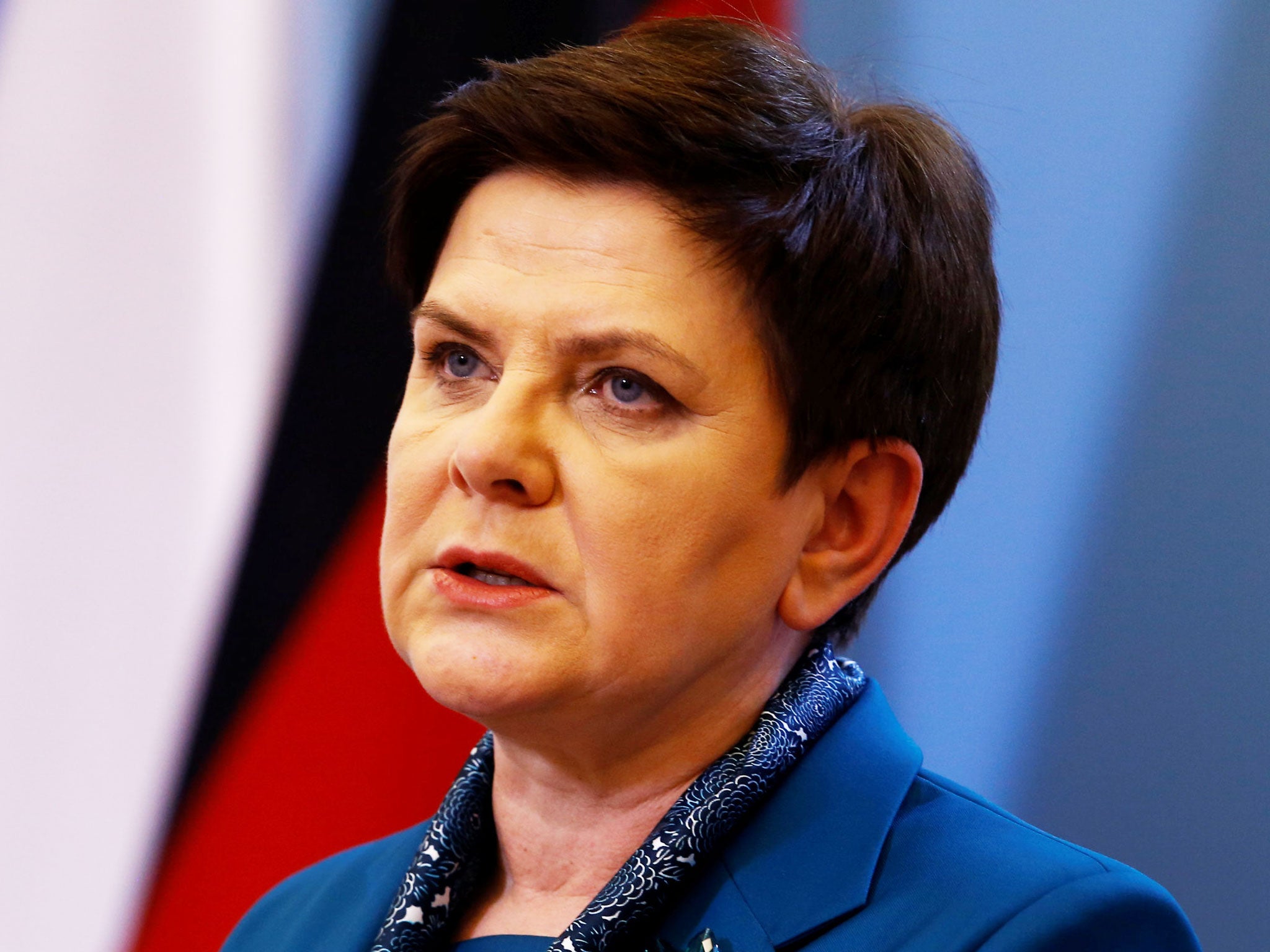 Poland's Prime Minister has claimed the country "cannot accept refugees" as the EU threatens legal action against nations failing to comply with quotas.
Alongside Hungary and Austria, it is one of only three countries not to have relocated a single refugee, "in breach of their legal obligations" and commitments.
"This cannot be the responsibility of just a few member states – this must be shared be all," said Dimitris Avramopoulos, the European Commissioner for migration.
But Prime Minister Beata Szydło told a press conference there had been no formal agreement to compulsory quotas, which Hungary and Poland voted against.
"A critical attitude towards the mechanism of migrant relocation is becoming increasingly widespread in the European Union," she claimed, according to a translation by state broadcaster Poland Radio.
"Poland cannot accept refugees."
Austria has finally pledged to accept eligible asylum seekers from Italy, but the EU has warned Poland and Hungary that they have until June to start accepting refugees or face sanctions.
"I call on Poland and Hungary who have not relocated a single person ... to start doing so right now," Mr Avramopoulos told reporters.
"If no action is taken by them before the next report in June, the Commission will not hesitate to make use of its powers under the treaties and to open infringement procedures."
In September 2015, EU states committed to relocating up to 160,000 refugees from overcrowded camps in Greece and Italy countries within two years – later lowering the target - but the total is on track to hit less than 40,000 by its deadline.
But fewer than 18,500 people have been resettled so far and while Poland has been assigned 6,200 refugees, none have been admitted.
The country committed to taking in up to 10,000 migrants at the start of the crisis but after winning the 2015 elections, the populist Law and Justice party (PiS) reversed the decision.
Mariusz Blaszczak, the interior minister, stuck by the position on Wednesday despite the EU's warnings.
Refugee crisis - in pictures
Show all 27
Claiming that accepting migrants would have "certainly been worse for Poland" than facing EU action, he told state radio that the "security of Poland and of the Poles" was at stake and drew a link to terror attacks in Europe.
At a meeting on Tuesday, 28 European ministers told EU Commission Vice President Frans Timmermans to increase efforts to bring Warsaw in line on what many see as weakening democratic standards in Poland.
"Dialogue is the only really constructive way we can solve this problem," he said, amid concern over steps taken by the PiS to reduce the Constitutional Tribunal's ability to check executive power.
Amnesty International accused the Polish government of "trampling over the EU's founding principles" and urged the EU to take action.
The disputes come amid record deaths in the Mediterranean Sea, where more than 1,300 people have drowned attempting to reach Europe this year.
While crossings to Greece have plummeted since the controversial EU-Turkey deal, the number of migrants arriving in Italy has continued to rise, seeing almost 13,000 people disembark last month alone.
Asylum seekers trapped in squalid camps have killed themselves amid increasing desperation, as charities warn of attempted suicide, rape, sexual abuse and prostitution.
Join our commenting forum
Join thought-provoking conversations, follow other Independent readers and see their replies