International Women's Day: Lithuanian police surprise female drivers with flowers to celebrate annual event
'When noticing the tulips held by the officers women are pleasantly amazed,' force says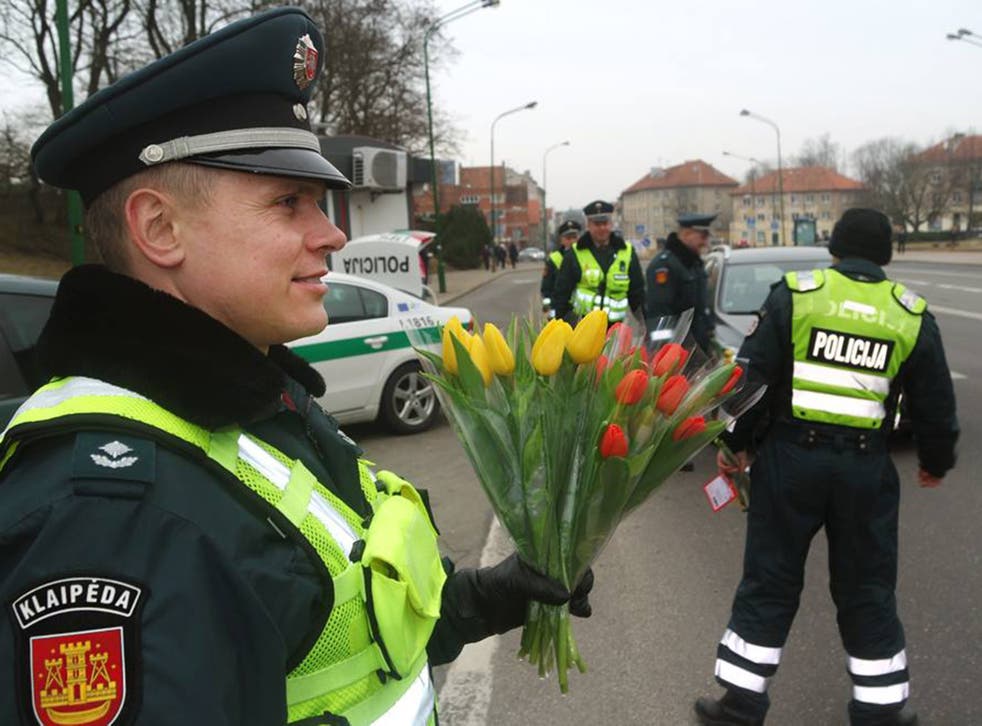 Police in Lithuania took to the streets to spread a little love and appreciation to mark International Women's Day.
Rather than pulling women over to give them tickets or fines, the policemen were instead handing out bunches of flowers to celebrate the annual event.
The country's police force has been doing this for several years now, and although some suggest officers could be spending their time and resources more effectively - or claim the gesture is sexist - most responses have been positive.
A spokesperson for the Lithuanian Police told the Independent: "Benevolent and smiling police officers stop the vehicles driven by women, but instead of checking their documents, they congratulate every woman behind the wheel and present blooming tulips – the symbols of arriving spring – and wish them a pleasant and safe journey.
Lithuanian police hand out flowers on International Women's Day

Show all 8
"When noticing the tulips held by the officers women are pleasantly amazed, many of them express their gratitude to the police officers for the wonderful surprise, joyful mood and the attention shown, wishing officers the best of luck in their work.
"Women claim that such encounters with the police officers should be more frequent."
Police officers posted pictures of themselves in action on the official Lithuanian Police Facebook page, receiving nearly 10,000 likes and more than 1,500 shares.
Among the comments, Loretta Reid said: "I think it is lovely. Made me cry with joy."
Chamomile MK wrote: "Thank you for the flowers, they were very nice and put me in a good mood all day!"
Another user, Gintare Kelertaitė, said: "It is very nice and fun to see how many women and girls today smiled thanks to the police!"
Join our new commenting forum
Join thought-provoking conversations, follow other Independent readers and see their replies