Police sent in after four nights of clashes between rival gangs in France
Officials describe unrest as a 'settling of scores' after Chechen teenager attacked by drug dealers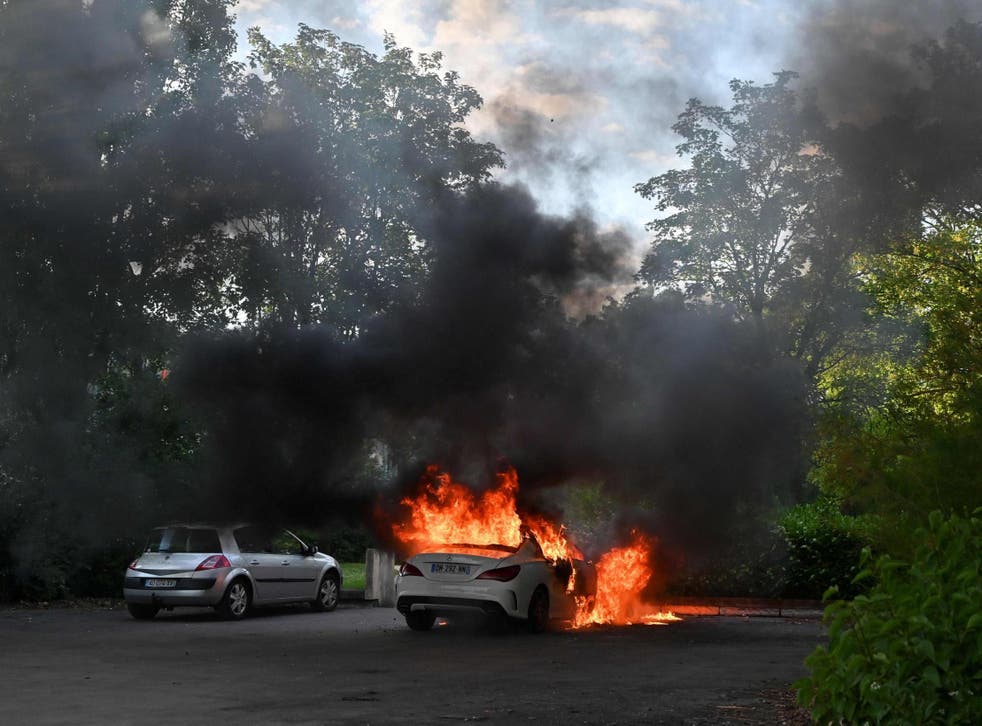 Armed police were sent in to quell violence after a fourth consecutive night of clashes between rival gangs in eastern France.
Unrest began in Dijon on Friday, when police said around 100 Chechen youths from across France descended on the city to avenge an attack on a Chechen teenager by local drug dealers.
Several dozen police officers were called to respond after unrest flared up again late on Monday. At least 10 people have been injured during the disorder.
Images from BFM television showed two cars and several rubbish bins on fire, as black smoke rose over the neighbourhood. Young people wearing hoods and masks carried metal bars or bats as they roamed the area, and a makeshift gasoline bomb in a plastic bottle lay on the pavement.
As a result of the situation, Laurent Nunez, France's interior security minister, is due to arrive in the area on Tuesday.
Local prefect Bernard Schmeltz said the clashes were "a settling of scores" between the Chenchen community and residents in Gresilles, a low-income neighbourhood with a heavily north African immigrant population.
Dijon prosecutor, Eric Mathias, told regional radio news station France Bleu he had opened an investigation into attempted murder by an organised group and incitement to violence.
Mr Mathias said some Chechens had allegedly used social media to issue a France-wide call for retaliation against the Maghreb community in Gresilles.
After violence broke out on the weekend, videos emerged online purporting to show a group of men with handguns or knives in the suburbs of Dijon.
Stephan Ragonneau, regional secretary of the national Alliance Police union, described the gang who had gathered in the city as "very mobile, very organised, armed [and] hooded".
"It would have been dangerous to intervene [earlier]," Mr Ragonneau added. "If it had kicked off, there would have been shooting everywhere. There would certainly have been injuries, deaths."
Francois Rebsamen, the mayor of Dijon, said: "We're no longer in a [functioning] Republic when that is how things play out."
In a statement released on Monday on Twitter, the local police said: "The events of the last few days in the Gresilles district of Dijon, where there had been gatherings of youths which had led to vehicles and dustbins set on fire, only leads to more insecurity and worries for the local population, following on from the events of the weekend."
The force added that more reinforcements would be called on if needed.
The situation in Dijon comes amid a recent wave of violence on estates across France, including clashes in the past week in the southern city of Nice, which the mayor attributed to tensions over drug territory between local Chechen residents and their rivals. Four people were reported injured there.
Additional reporting from agencies
Register for free to continue reading
Registration is a free and easy way to support our truly independent journalism
By registering, you will also enjoy limited access to Premium articles, exclusive newsletters, commenting, and virtual events with our leading journalists
Already have an account? sign in
Register for free to continue reading
Registration is a free and easy way to support our truly independent journalism
By registering, you will also enjoy limited access to Premium articles, exclusive newsletters, commenting, and virtual events with our leading journalists
Already have an account? sign in
Join our new commenting forum
Join thought-provoking conversations, follow other Independent readers and see their replies