Polish magazine causes outrage with cover showing white woman being sexually attacked by 'migrants'
'wSieci' features the image of a white woman, draped with the European Union flag, screaming as she is being groped and assaulted by dark skinned male arms
Kirsty Major
Wednesday 17 February 2016 16:56 Comments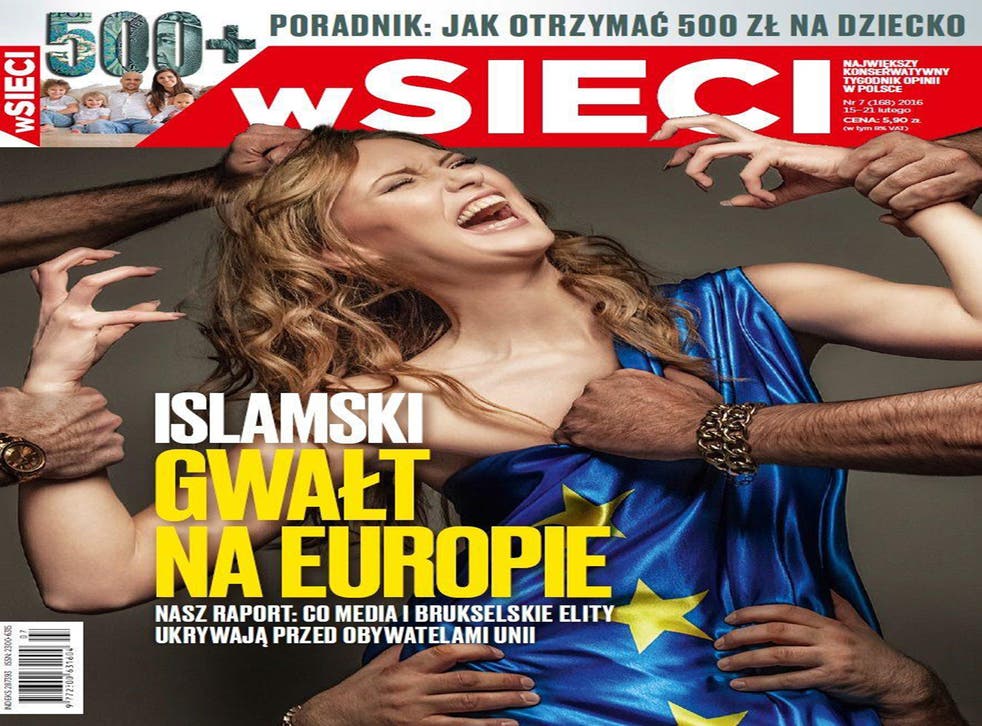 The right-wing Polish weekly magazine wSieci (The Network) has caused outrage with its latest front cover.
The publication features the image of a white woman, draped with the European Union flag, screaming as she is being groped and assaulted by dark skinned male arms.
Twitter users have compared the images with fascist propaganda in Nazi Germany and Mussolini's Italy, which used images of women being attacked by Jewish and North African men.
The image is a reference to the sexual assaults that have been claimed to have been perpetrated by migrant and refugee men against European women.
The 1,000 reports of theft, sexual assault and rape of women at Cologne's central train station on New Year's Eve led to calls for stronger immigration controls.
NYE celebrations in Cologne
Recent news has revealed that only three of the 58 suspects arrested in connection with the attack were refugees from Iraq or Syria.
The magazine headline reads "Islamic Rape Of Europe".
The newsstand blurb states that the edition will uncover the issues which the media and Brussels are hiding from the citizens of the European Union.
Germany reacts to Cologne New Year's Eve attacks

Show all 13
In the cover article, writer Aleksandra Rybinska states that issues with migration are the result of an unavoidable clash of civilisations between Islam and Christianity.
He believes that whilst Muslims are actively promoting this war, Europeans are engineering their own downfall by ignoring the negative impacts of multiculturalism.
Quoting historian Arnold Toynbee, he writes: "Civilisations die from suicide, not by murder".
Other articles in the magazine include "Does Europe Want to Commit Suicide" and "The Hell of Europe".
The news comes after Poland's government - alongside Czech Republic, Hungary and Slovakia - stated that they will support Balkan countries to seal their borders with Greece in order to stem the flow of migrants and refugees.
wSieci has a track record of controversial front covers, one depicting Angela Merkel as Mother Theresa and another portraying their then Prime Minister Ewa Kopacz wearing a burqa and carrying bombs.
Register for free to continue reading
Registration is a free and easy way to support our truly independent journalism
By registering, you will also enjoy limited access to Premium articles, exclusive newsletters, commenting, and virtual events with our leading journalists
Already have an account? sign in
Join our new commenting forum
Join thought-provoking conversations, follow other Independent readers and see their replies