Pope Benedict XVI resigned 'for the good of the church'
85-year-old German cleric received standing ovation from faithful at the Vatican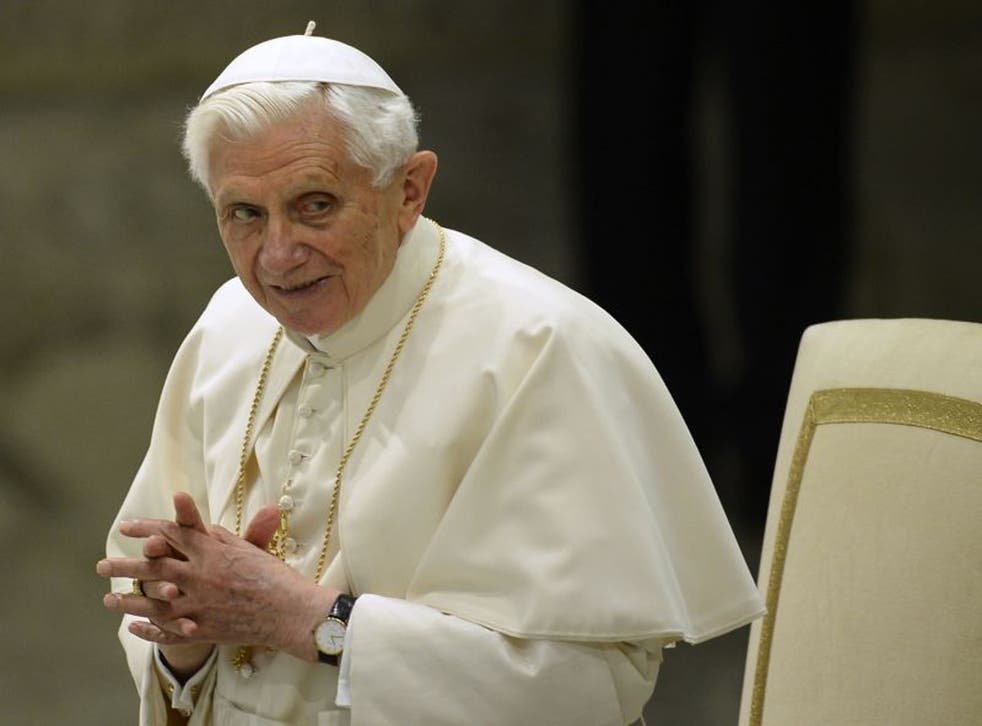 Benedict XVI has made his first public appearance since his shock announcement earlier this week that he will abdicate.
Addressing thousands of faithful in his weekly audience hall meeting in the Vatican this morning, the Pope said he was stepping down "for the good of the church".
As the 85-year-old German cleric walked into the chamber he received a standing ovation with many of those present bursting into tears. A huge banner reading "Grazie Santita" (Thank you Your Holiness) was strung up at the back of the hall.
Although he looked frail and spoke in soft tones, the Pope was clearly overwhelmed with joy at the response he had received from the crowds. On Monday Benedict opted to announce his resignation in Latin, but for today's weekly audience he switched to the more accessible Italian. But the message he gave was the same – that old age and a lack of energy meant there was simply no point continuing in a job that he believes a younger successor could do more successfully.
"As you know, I have decided to renounce the ministry that the Lord gave to me on April 19, 2005," he said, to applause. "I did this in full liberty for the good of the church."
Benedict's resignation speech on Monday sent shockwaves around the world. No Pope has given up the papacy for the last 600 years. But Benedict had previously been on record that Pope's who struggle to do their job should consider stepping down.
During his time in the Vatican, the then Cardinal Joseph Ratzinger witnessed first-hand the physical deterioration of his predecessor John Paul II and analysts say that experience helped forged his opinion that Pope's should not carry on to the end if they cease to be able to do their jobs.
He will remain in the Vatican and his older brother George has insisted that Benedict will play no part in deciding his successor.
This morning's audience was the start of a busy day for Benedict: he will also preside over Ash Wednesday services to mark the official start of the Catholic Church's Lenten season. The service is usually held in a church on Rome's Aventine hill, but was moved at the last minute to St Peter's Basilica to accommodate the crowds, although it will also spare the pope the usual procession to the church.
The Vatican insisted no serious medical ailment was behind Benedict's decision to retire, though it admitted for the first time yesterday that he has had a pacemaker for years and recently had it replaced.
The move sets the stage for a conclave by mid-March to elect a new pope. Benedict's final general audience will be held February 27.
Register for free to continue reading
Registration is a free and easy way to support our truly independent journalism
By registering, you will also enjoy limited access to Premium articles, exclusive newsletters, commenting, and virtual events with our leading journalists
Already have an account? sign in
Register for free to continue reading
Registration is a free and easy way to support our truly independent journalism
By registering, you will also enjoy limited access to Premium articles, exclusive newsletters, commenting, and virtual events with our leading journalists
Already have an account? sign in
Join our new commenting forum
Join thought-provoking conversations, follow other Independent readers and see their replies