Pope Francis becomes 'SuperPope' in Vatican-approved graffiti
Christopher Hooton
Wednesday 29 January 2014 10:14 Comments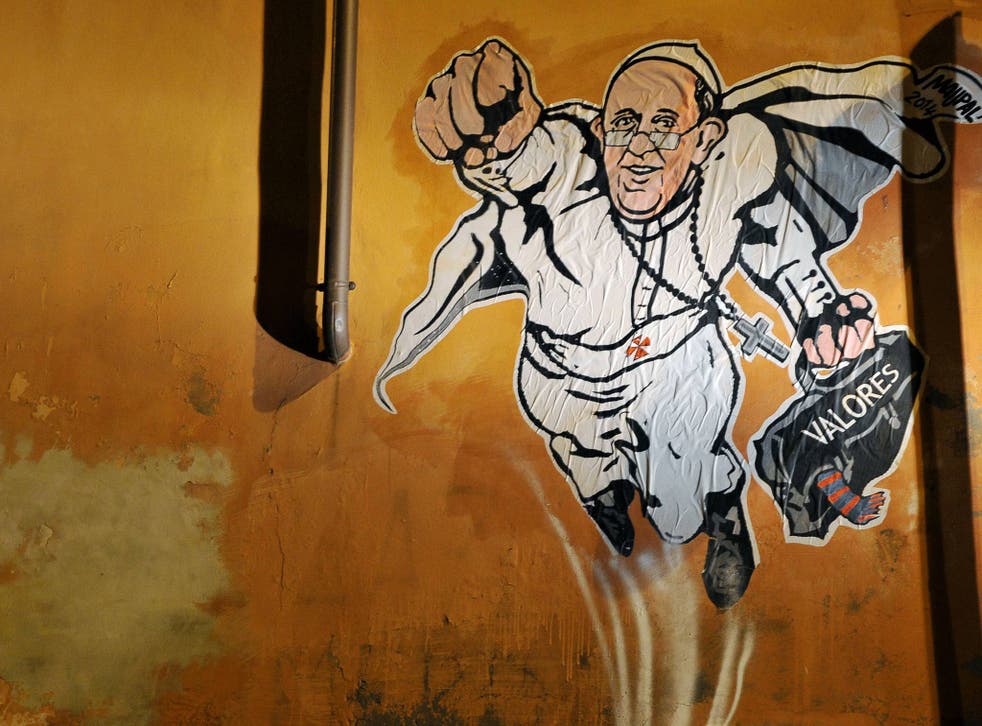 Not content with being Time's Person of the Year and scoring a Rolling Stone cover, Pope Francis has now achieved superhero status, at least in the eyes of graffiti artist Maupal.
Pope Francis is depicted soaring into the sky, fist outstretched and crucifix swinging in the wind, on a wall of the Borgo Pio district near St. Peter's Square in Rome, complete with a white cape and a satchel branded with 'valores', the Spanish word for values.
The graffiti mural, being dubbed 'SuperPope', was spotted on Tuesday and is the work of Italian street artist Maupal.
It came with the approval of the Vatican communications office, which posted a photo of it on Twitter.
Pope Francis has been credited with transforming the Church's fortunes during his brief tenure, thanks to his message of helping the poor and vowing to crack down on Vatican corruption, culminating in Time naming him their Person of the Year and Rolling Stone featuring him on their latest front cover.
He is the first pontiff to front the rock magazine, with contributing editor Mark Binelli writing in the edition: "In less than a year since his papacy began, Pope Francis has done much to separate himself from past popes and establish himself as a people's pope."
Register for free to continue reading
Registration is a free and easy way to support our truly independent journalism
By registering, you will also enjoy limited access to Premium articles, exclusive newsletters, commenting, and virtual events with our leading journalists
Already have an account? sign in
Join our new commenting forum
Join thought-provoking conversations, follow other Independent readers and see their replies