Pope Francis invites new mothers to breastfeed in the Sistine Chapel during baptism ceremony
'Breastfeed them. Don't be afraid, because this too is the language of love,' pontiff tells parents of newborns at service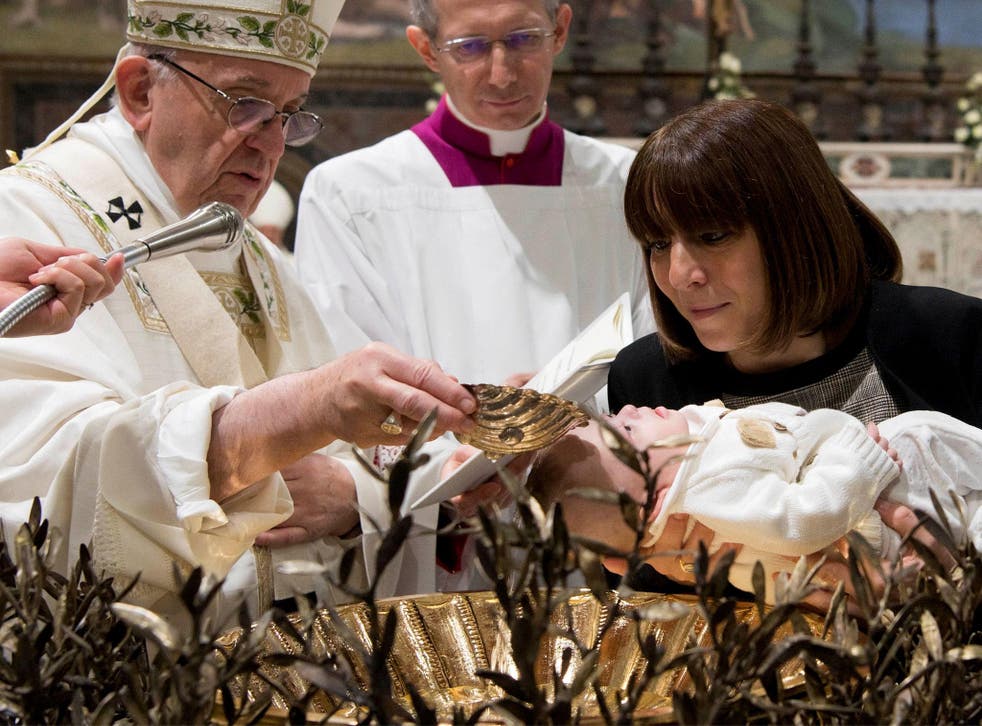 Pope Francis told new mothers they should feel free to breastfeed their babies in the Sistine Chapel if they felt hungry.
The pope baptised 34 infants during in a ceremony that lasted more than two hours at the Vatican on Sunday and told their mothers to feel free to breastfeed.
He told women taking part in the service not to be afraid of breastfeeding their children in the chapel, describing the act as "the language of love".
In an short, improvised homily, the pope said: "If they start performing a concert [by crying], or if they are uncomfortable or too warm or don't feel at ease or are hungry, breastfeed them.
"Don't be afraid, feed them, because this too is the language of love."
During the ceremony that lasted more than two hours, Francis baptised 18 girls and 16 boys, including two pairs of twins.
The Argentine has made similar comments in past ceremonies, including a baptism service in January 2017.
Pope Francis gives life advice: in pictures

Show all 10
Television pictures showed at least one mother bottle-feeding her child.
Women still face harassment for breastfeeding in public in some countries.
The papal baptism is a yearly event restricted to children of employees of the Vatican or the diocese of Rome. Francis is also bishop of the Italian capital.
Press Association
Register for free to continue reading
Registration is a free and easy way to support our truly independent journalism
By registering, you will also enjoy limited access to Premium articles, exclusive newsletters, commenting, and virtual events with our leading journalists
Already have an account? sign in
Register for free to continue reading
Registration is a free and easy way to support our truly independent journalism
By registering, you will also enjoy limited access to Premium articles, exclusive newsletters, commenting, and virtual events with our leading journalists
Already have an account? sign in
Join our new commenting forum
Join thought-provoking conversations, follow other Independent readers and see their replies