Pope Francis accused of 'defensive, recycled rhetoric' on child sex abuse as Vatican summit concludes
'As the world's Catholics cry out for change, he instead provides tepid promises we've heard before'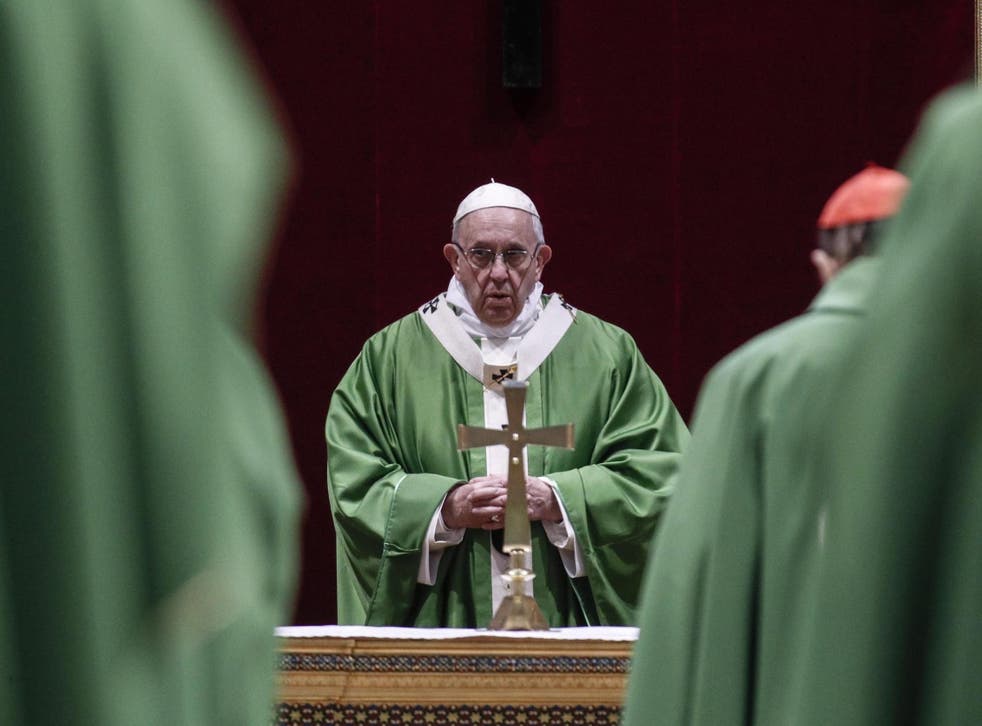 Pope Francis has been accused of recycling "tepid promises" as he closed a summit that was held to combat sexual abuse in the Catholic Church.
The pontiff spoke in front of nearly 200 senior church figures on Sunday, at the conclusion of the landmark meeting in Rome.
He promised to wage an "all-out battle" against sexual abuse in the institution, by confronting attackers with the "wrath of God" until the crime was "erased from the face of the Earth".
Despite his rhetoric, campaigners were angered after the pope spent more than half an hour discussing statistics that showed the majority of sexual abuse of children takes place in families.
"We are thus facing a universal problem, tragically present almost everywhere and affecting everyone," Francis said.
World news in pictures

Show all 50
"We need to be clear that, while gravely affecting our societies as a whole, this evil is in no way less monstrous when it takes place within the Church."
Francis claimed child abuse was in fact more scandalous when it was perpetrated within the Church because it did not fit with its moral authority and ethical credibility.
Anne Barrett-Doyle, from the clergy abuse tracking group bishopaccountability.org, called the speech a stunning letdown.
"As the world's Catholics cry out for concrete change, the pope instead provides tepid promises, all of which we've heard before," she said in a statement.
"Especially distressing was the pope's familiar rationalisation that abuse happens in all sectors of society ... we needed him to offer a bold and decisive plan.
"He gave us instead defensive, recycled rhetoric."
Peter Isely, of the victim advocacy group Ending Clergy Abuse, said the pontiff did not go far enough. "There is nothing in his remarks about releasing documents that demonstrate the truth of how they are and have been covering up child sex crimes," he said.
One of the pope's closest advisers had previously told the conference that "files that could have documented the terrible deeds and named those responsible were destroyed or not even created". Proper procedure was deliberately not complied with in some past abuse cases, Cardinal Reinhard Marx said on Saturday, according to CNN.
In his closing remarks Francis promised new policies to tackle abuse. He said that national guidelines on preventing and punishing the crimes would be strengthened and the church's official definition of minors, in cases of possession by clergy of pornography, would be raised from the current age of 14.
The Vatican also said it would issue a guidebook to help bishops around the world clearly understand their duties. The Holy See would also set up teams of experts, to be sent to countries to help inexperienced bishops handle reports of clergy abuse.
Support free-thinking journalism and attend Independent events
Sexual abuse by priests has affected congregations across the world.
Every bishop in Chile offered to resign last year over a widespread cover-up. The pope accepted seven of the resignations and dismissed two of the bishops from the priesthood.
Meanwhile in the US, a report by a grand jury in Pennsylvania last year suggested that priests had sexually abused 1,000 children in the state over seven decades.
Additional reporting by agencies
Join our new commenting forum
Join thought-provoking conversations, follow other Independent readers and see their replies