Pope Francis in Good Friday address: I'm ashamed of the state of the world
Leader of Catholic Church says we should all feel shame over planet 'devoured by selfishness'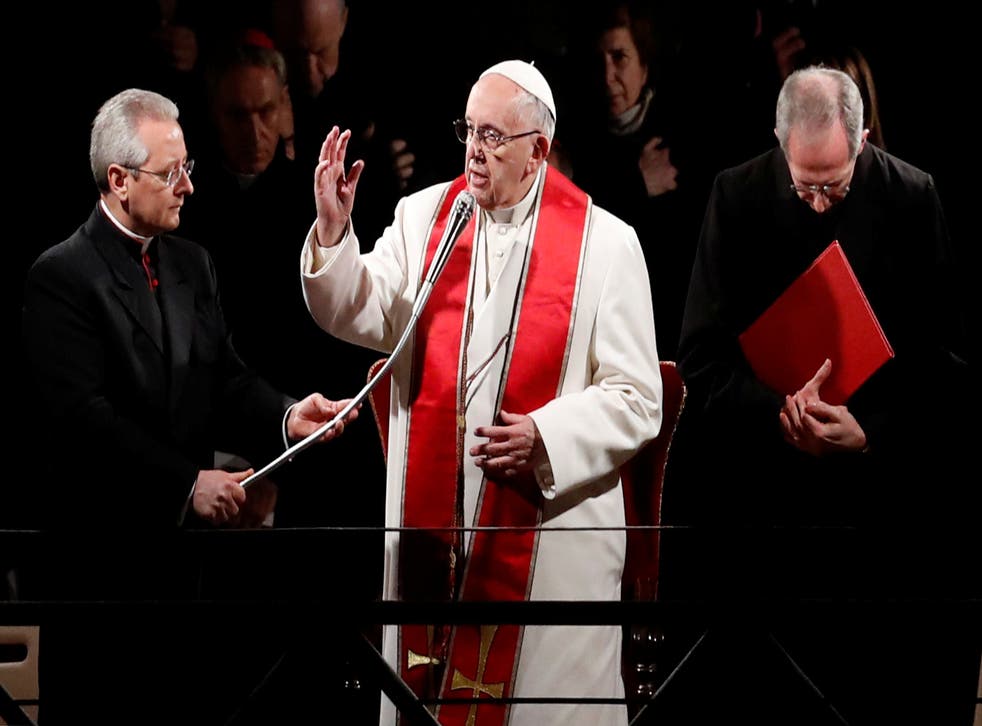 Pope Francis has said he feels shame over the state of the world that future generations will inherit.
People everywhere should feel ashamed about a planet "fractured by divisions and wars, a world devoured by selfishness, in which the young, the sick, the old are marginalised", he said.
The leader of the globe's 1.2 billion Roman Catholics spoke out to condemn what "our generation" is leaving to young people.
The 81-year-old pontiff had presided at a Good Friday procession around Rome's ancient Colosseum, attended by 20,000 people. After the event, the Pope offered a brief meditation, full of what he said was shame, repentance and hope.
He told the crowd many people on Earth today should feel "shame for having lost a sense of shame".
And he asked forgiveness for a host of shameful sins, apologising for those who seek power, money, ambition and vanity - including Catholic ministers.
Saying that shame could be seen as a "grace" from God, he urged people, including those in his own church, to rediscover the capacity to feel it for their role in the world's ills.
Many in the crowd held candles as they took part in the Via Crucis (Way of the Cross) procession, a ritual that re-enacts Christ's crucifixion.
Authorities had tightened up security in Rome for Holy Week following a number of anti-terror arrests. Around 10,000 officers were on duty, with military jeeps and armoured vehicles parked to form barriers against lorry attacks at tourist attractions.
Police had issued warnings about a potential threat posed by foreign fighters returning from Iraq and Syria.
Pope Francis expressed "shame because so many people, even some of your (God's) ministers, have let themselves be deceived by ambition and vainglory, thereby losing their worthiness".
The pontiff also praised those in the Church who are trying to arouse "humanity's sleeping conscience" through their work helping the poor, immigrants and prison inmates.
Register for free to continue reading
Registration is a free and easy way to support our truly independent journalism
By registering, you will also enjoy limited access to Premium articles, exclusive newsletters, commenting, and virtual events with our leading journalists
Already have an account? sign in
Register for free to continue reading
Registration is a free and easy way to support our truly independent journalism
By registering, you will also enjoy limited access to Premium articles, exclusive newsletters, commenting, and virtual events with our leading journalists
Already have an account? sign in
Join our new commenting forum
Join thought-provoking conversations, follow other Independent readers and see their replies