Pope Francis' Harley Davidson motorbike to go on sale in Paris next month
The Pope was given the 1,585cc motorcycle last year, but donated it to a Roman Catholic charity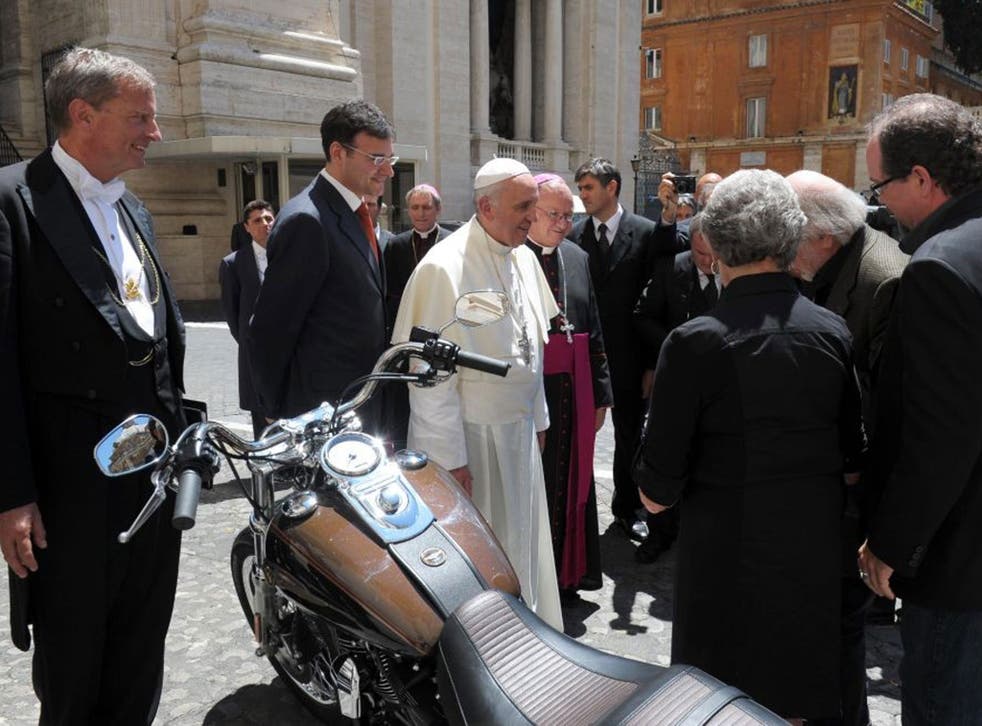 The Pope's Harley-Davidson motorbike is to go on auction in Paris next month.
Pope Francis was given the 1,585cc Harley-Davidson Dyna Super Glide in June last year to mark the 110th anniversary of the brand.
It is estimated that the motorcycle, which is signed on the tank by Pope Francis, will fetch up to €15,000 at auction on 6 February.
Since Pope Francis sold his Mercedes-Benz Popemobile in favour of a less extravagant car, it was unlikely he would keep the Harley Davidson for his personal use.
Instead, the Pope donated the bike to the Roman Catholic charity Caritas Roma.
Read more:
The organisation plans to use the money to renovate its Don Luigi di Liegro hostel and soup kitchen based at Rome's Termini railway station.
The hostel currently provides food and accommodation for more than 1,000 poor, homeless, and unemployed people a day.
Bonhams auction house is to sell the motorbike at the Grand Palais, Paris, as part of its Les Grandes Marques du Monde sale.
Ben Walker, head of motorcycles at Bonhams, said: "We are incredibly honoured to be selling this item on behalf of Caritas Roma. We hope to be able to do both Pope Francis and Harley-Davidson proud by raising a significant amount of money for a very worthy cause."
The sale comes amid praise for the Pope who promoted breast-feeding in the Sistine Chapel on Sunday as he baptised 32 children.





Read more:


Join our new commenting forum
Join thought-provoking conversations, follow other Independent readers and see their replies