Refugee child prostrates herself at Pope Francis' feet during emotional tour of Greek island of Lesbos
A group of Syrian and Iraqi asylum seekers were detained trying to reach the island on a boat hours before his arrival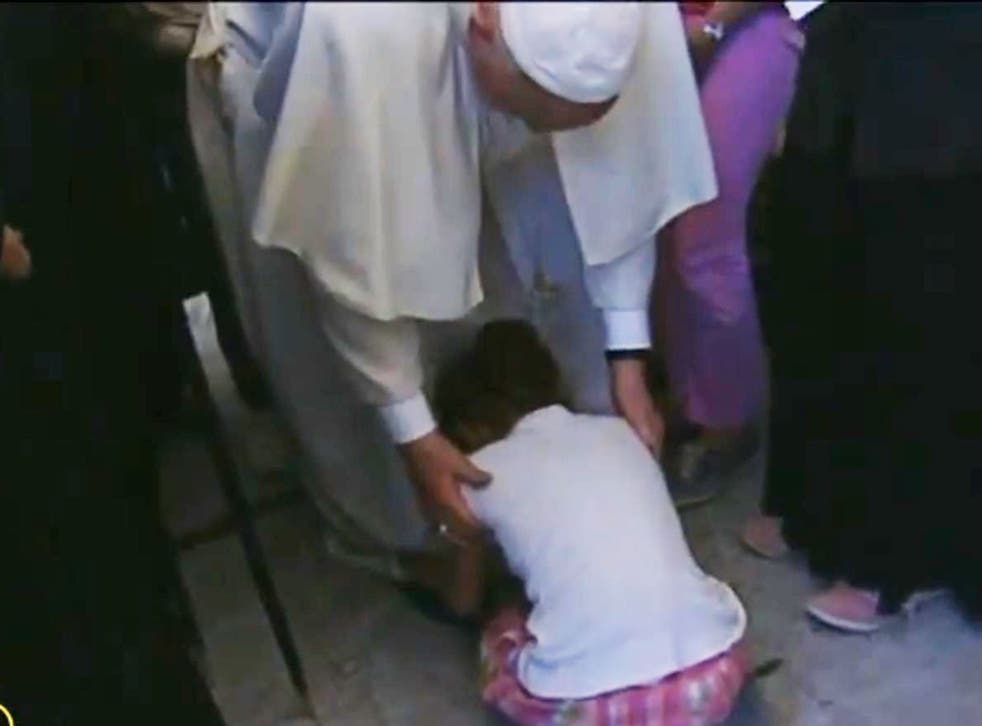 A refugee child prostrated herself at the Pope's feet on Saturday, begging him to help her family leave a detention centre on the Greek island of Lesbos.
She is among thousands of asylum seekers being held in Moria waiting for authorities to decide whether they will be granted the right to stay or be deported back to Turkey.
Her family were not among the 12 Syrians, including six children, taken back to Italy on Pope Francis' plane as a "gesture of welcome".
Refugees welcome Pope Francis
The pontiff was making his way through the detention centre, greeting migrants as he passed, when he was stopped by a small child kneeling at his feet.
Her mother and sister broke down in tears as she pleaded for help, before the pontiff gently raised her to her feet and patted her on the head.
It was one of many emotional scenes during his five-hour tour of Lesbos, which has seen the highest number of refugees arriving out of any island in Europe.
One man wept uncontrollably as he knelt down before Pope Francis on Saturday, saying: "Thank you, God. Thank you! Please Father, bless me!"
Several children offered him their drawings, with him praising them and handing them to his staff to be taken back to the Vatican.
Passing over a little girl's picture, he said: "Don't fold it. I want it on my desk."
As he walked past lines of refugees, shaking hands with the men and bowing to the women, the refugees shouted out their homelands of Syria, Afghanistan, Iran, Pakistan and other nations as protesters chanted for "freedom" outside.
Some asylum banners. "We are tired of fake promises," said one, while another asked: "What is my crime? I escaped from Isis."
Pope Francis met asylum seekers and local people alongside Catholic and Orthodox leaders, who joined him in a memorial service for the hundreds of migrants who have drowned attempting to teach Europe.
"I want to tell you that you are not alone," he told hundreds of gathered asylum seekers and volunteers in Moria.
"You have endured much suffering in your search for a better life…I have come here with my brothers, Patriarch Bartholomew and Archbishop Ieronymos, simply to be with you and to hear your stories.
"We have come to call the attention of the world to this grave humanitarian crisis and to plead for its resolution. We hope that the world will heed these scenes of tragic and indeed desperate need, and respond in a way worthy of our common humanity."
The Ecumenical Patriarch and the archbishop of Athens signed a joint declaration calling on the international community to make the protection of human lives a priority and to extend temporary asylum to those in need.
The declaration also called on political leaders to use all means to ensure that everyone, particularly Christians, can remain in their homelands and enjoy the "fundamental right to live in peace and security."
"The world will be judged by the way it has treated you," Bartholomew told the refugees. "And we will all be accountable for the way we respond to the crisis and conflict in the regions that you come from."
Earlier on Saturday, the Pope had met Prime Minister Alexis Tsipras and thanked him for the "generosity" shown by the Greek people in welcoming foreigners despite their own economic troubles, the Vatican said.
The visit comes as thousands of asylum seekers continue to be detained in walled camps, which were urgently spruced up ahead of his arrival.
In pictures: Refugees on the Greek island of Lesbos

Show all 12
Council workers were also seen scrubbing graffiti reading "Papa don't preach" that had been sprayed on walls and buildings in Mytilene, the capital, overnight.
The Vatican said the five-hour visit to Lesbos was purely humanitarian and religious in nature, not political, but the Pope's message to Europe was clear.
Appearing to refer to border closures and fences erected across the continent during the refugee crisis, he said the world needs bridges, not walls "to make us feel safer".
"Barriers create divisions instead of promoting the true progress of peoples, and divisions sooner or later lead to confrontations," he added.
Controversy continues over the situation in Lesbos, which is now subject to the 18 March EU-Turkey deal.
It stipulates that anyone arriving clandestinely on Greek islands will be returned to Turkey unless they successfully apply for asylum in the country.
For every Syrian sent back, the EU will take another Syrian directly from Turkey for resettlement in Europe but other nationalities make up more than half of those arriving.
In return, Turkey was granted concessions including billions of euros to deal with the more than 2.7 million Syrian refugees living there, and a speeding up of its stalled accession talks with the EU.
Despite the measures, condemned by human rights groups as "shameful" and "inhumane", desperate asylum seekers fleeing war and persecution in the Middle East and Africa continue to arrive.
Frontex, the European border agency, intercepted a dinghy carrying 41 Syrians and Iraqis off the coast of Lesbos, three hours before the Pope's arrival.
Additional reporting by agencies
Register for free to continue reading
Registration is a free and easy way to support our truly independent journalism
By registering, you will also enjoy limited access to Premium articles, exclusive newsletters, commenting, and virtual events with our leading journalists
Already have an account? sign in
Register for free to continue reading
Registration is a free and easy way to support our truly independent journalism
By registering, you will also enjoy limited access to Premium articles, exclusive newsletters, commenting, and virtual events with our leading journalists
Already have an account? sign in
Join our new commenting forum
Join thought-provoking conversations, follow other Independent readers and see their replies