Pope Francis sends New Year greeting to China in latest bid to increase the Vatican's influence on the world stage
Beijing severed ties with the Vatican in 1951 after the Communist Party took power, with the totalitarian regime setting up its own church beyond the Pontiff's authority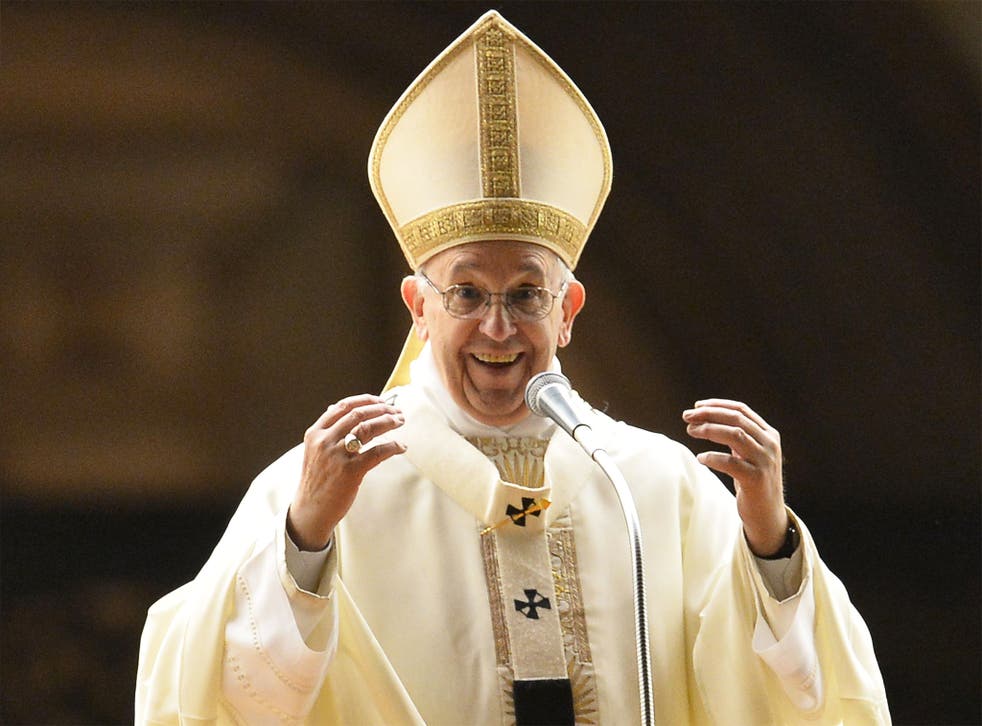 A thaw in the Vatican's relations with China appears to be the latest diplomatic breakthrough for Pope Francis in his drive to increase the Holy See's influence on the world stage.
The Chinese foreign ministry said that it had "noted" an interview in which Pope Francis sent new year greetings to President Xi Jinping, and it called for better relations with the Vatican.
Talking to the Asian Times, Francis skirted around sensitive subjects such as human rights and instead expressed his admiration for China. He sent his best wishes to President Xi and the Chinese people before next week's lunar new year holiday.
The apparent breakthrough led to Italian press speculation that Francis might become the first Pope to visit China since the Communist Party came to power.
Following the interview, the Chinese Foreign Ministry spokesman Lu Kang said: "China has always been sincere about improving Sino-Vatican ties… We are still willing to have constructive dialogue with the Vatican based on this principle, meeting each other halfway, and keep pushing forward the development of the process of improving bilateral relations."
The Chinese acknowledgement might sound like faint praise. However, in the context of the Vatican's diplomatic excommunication by China, they appear remarkably cordial.
Beijing severed ties with the Vatican in 1951 after the Communist Party took power. The totalitarian regime resented any outside influences on Chinese society and set up its own church beyond the Pope's authority.
Relations between them reached a nadir in 2011 when China's state-controlled Catholic church announced plans to ordain 10 bishops without Papal approval.
World news in pictures

Show all 50
The Vatican, under the rule of Pope Benedict XVI, responded by excommunicating one of these bishops, Joseph Huang Bingzhang.
Branding his ordination as illegitimate, Pope Benedict said he "deplored" the Communist authorities' treatment of the 12 million Chinese Catholics, some of whom are thought to remain faithful to Rome rather than to the state-backed church.
Some blame for the row was put on Cardinal Tarcisio Bertone, Benedict's unpopular right-hand man, who as the Vatican's chief diplomat presided over a disastrous period during which relations with Dublin also went into deep freeze.
But Francis appears determined to turn things around. Last year, he scored a major diplomatic coup by helping to restore relations between Cuba and the US, and last month he welcomed Iranian President Hassan Rouhani to the Vatican, after expressing his keenness to help resolve conflicts in the Middle East.
"Francis is very keen to boost relations between the Holy See and Bejing," said Marco Politi, the veteran Vatican watcher and biographer of the current Pope. The move to improve relations with China was, he said, a key plank in Francis's strategy "to bring a unifying and pacifying presence of the Church around the world".
Francis had a sense of history, he said, as well as a "geopolitical awareness" and his chief diplomat, Cardinal Pietro Parolin, had the "diplomatic skills – and experience of Far East politics" – to make a difference.
A key stumbling block to better relations with Beijing has been the Vatican's recognition of Taiwan, which Beijing considers a part of China.
While he was in South Korea in 2014, the Pope urged China to pursue a formal dialogue to the benefit of both sides. While flying to South Korea, his plane was allowed to cross Chinese airspace, a first for a pope.
Also that year, Francis is thought to have sent a private letter to President Xi Jinping, via two Argentinian emissaries with contacts at the Chinese Academy of Sciences. It is believed that he has invited President Xi to the Vatican.
Register for free to continue reading
Registration is a free and easy way to support our truly independent journalism
By registering, you will also enjoy limited access to Premium articles, exclusive newsletters, commenting, and virtual events with our leading journalists
Already have an account? sign in
Register for free to continue reading
Registration is a free and easy way to support our truly independent journalism
By registering, you will also enjoy limited access to Premium articles, exclusive newsletters, commenting, and virtual events with our leading journalists
Already have an account? sign in
Join our new commenting forum
Join thought-provoking conversations, follow other Independent readers and see their replies