Protesters in Prague hold third day of demonstrations demanding resignation of prime minister over fraud allegations
Populist Andrej Babis is accused of taking €2m from EU - then kidnapping own son to cover up crime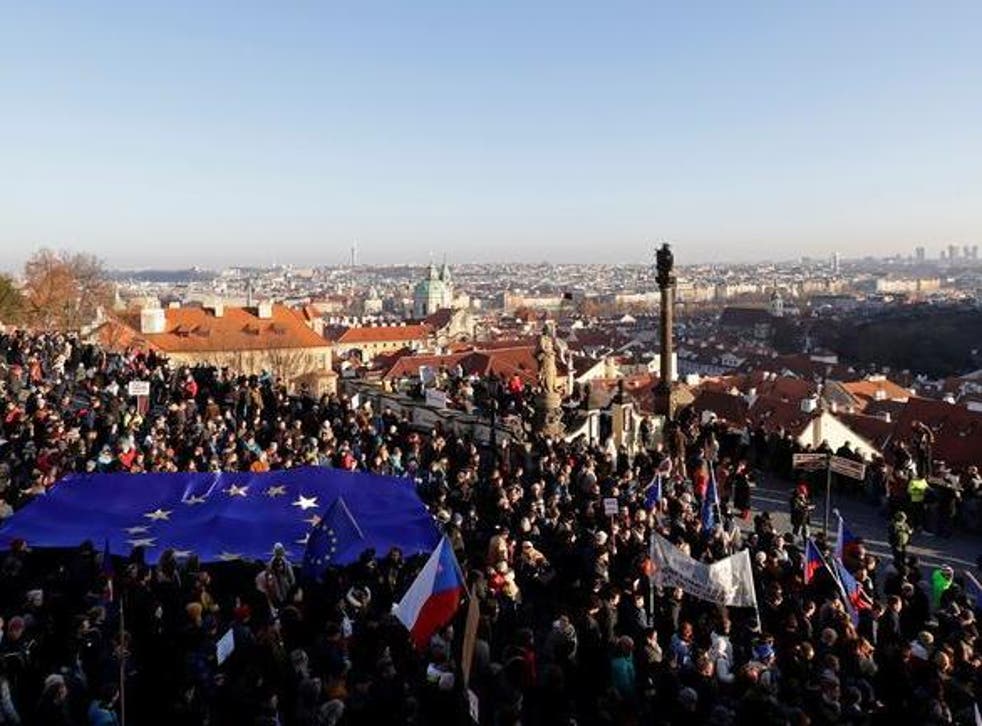 Protesters in Prague are holding a third day of demonstrations against the controversial Czech prime minister Andrej Babis, 24 hours after he vowed he would "never resign".
The rally on Saturday demanded the populist ANO party leader steps down over accusations he defrauded the EU by nearly €2m (£1.8m).
It comes on the 29th anniversary of the Velvet Revolution, the peaceful overthrow of communism in former Czechoslovakia.
Mr Babis – who was only elected in December – is also facing allegations he had his own son kidnapped and held in Crimea to stop him testifying in the fraud case.
Andrej Babis Jr told reporters in a secretly recorded interview that he was taken against his will to stop him being questioned by police investigating his father. The 35-year-old told the journalists from the Seznam news site his father, 64, wanted him away from the criminal inquiry, which centres on allegations the billionaire leader hid his ownership of a hotel known as Stork Nest so he could claim EU subsidies.
Mr Babis has denied all accusations and said his son – who has a history of mental illness – is schizophrenic.
"No-one kidnapped my son," he said, according to BBC reports. "He travelled from the Czech Republic voluntarily. This matter has been investigated by the police, which came to the conclusion that no kidnapping had taken place."
And, in a Facebook post on Friday, he added: "I will never resign, never. Let everybody remember that: never."
World news in pictures

Show all 50
Nonetheless, the embattled prime minister will now face a significant challenge to stay in power after opposition parties called for a parliamentary vote of no confidence which will likely take place on Friday.
Saturday's protests follow demonstrations on Thursday, when thousands gathered in the capital's famous Wenceslas Square, and Friday, when they descended on the National Monument.
During both nights, chants of "shame" and "resignation" filled the air. Wreaths laid by Mr Babis in honour of the Velvet Revolution were torn up and discarded.
Support free-thinking journalism and attend Independent events
Should Mr Babis lose the vote of confidence, president Milos Zeman will have to appoint a new prime minister.
Join our new commenting forum
Join thought-provoking conversations, follow other Independent readers and see their replies