President Hollande bids adieu to French 'supertax' detested by the country's millionaires
He could have made a case for the 75 per cent levy. As is becoming typical, he failed to, says John Lichfield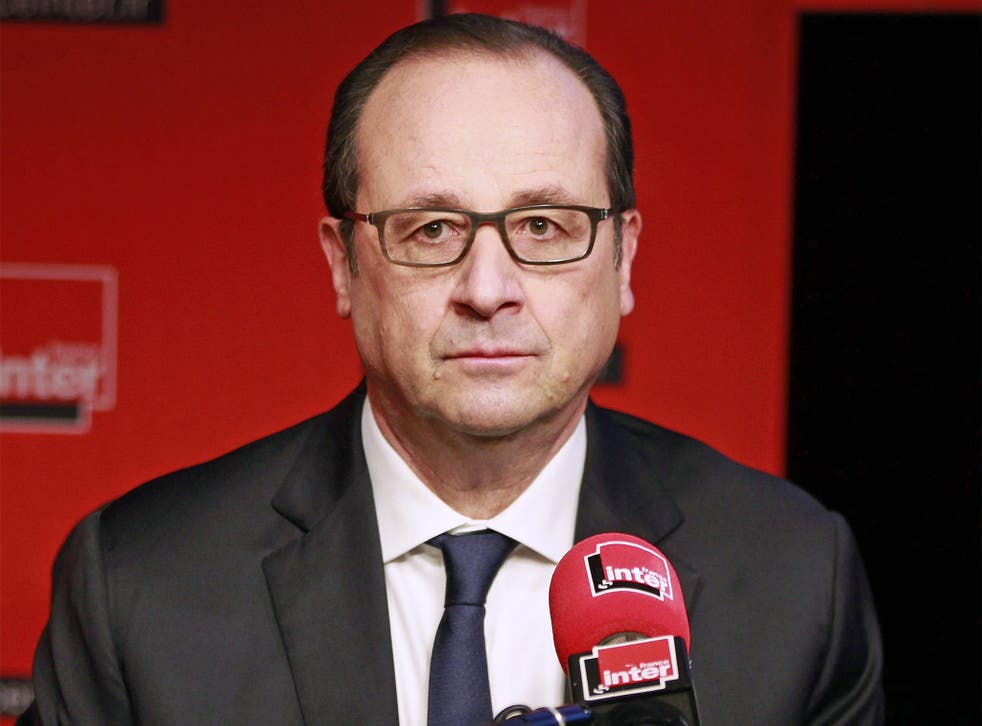 Come home, Gérard Depardieu. President François Hollande's "supertax" – detested by French millionaires and mocked by some British politicians – will soon be no more. At the end of this month, France's 75 per cent tax on incomes over €1m (£780,000) will be quietly dropped.
The tax has never been applied in the way that President Hollande intended. In its revised form, it has raised a modest €400m over two years. It has caused – justly and unjustly – enormous damage to France's reputation abroad.
The "supertax" began as a hasty campaign promise which helped the Socialist challenger, Mr Hollande to defeat Nicolas Sarkozy in 2012. It has come to epitomise Mr Hollande's presidency: the good intentions, the posturing, the zig-zags and the often bungled delivery.
The "millionaires" tax – or "exceptional contribution to national solidarity" – was widely misrepresented in the French and, especially, the foreign press. It was not, as sometimes stated, a 75 per cent tax on all the income of multimillionaires. It applied only to marginal income above €1m, for both individuals and couples. Even so, it went far beyond the maximum tax rates in almost all other Western countries.
The actor Gérard Depardieu gave it as one reason for his vituperative "departure" into Belgian and Russian exile in the winter of 2012-3. Two years on, the "exiled" Depardieu seems to be present in France as much as ever (larger than life and growing larger).
In December 2013, the 75 per cent tax was also the cause of a threatened strike by French first division football clubs on behalf of their multimillionaire players. The strike was called off at the last moment.
The tax has also became a favourite butt of British politicians. In June 2012, the Prime Minister, David Cameron, said that he would "roll out the red carpet" for wealthy French businessmen. The London Mayor, Boris Johnson, said: "Not since 1789 has there been such tyranny in France." This implied that the supertax was worse than the Nazi occupation of 1940-44.
Some of Mr Hollande's own advisers detested the tax from the beginning. His young economics guru, Emmanuel Macron, warned in the spring of 2012 that a 75 per cent tax on high earners would make France like "Cuba without the sunshine".
In September last year, Mr Macron was promoted to Economics Minister, symbolising a shift in the stumbling Hollande presidency towards a more market-friendly approach to taxation and reform of the state apparatus.
It was little surprise therefore when the Prime Minister, Manuel Valls, let it be known during a trip to London in October that the "supertax" would not be prolonged beyond this month.
Originally, Mr Hollande had suggested that the extra tax would continue until France's budget deficit was under control. At other times, he spoke of a "special contribution" by the very rich lasting only two years. France's deficit has been reduced by Mr Hollande, from 5.3 per cent of GDP in 2011 to around 4.4 per cent last year. It remains well above its eurozone target level. All the same, the "exceptional contribution to national solidarity" will disappear at the end of this month after two years.
In fact, the tax as originally proposed by Mr Hollande has never been applied.
At a campaign rally at Le Bourget airport near Paris in February 2012, candidate Hollande was under pressure to produce a left-wing rabbit from his hat. He was sinking in the first-round polls. The hard-left candidate, Jean-Luc Mélenchon, was rising and threatening to destroy the momentum that Mr Hollande needed to unseat President Sarkozy in the two-candidate, second round in May.
Mr Hollande gave a barn-storming speech in which he said that his "enemy" was big finance. He promised to place an "exceptional" and "temporary" 75 per cent tax on incomes over €1m.
Late in 2012, six months after Mr Hollande became President, the tax was declared void by France's constitutional watchdog, the Conseil Constitutionnel. It was reintroduced, one year later, in the form of a levy on businesses which employed people earning more than €1m a year.
In this form, the tax applied to the 2013 and 2014 tax years, raising around €200m in each year. This amounted to roughly 0.2 per cent of France's annual deficit of €84bn.
Was it worth all the fuss and, partly unfair, damage to France's business reputation? The Prime Minister and the Economics Minister have evidently concluded that it was not.
President Hollande, who reached the Elysée Palace partly because of the 75 per cent tax, may take a different view.
Register for free to continue reading
Registration is a free and easy way to support our truly independent journalism
By registering, you will also enjoy limited access to Premium articles, exclusive newsletters, commenting, and virtual events with our leading journalists
Already have an account? sign in
Register for free to continue reading
Registration is a free and easy way to support our truly independent journalism
By registering, you will also enjoy limited access to Premium articles, exclusive newsletters, commenting, and virtual events with our leading journalists
Already have an account? sign in
Join our new commenting forum
Join thought-provoking conversations, follow other Independent readers and see their replies