President of Azerbaijan declares 'state of war' with Armenia on Twitter
Ilham Aliyev tweeted: 'We don't want war, we want peace. But at the same time, we want our lands back'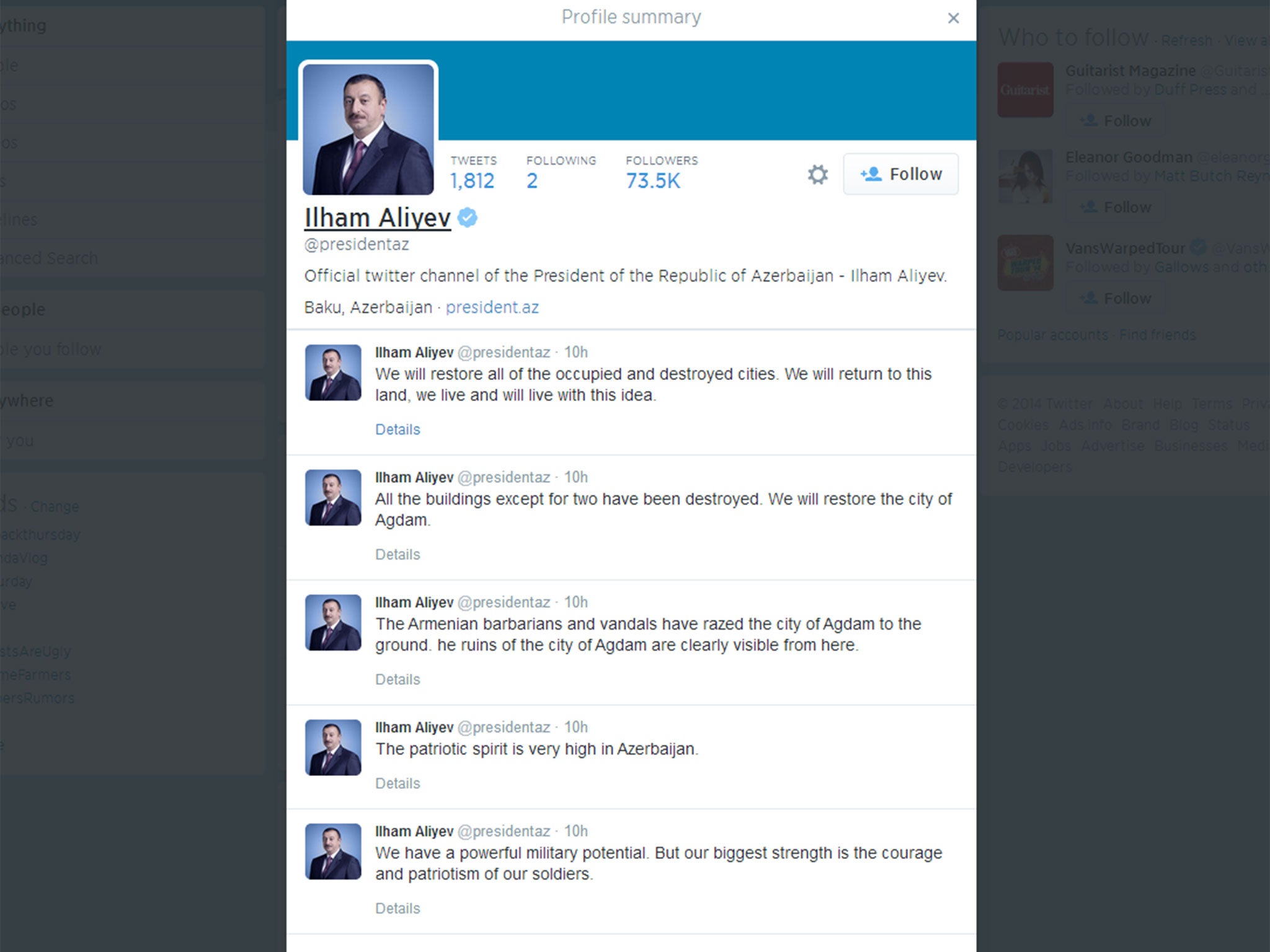 The President of Azerbaijan has said in a highly militant series of messages that his country is in a "state of war" with Armenia over the disputed region of Nagorno-Karabakh.
Writing in English on Twitter, President Ilham Aliyev threatened to take military action to regain the area, which was the subject of a six-year war between the two countries following the fall of the Soviet Union. An estimated 30,000 people were killed during the conflict, which ended in a ceasefire in 1994.
However, more than 15 people were killed in clashes between the two country's forces earlier this month.
Mr Aliyev tweeted more than 60 messages today, saying: "We are not living in peace, we are living in a state of war.
"The war is not over. Only the first stage of it is. But the second stage may start too. No-one can rule that out. We don't want war, we want peace. But at the same time, we want our lands back."
He added that the "sense of patriotism among Azerbaijani soldiers is very high" while the "enemy is in a state of panic and hysteria". He described the Armenians as "barbarians and vandals."
"We will restore our territorial integrity either by peaceful or military means. We are ready for both options," Mr Aliyev wrote. "Just as we have beaten the Armenians on the political and economic fronts, we are able to defeat them on the battlefield."
Armenia is allied to Russia, while Azerbaijan is an ally of Turkey, a member of Nato. The Organization for Security and Cooperation in Europe (OSCE) has been hosting peace talks but with little success.
Sabine Freizer, a senior fellow at the Atlantic Council think tank, told Turkish newspaper Today's Zaman that tensions were higher than ever and that "the chances for a negotiated settlement - as promoted by the OSCE's Minsk Group - are fading."
Join our commenting forum
Join thought-provoking conversations, follow other Independent readers and see their replies