Russian election 2018: Whatever happens in the first round, Vladimir Putin will be the one constant
The President ended speculation about his immediate future in early December. He will run. But he faces an impossible balancing act. If one thing's for sure, it's that more of the same won't do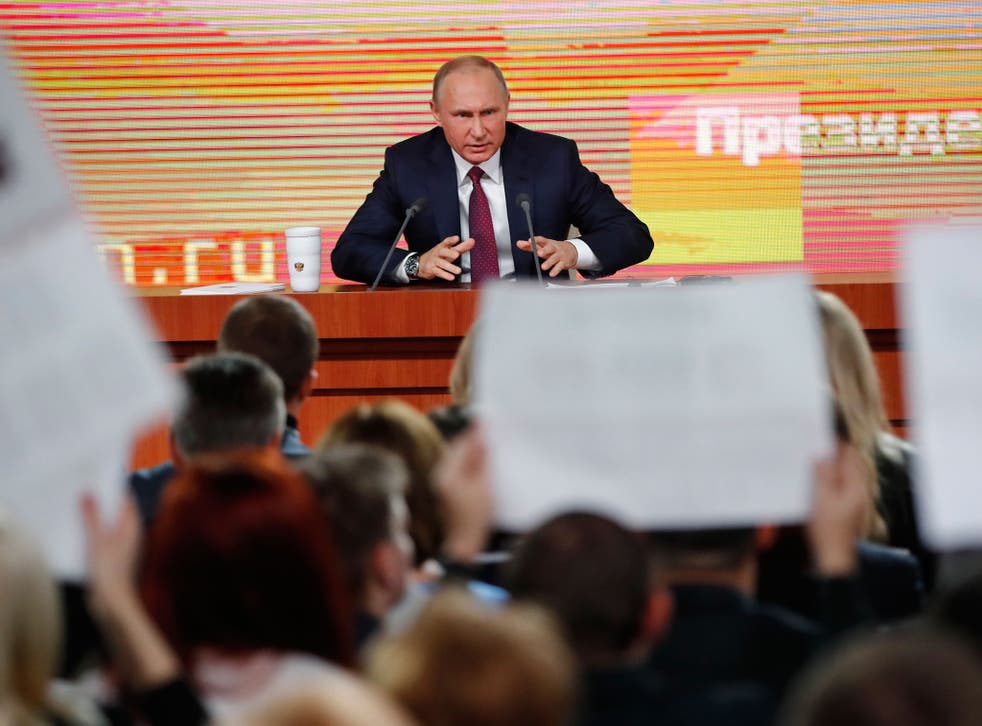 Vladimir Putin's team has long built electoral appeal on the idea of control and stability. It was a popular offer for a nation dizzied by the demands of post-Soviet upheaval – even though, often, it was more mirage than reality.
As he begins his fourth presidential campaign, Mr Putin faces a different dilemma. A majority of Russians want change; more of the same will not do. The pollsters show it. The Kremlin feels it.
His approach will attempt an almost impossible balancing act. On the one hand, he will offer reform without isolating his ever-decreasing inner circle. On another, it will answer the socio-economic demands of his electorate, which has experienced three years of declining real terms income, without the easy cash of old. It will attempt to create drama in a contest lacking any intrigue.
Whatever happens, Mr Putin will be the one constant. Official approval ratings continue to hover around 80%, implying a decisive first-round victory. But at 65, Mr Putin can no longer claim to be the future, and at his recent marathon press conference he looked tired and unexcited. Many wonder if the fire in the belly is still there. As reported on these pages, Putin apparently considered stepping aside in autumn 2016. Then, Operation Successor was, and continues to be, unimpressive.
Putin ended the speculation about his immediate future in early December. He will run. Judging by the way 2017 ended he will run on a traditional, authoritarian platform. The harsh custodial sentence handed down to his former economics minister in December suggests fear will continue to be a major instrument of power.
Press freedoms, never one of Mr Putin's priorities, will likely continue to be salami-sliced. Anti-Westernism will continue, especially ahead of an expected strengthening of the sanctions regime. A report to US Congress on the links between oligarchs and the President is viewed with increasing trepidation inside the Kremlin.
But the President is a man of action and reaction rather than grand strategic plans, so quick reverses are not out of the question either. Take, for example, the decisive turnaround in Russian-Turkish relations early last year. It may well be that the President will prioritise relations with the West, if he considers that in his best interest.
For the first time in many years, the President's post-election in-tray is largely domestic. Aside the demand for reform, which will, most likely, be fudged, the most immediate issue is diffusing a crisis of governance. With in-fighting already spilling over onto the public arena, the President will need to decisively arbitrate between warring clans.
There have been countless reports about the removal of his Prime Minister, Dmitry Medvedev. Kremlin watchers will be looking closely: Will the President look to deliver a decisive blow to Russia's liberal wing, or will he continue with a known quantity? How best to make sure the bulldogs, scenting blood and change, stay firmly under the carpet?
Whoever is prime minister at the time the music stops is likely to be in pole position for the main job.
Mr Medvedev has reportedly recovered from the hammer blow of an embarrassing investigation by Mr Putin's leading critic, Alexei Navalny. Mr Navalny, who the President has yet to even refer to by name, alleged his Prime Minister had used his position for massive personal enrichment. Mr Medvedev denies the claims.
Russia protests on Vladimir Putin's birthday

Show all 12
Mr Navalny, the nation's most prominent opposition voice, has been blocked from running in these elections. But that is not to say he does not have a future, especially if the succession is botched, economic malaise worsens, or his campaign to "boycott" the elections gains traction. With a technological dexterity and an appeal that chimes with Russians' sense of justice, Mr Navalny understands Russian politics as well as anyone.
The same cannot be said for the other prominent opposition candidate, Kseniya Sobchak, whose elite appeal is unlikely to reap electoral dividends. For this reason, her candidacy has been actively supported by the presidential administration, and last week was formally registered by the Central Election Commission. She has called Mr Navalny's call to boycott the elections, which is likely to limit her electorate significantly, a "mad protest."
Another two dozen candidates that have put their names forward for the elections. Not all are likely to collect the signatures necessary to run. The candidates sure to be reach the starting line include well-known ghosts of Christmases past – Grigory Yavlinsky and Vladimir Zhirinovsky, respectively leaders of the liberal Yabloko Party and decidedly illiberal Liberal Democratic Party.
But as ever, there is only one candidate who really counts.
Register for free to continue reading
Registration is a free and easy way to support our truly independent journalism
By registering, you will also enjoy limited access to Premium articles, exclusive newsletters, commenting, and virtual events with our leading journalists
Already have an account? sign in
Register for free to continue reading
Registration is a free and easy way to support our truly independent journalism
By registering, you will also enjoy limited access to Premium articles, exclusive newsletters, commenting, and virtual events with our leading journalists
Already have an account? sign in
Join our new commenting forum
Join thought-provoking conversations, follow other Independent readers and see their replies