Prince Henrik of Denmark launches bizarre rant about wife Queen Margrethe
'It is her that is making a fool of me,' says Prince
Maya Oppenheim
Wednesday 09 August 2017 16:37 Comments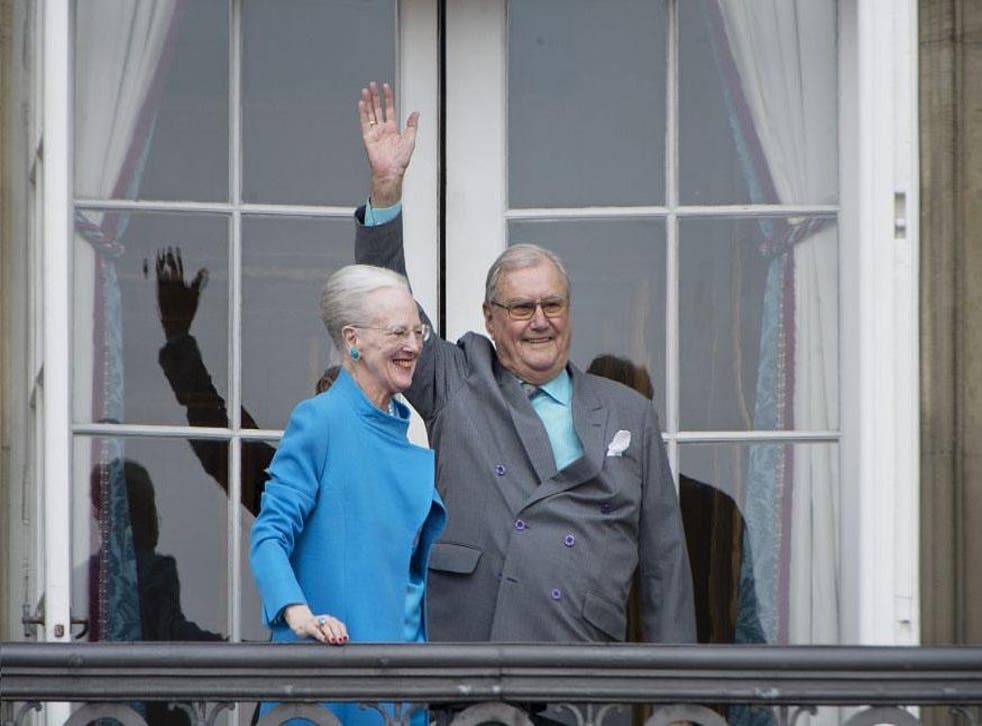 Carrying a grudge to the literal grave might not sound like a sensible idea to most people but Prince Henrik of Denmark has made it clear that is what he intends to do.
The Danish royal made headlines last week when he announced he did not want to be buried next to his wife Queen Margrethe of Denmark.
The 83-year-old, who married the Queen in 1967 and was later named the Queen's Prince Consort, said he was deeply unhappy about the fact he had never been recognised as her equal. Prince Henrik has repeatedly said he would like to be named King Consort.
The royal has now said the Queen does "not respect" him in an interview with celebrity gossip magazine Se og Hør.
"My wife does not give me the respect a normal wife must give her spouse," the Prince said in the clip.
While he emphasised the fact he still loved his wife, he said he was not happy about the expectation he would be laid to rest in Roskilde Cathedral where Danish royals have been buried since 1559.
He said: "It is her that is making a fool of me. I didn't marry the Queen to be buried at Roskilde".
World news in pictures

Show all 50
"My wife has decided that she wants to be Queen, and I'm very happy about that. But as a human being she needs to know that if a man and wife are married, they are equal."
The Queen is said to be due to join the Prince at the Danish royal family's Château de Cayx residence in southern France on Tuesday where the pair are going to spend the next 14 days.
The Prince's decision to be buried separately from his wife is preceded by decades of bitter anger and frustration over what he perceives to be unequal treatment and discrimination.
Queen Margrethe II, 77, is Denmark's head of state and is responsible for signing all laws passed by Parliament despite the fact legislative powers in the country have been in the hands of elected governments since 1849. Denmark has long seen itself as a country which has strived for gender equality for centuries.
In Denmark, a princess traditionally becomes queen when her husband takes the throne.
Prince Henrik, who is known by the media as "the world's grumpiest royal", retired from most official duties last year and renounced his title of Prince Consort. Despite still being married to the queen and still officially living together, he has rarely been seen in public since then and has instead spent the majority of his time at his private vineyard in France.
Last week, the Royal Danish House's director of communications told tabloid BT: "It is no secret that the prince for many years has been unhappy with his role and the title he has been awarded in the Danish monarchy. This discontent has grown more and more in recent years."
She added: "For the prince, the decision not to be buried beside the queen is the natural consequence of not having been treated equally to his spouse - by not having the title and role he has desired".
According to a royal house spokeswoman, Queen Margrethe, who had a specially designed sarcophagus made for the couple by Danish artist Bjorn Norgaard, has accepted Prince Henrik's decision.
Register for free to continue reading
Registration is a free and easy way to support our truly independent journalism
By registering, you will also enjoy limited access to Premium articles, exclusive newsletters, commenting, and virtual events with our leading journalists
Already have an account? sign in
Join our new commenting forum
Join thought-provoking conversations, follow other Independent readers and see their replies