Prominent Danish activist and author prosecuted for 'people trafficking' after giving Syrian refugee family a lift
Lisbeth Zornig and her husband Mikael Lindholm were each fined 22,500 krone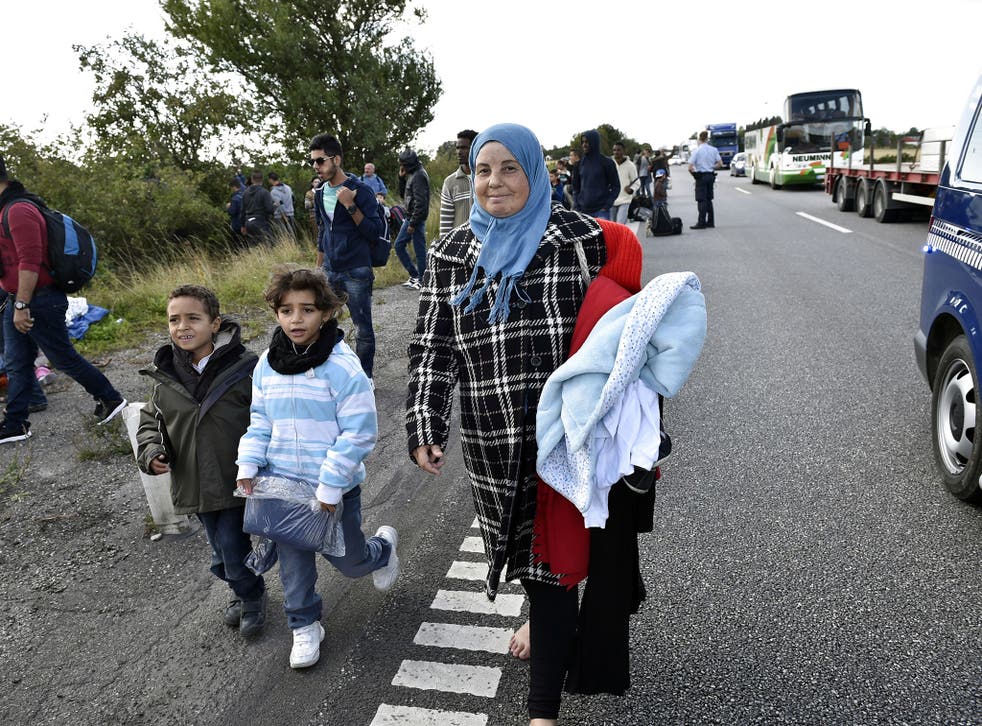 A prominent Danish rights activist and author has been fined £2,300 for "people trafficking" after giving a Syrian refugees a lift.
Lisbeth Zornig and her husband Mikael Lindholm were handed a combined fine of 45,000 krone (£4,700) by judges in the city of Nykøbing Falster today.
Ms Zornig was prosecuted for picking up a Syrian family of four adults and two children in southern Denmark and driving them to Copenhagen on 7 September last year.
Denmark blocks rail and road links with Germany to stop refugee flow
After giving them coffee and biscuits, her husband later drove them to the capital's railway station and bought them tickets onwards to Sweden, the Guardian reported.
The couple, who pleaded not guilty, said they were unaware that they were breaking the law, believing that only crossing borders or taking money for the ride would be illegal.
The family they helped were among a large group of refugees attempting to cross Denmark on foot after their train from Germany was stopped in the town of Rødby.
Footage broadcast by TV2 showed scenes of confusion and panic as asylum seekers fled police on the station platform, running across disused train tracks into the surrounding fields to start their long walk to Sweden.
Ms Zornig told the Berlingske newspaper she saw the family walking along the roadside and was seized by an urge to help.
"It was a very surreal experience," she said. "Everyone had a feeling that what we were used to seeing on the television what happening right in front of us."
She and Mr Lindholm are just two of several hundred people charged with contravening the Danish Aliens Act in recent months, which makes it illegal to transport anyone without residence permits.
Supporters hailed their action as part of a "small miracle" on Lolland island as Danes grouped together to help the arriving refugees.
"It is not a criminal offence to help fellow human beings fleeing from war," a statement on Facebook said. "There are many of us who believe that those who are accused of trafficking acted with humanity.
"Let us show that decency and sense of duty still exists in Denmark…civil society showed courage and stepped in where politicians failed."
Ms Zorning, the former head of Denmark's National Council for Children, said Friday's verdict sent a "clear political signal" as the country's government continues efforts to stem the flow of refugees.
She became known through a documentary on her abusive childhood and an ensuing autobiography, and has gone on to campaign for abuse victims and vulnerable groups.
Denmark's controversial law allowing authorities to seize asylum seekers' cash and valuables to "pay for their stay" sparked international condemnation earlier this year but several other countries have introduced similar measures as Europe's attitude towards asylum seekers hardens.
Refugee crisis - in pictures

Show all 27
Volunteers across Denmark have continued to help migrants on their journeys but could be discouraged by a mounting wave of prosecutions, which reportedly saw a 70-year-old pensioner fined earlier this week.
Critics have called the laws "outdated and inhumane" but campaigns to change it seem unlikely to see success as Scandinavian nations continue to tighten border controls.
A 2002 directive from the Council of the European Union stipulates that anyone who intentionally assists foreigners to "enter or transit across" a country in breach of national law can be prosecuted – particularly those take payment to do so.
It says that sanctions can be lifted in cases where "the aim of the behaviour is to provide humanitarian assistance", but the waiver is optional.
A United Nations protocol on migrant smuggling, however, defines the act exclusively motivated by a "financial or other material benefit".

Register for free to continue reading
Registration is a free and easy way to support our truly independent journalism
By registering, you will also enjoy limited access to Premium articles, exclusive newsletters, commenting, and virtual events with our leading journalists
Already have an account? sign in
Register for free to continue reading
Registration is a free and easy way to support our truly independent journalism
By registering, you will also enjoy limited access to Premium articles, exclusive newsletters, commenting, and virtual events with our leading journalists
Already have an account? sign in
Join our new commenting forum
Join thought-provoking conversations, follow other Independent readers and see their replies