Prosecutors drop charges in Magnitsky killing to leave family at square one
Relatives fear they will never know the truth about anti-corruption lawyer's death in police custody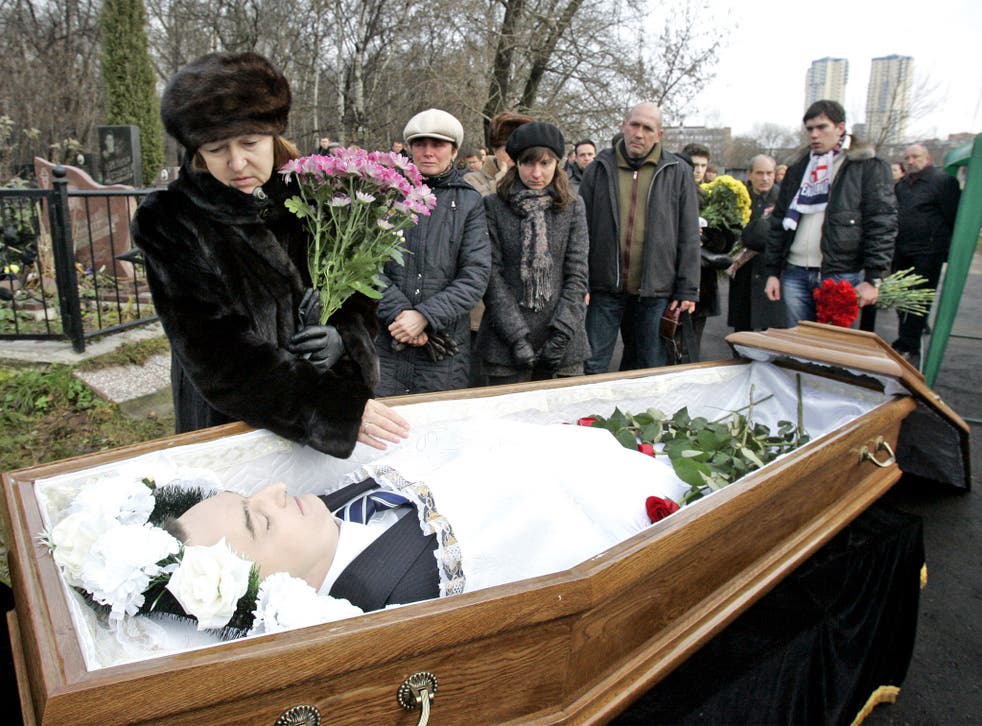 Supporters of Russian anti-corruption lawyer Sergei Magnitsky have seen their hopes of justice fade after it emerged that prosecutors have withdrawn charges against the only person to be tried in connection with his death.
An investigation into the death of Mr Magnitsky in Moscow's Butyrka prison in 2009 saw charges brought against two people, both doctors: Larisa Litvinova, who was responsible for the lawyer's treatment during the last weeks of his life, and Dmitri Kratov, who at the time was the chief medical official at the prison.
Charges of professional negligence against Dr Litvinova were dropped earlier this year after prosecutors claimed the statute of limitations had run out, and on Monday the state prosecutor, Konstantin Bokov, urged the court to acquit Dr Kratov. "There is no cause-and-effect relationship between Kratov's actions and Magnitsky's death," Mr Bokov is reported to have said. "I request his acquittal." The court is expected to make its ruling on Friday.
Mr Magnitsky died in November 2009 after nearly a year in jail – the victim, former colleagues say, of retribution from the same police investigators he had accused of stealing $230m from the state through fraudulent tax refunds. The 37-year-old's death was attributed by the prison to a heart attack, but Mr Magnitsky's supporters insist he was fatally beaten after exposing what he described as a web of corruption.
Relations between the US and Russia have deteriorated as a result of the case. Two weeks ago America passed into law its Magnitsky Act, which bans those linked to the lawyer's death from entering the US or using its banking system. The act prompted a furious response from the Russian Ministry of Foreign Affairs, which described it as "nothing but a vindictive desire to counter Russia in world affairs". In responseRussia's lower parliament, the Duma, has approved the so-called Yakovlev list, which among other things bars US citizens from adopting Russian children. The legislation is yet to be signed into law by President Putin.
"We have not determined what happened, and the biggest tragedy here is that... this may have been our last chance to ask questions," said Dmitry Kharitonov, a lawyer for Mr Magnitsky's widow Natalia Zharikova. Mr Kharitonov said a guilty verdict was possible but unlikely, adding: "The prosecutors essentially defended Kratov, rather than prosecuting him."
He said he believed prosecutors want Mr Kratov cleared to avoid any suggestion that they are culpable for Mr Magnitsky's death after they backed efforts to keep him in jail on tax evasion charges. He said he also believed they wanted to stay on the right side of the diplomatic argument. Calling for a further investigation into the case, he said: "The easiest thing for the prosecutor's office to do is to say that nobody is guilty – and if nobody is guilty, then why is the Magnitsky Act needed?"
Former Foreign Secretaries Sir Malcolm Rifkind and David Miliband have called for British Magnitsky Act to be introduced, complaining that corrupt officials enjoy their ill-gotten wealth in London with few consequences. President Vladimir Putin, who has dismissed suggestions Mr Magnitsky was killed, is under pressure not to adopt the Yakovlev List. More than 100,000 people have signed a petition organised by the liberal Moscow newspaper Novaya Gazeta calling for the law to be abandoned.
Timeline: The Magnitsky case
June 2007 Russian police raid offices of Hermitage Capital Management, officially to look for information on one of its investors. Seals and corporate certificates are taken into evidence.
October 2007 Using seals and certificates, corrupt officials and criminal groups transfer ownership of a number of Hermitage's Russian subsidiaries.
December 2007 Fearing companies have been stolen from it, Hermitage hires Moscow lawyer Sergei Magnitisky to investigate. The fraudulent owners of the Hermitage subsidiaries receive a $230m tax refund.
July 2008 Magnitsky files a criminal complaint naming a string of Russian government officials and criminal figures involved.
October 2008 Magnitsky is arrested and brought to the same authorities he named in the scam.
November 2009 After months of interrogation and withdrawn medication in jail, Magnitsky dies.
2010 Hermitage go on the warpath to bring pressure on Russia to prosecute the perpetrators.
2011 US State Department puts 60 officials involved on visa ban list.
2012 Alexander Perepilichnyy, a Russian businessman who helped the tax officials who signed off on the scam hide their new-found wealth, begins working with Hermitage and Swiss prosecutors.
10 November 2012 Mr Perepilichnyy, a seemingly healthy 44-year-old, drops dead at his home in Weybridge, Surrey.
6 December 2012 US Congress passes "Magnitsky Act", which allows for the US to withhold visas and freeze assets of Russian officials thought to have been involved with human rights violations.
20 December 2012 Vladimir Putin backs a Russian bill that bans Americans from adopting Russian children.
Register for free to continue reading
Registration is a free and easy way to support our truly independent journalism
By registering, you will also enjoy limited access to Premium articles, exclusive newsletters, commenting, and virtual events with our leading journalists
Already have an account? sign in
Register for free to continue reading
Registration is a free and easy way to support our truly independent journalism
By registering, you will also enjoy limited access to Premium articles, exclusive newsletters, commenting, and virtual events with our leading journalists
Already have an account? sign in
Join our new commenting forum
Join thought-provoking conversations, follow other Independent readers and see their replies