Prostitution in Pompeii: 2,000 years after explosion, sex-for-cash is still rife
Crackdown by vice police nets fines of £160,000 from prostitutes and customers in just two weeks
Michael Day
Rome
Monday 16 November 2015 19:00 Comments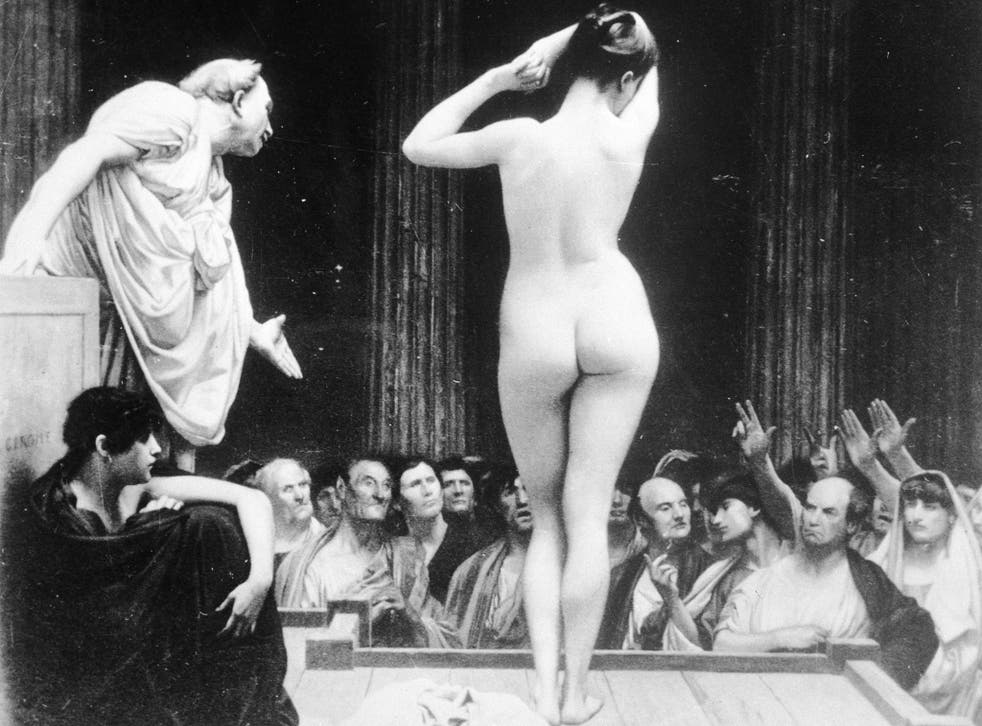 The oldest profession of all appears to be alive and well in Pompeii after a blitz by vice police near the ancient city netted €200,000 (£160,000) in fines from street prostitutes and their customers in just two weeks.
On average the 30 or so prostitutes – women and transsexuals – working in Pompeii were each fined six times in 15 days, after authorities ordered a crackdown in streets where visitors arrive from all over the world to queue for the celebrated archaeological site.
The links between past and present activities have not been lost on locals. Ancient Pompeii was one giant, seaside fleshpot for Rome's upper classes, where aristocrats and merchants thought nothing of mixing business with pleasure, before it was destroyed by a devastating eruption of Mount Vesuvius in AD79.
At that time the city was not embarrassed to advertise the carnal pleasures on offer. Erotic art is found in several of Pompeii's villas, and in 2006 thousands of tourists queued to see the city's most extravagant brothel, the Lupanare – from the Latin word lupa for prostitute – when it was re-opened after a lengthy restoration.
Nearly 2,000 years later, the sex trade is more frowned upon. In addition to handing out €400 fines during this months's raids, the police issued local "expulsion" orders to 12 women, preventing them from re-entering the area, named four others as having breached existing orders and arrested one prostitute and a client who were caught in flagrante.
A report that one of the Pompeii street prostitutes, a Romanian woman known as Liliana, had received 82 expulsion notices since 2014, suggests, however, that the authorities may need to try a different approach. And it seems the street workers, or lucciole – fireflies – as the Italian press calls them, have been quick to adapt to the authorities' new interest in their business.
Naples's Il Mattino newspaper said the action took place mainly in the three streets Via Villa dei Misteri, Porta Marina Inferiore and Via Plinio, all close to the archaeological site, where the prostitutes worked day and night and even mingled with tourists or commuters there and in the nearby train station. Many were dressing in dowdier clothes to throw police off the scent, while others were conducting business in the local supermarket, approaching potential customers with the age-old question: "Have you got a light?" Affirmative responses led to a discussion of menu prices that range from €30 to €100, not including the cost of a hotel.
Pompeii: Life and death in the shadow of Vesuvius

Show all 10
Despite his city becoming known as a regional vice centre, Pompeii's mayor Nando Uliano has spoken out against a proposed controlled prostitution zone, as mooted by authorities in Rome.
In February this year, Rome's then-mayor, Ignazio Marino, said proposals for such a zone in the capital's southern EUR district were designed to "find a balance" by ensuring that certain places, such as parks frequented by children and families, were be excluded from the controlled prostitution plan.
Exploitation of prostitution is illegal in Italy, as is paying people under the age of 18 for sex. Rome city officials said designated streets would help to ensure sex workers were not put there by traffickers. Many women from Africa and Eastern Europe are forced into prostitution by trafficking rackets.
But the Roman Catholic Church, which takes a dimmer view of sex than the empire that spawned it, criticised the proposals.
Register for free to continue reading
Registration is a free and easy way to support our truly independent journalism
By registering, you will also enjoy limited access to Premium articles, exclusive newsletters, commenting, and virtual events with our leading journalists
Already have an account? sign in
Join our new commenting forum
Join thought-provoking conversations, follow other Independent readers and see their replies