Pussy Riot sued by Siberians for 'moral suffering'
Shaun Walker
Saturday 25 August 2012 11:28 Comments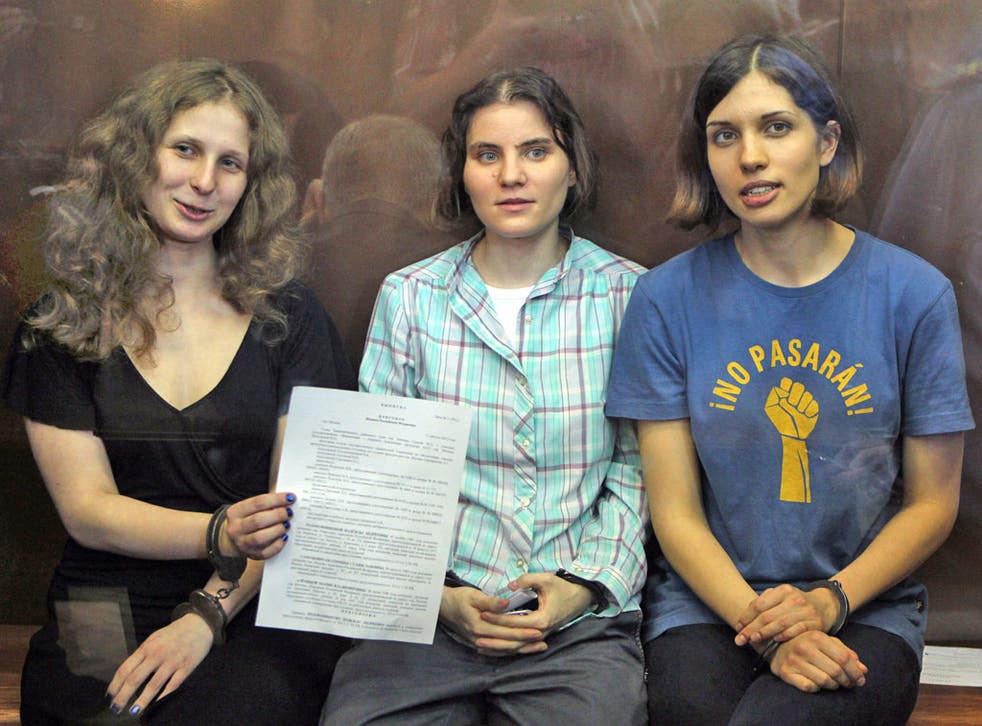 So offended by watching a YouTube clip that they need financial compensation – that is the claim from a group of Siberians suing the Russian punk trio Pussy Riot for psychological distress.
In the latest twist in the case of the three women, jailed last week for two years for their "punk prayer" in Moscow's main cathedral, a wave of civil cases is being brought against them by a law firm that says it is inspired by the gospel.
"We are talking about moral suffering which causes physical pain," claimed the lawyer Alexei Krestyanov, who is representing Irina Ruzankina and two other women who say they saw the clip on the internet and were harmed by it. "She suffered because this punk group performed their punk prayer in a place where they should not have, in a place where she worships and that she considers sacred."
Ms Ruzankina is asking for 30,000 roubles (£600) compensation, and Mr Krestyanov said that he plans to launch 12 lawsuits against the band, to represent the 12 apostles of Jesus Christ. Lawyers for Pussy Riot have called the lawsuits "idiotic" and insist that they have little chance of succeeding.
Maria Alekhina, Nadezhda Tolokonnikova and Yekaterina Samutsevich danced in the Christ the Saviour Cathedral for about 40 seconds in February, and later lyrics were dubbed over the footage calling on the Virgin Mary to "chase out Putin". They said that the stunt was a protest against the Orthodox Church's backing of President Vladimir Putin. The women were jailed for two years after the judge found them guilty of "hooliganism motivated by religious hatred" and threw out the defence claim that the act was a political protest. The verdict was met with international outcry.
Much of the case was based on the offence supposedly caused to those who appeared in court as "victims", with church security and worshippers claiming they were so shocked by seeing the bright outfits and unorthodox dance moves of the women that they had health problems, or were so distraught that they were unable to count their change properly when making purchases.
One of the "victims" had his evidence annulled by the court, as he had only viewed the proceedings on YouTube rather than seen the performance in real life. Those behind the new civil lawsuit were also not present at the time of the performance.
Yesterday also saw the trial of former chess world champion Garry Kasparov who was arrested outside the courtroom protesting against the Pussy Riot verdict. He is likely to receive a fine, but may face a further case over allegations that he bit a police officer during the struggle.
Register for free to continue reading
Registration is a free and easy way to support our truly independent journalism
By registering, you will also enjoy limited access to Premium articles, exclusive newsletters, commenting, and virtual events with our leading journalists
Already have an account? sign in
Join our new commenting forum
Join thought-provoking conversations, follow other Independent readers and see their replies