Putin: The US is to blame for almost all the world's major conflicts
He said the likelihood of future wars had "sharply increased"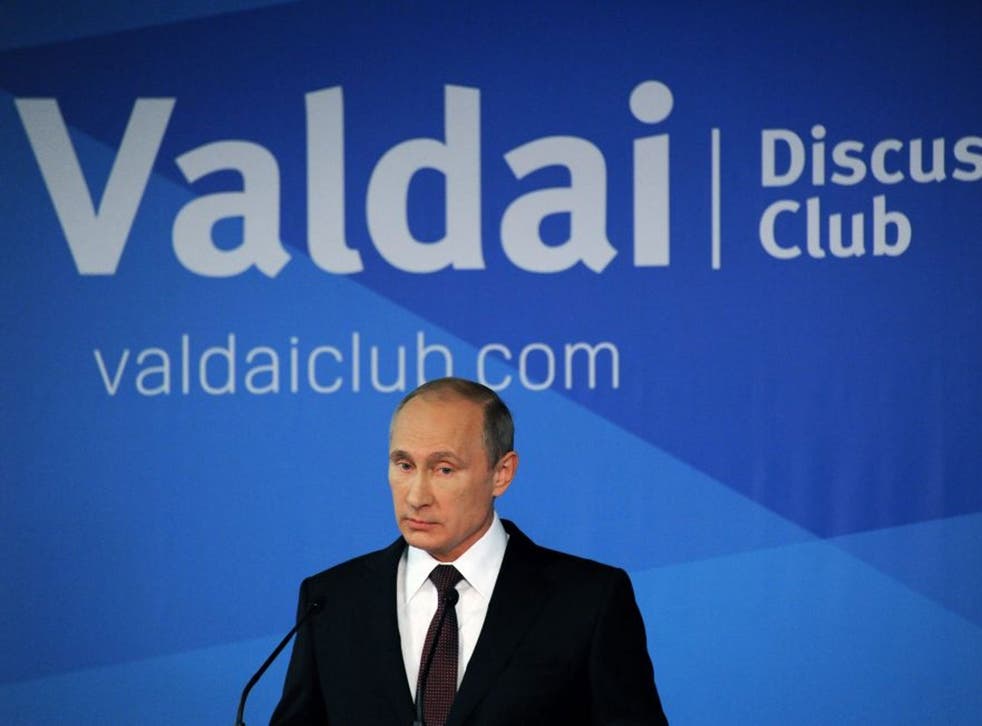 Russian President Vladimir Putin has accused the US of undermining global stability, and warned that the world will face new wars if Washington does not respect the interests of other nations.
During a speech in the Russian city of Sochi, the President argued that while Moscow does not see Washington as a threat US foreign policy has created chaos. Citing the wars in Iraq, Libya and Syria, he went on to accuse the US and its allies of "fighting against the results of its own policy".
"They are throwing their might to remove the risks they have created themselves, and they are paying an increasing price," Putin told political experts at the Black Sea resort.
"I think that the policies of the ruling elite are erroneous. I am convinced that they go against our interests, undermine trust in the United States," he said without offering specific examples.
"The probability of a series of acute conflicts with indirect and even direct involvement of major powers has sharply increased," he said. "Ukraine is an example of such conflicts that influence a global balance of forces, and, I think, not the last one."
Addressing the ongoing crisis in Ukraine, which has dragged Russia-West relations to their lowest point since the Cold War, Mr Putin admitted that Russia had helped former Ukrainian President Viktor Yanukovich to flee in February.
"I will say it openly - he asked to be driven away to Russia. Which we did," Putin said.
Vladimir Putin: Inside the Russian President's Daily Life

Show all 10
Mr Putin went on to accuse Western powers of supporting the overthrow of pro-Russian Mr Yanukovych, and claimed leaders had dismissed Russia's legitimate interests in its neighbour.
In response to Russia's annexation of Crimea in March and its support for pro-Russian insurgents fighting government troops in eastern Ukraine, the US and EU have imposed several rounds of crippling sanctions against Moscow.
But Mr Putin claimed that Moscow would not "beg" in response to the sanctions imposed on it.
Mr Putin also argued that the interests of Russia and other nations need to be taken into account to stabilise the global situation.
"Russia is not demanding some special, exclusive place in the world.
"While respecting interests of others, we simply want our interests to be taken into account too, and our position to be respected," he said.
Register for free to continue reading
Registration is a free and easy way to support our truly independent journalism
By registering, you will also enjoy limited access to Premium articles, exclusive newsletters, commenting, and virtual events with our leading journalists
Already have an account? sign in
Register for free to continue reading
Registration is a free and easy way to support our truly independent journalism
By registering, you will also enjoy limited access to Premium articles, exclusive newsletters, commenting, and virtual events with our leading journalists
Already have an account? sign in
Join our new commenting forum
Join thought-provoking conversations, follow other Independent readers and see their replies