Trust in Putin 'doubles overnight' – after Kremlin pollsters change methodology
Survey had suggested trust in Russian president had dropped to 31.7 per cent, a 13-year low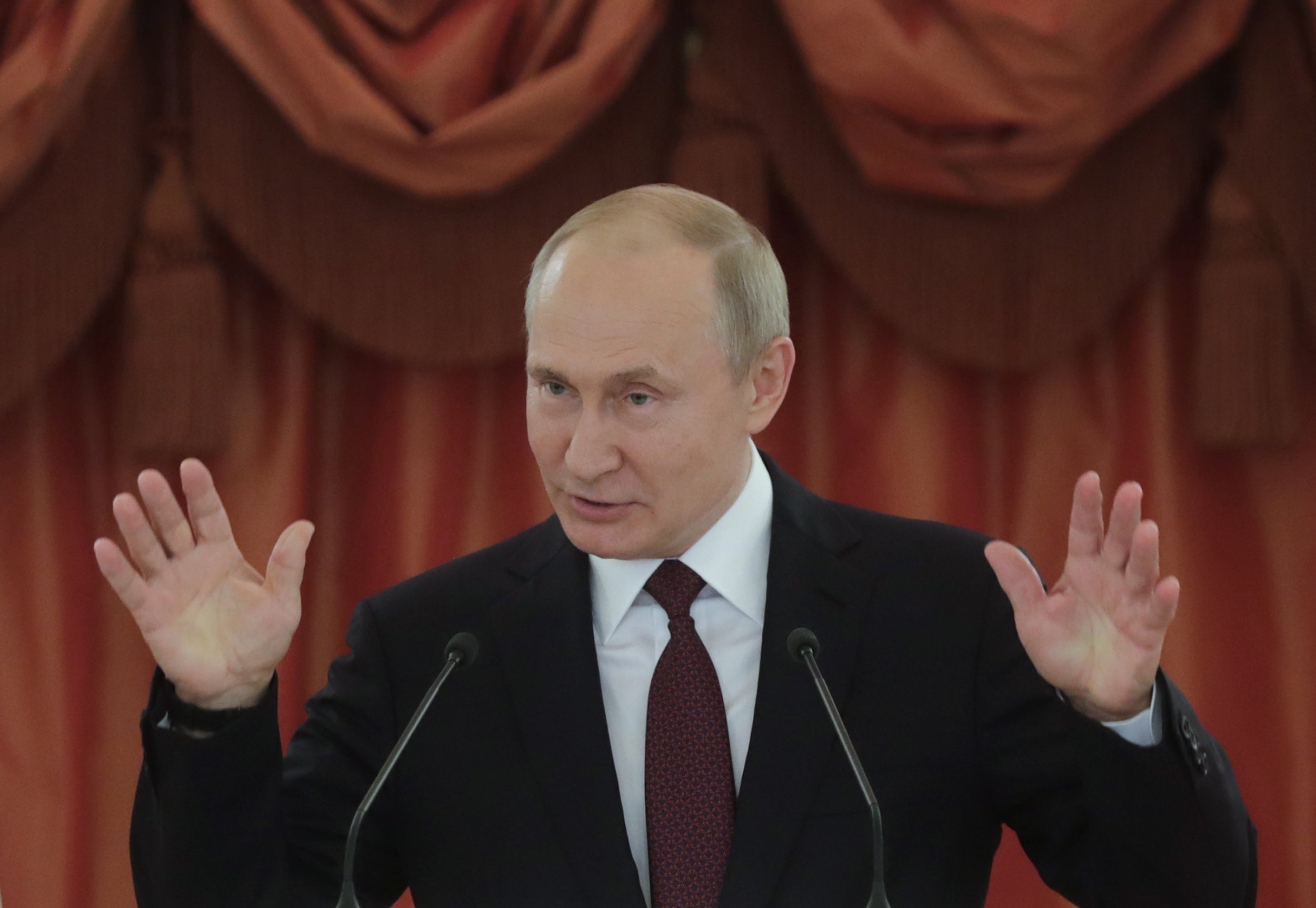 A quote assigned to Stalin famously rejected the importance of voters: it's who counts them that matters. In contemporary Russia, how they are counted is, it would seem, just as important.
Last week, a new poll by state pollsters VTsIOM revealed a worrying state of affairs for the Kremlin. Only 31.7 per cent of respondents said they trusted their president. The new baseline, which represented a 13-year low, led usually loyal publications to conclude that Russians were close to "losing patience" with Vladimir Putin.
Fast forward to Thursday, and the Kremlin's press secretary Dmitry Peskov was fielding questions about the polling. Was the president worried about falling levels of trust? Mr Peskov, audibly irritated, answered that the polling was "not consistent" with figures he had seen.
"How can trust fall, but electoral rating increase? … We await their analysis of the correlation of figures."
Overnight, VTsIOM answered the spokesperson's call and issued an update to its polling figures. The headlines changed: in fact, 72.3 per cent of Russians trusted Vladimir Putin.
Anti-Putin protests: hundreds of demonstrators arrested in Russia
Show all 22
The difference in figures, pollsters said, was down to methodology and a rephrased question. Last week's poll was done with open lists, allowing voters to name the politician they most trusted. The new poll used closed lists, and instead asked people what they thought about individual politicians.
"Before we limited ourselves to non-personalised questions about trust in politicians, and that got in the way of people expressing their opinion," said Valery Fedorov, VTsIOM's director.
"We hope that the new picture will be clearer to our audience and to the journalistic community."
VTsIOM is Russia's largest polling organisation, but with close links to the Kremlin, is not considered reliable on key data. That was not always the case, and in the 1990s its team of sociologists were well-regarded. But early in Mr Putin's presidency, most of the previous team walked out, claiming intolerable pressure from the Kremlin.
The private organisation they founded in response, the Levada Centre, has since been labelled a "foreign agent" under controversial NGO-funding laws.
Levada Centre's present-day director Lev Gudkov told The Independent that its own independent polling mirrors both sets of VTsIOM's findings, but at 5-10 percentage points lower. Levada also uses a split methodology of open and closed lists, he revealed.
But the veteran pollster offered a fundamentally different interpretation on what the results said about the "true" level of Vladimir Putin's support.
"We always ask people to name politicians they trust, and we do this for the simple reason that it gets us closer to the situation we'd see if we had competitive elections," he said. Levada Centre's most recent figures roughly mirror VTsIOM's 32-72 split – with 30 per cent trusting the president on open lists (where responders name politicians themselves) and 65 per cent on closed lists.
"That 65 per cent is essentially a reflection of the monstrous propaganda we have in Russia, and almost approximates to forced voting," Mr Gudkov said.
Regardless of the methodology used, polling trends show a concerning picture for the Kremlin.
In the 10 months since August, Mr Putin's rating has dropped more than 20 per cent and is showing little sign of bouncing back. The shift coincides almost exactly with the introduction of controversial reforms to raise the pension age. But it also reflects a wider malaise connected to sanctions, low oil prices, falling real-term wages (13 per cent down over the past five years) and a restriction of civil rights.
Given that background, the raw polling data was not altogether terrible news, said the independent political expert Maria Lipman. They still showed a "general acquiescence", if not great enthusiasm, for the idea of Mr Putin as president. They also showed the president remained, by far, the country's most trusted and popular politician.
Instead, the Kremlin's sensitive response probably reflected the "negative publicity" generated around the poll, she said.
"Of course, they will be worried about the hype. And they will have hated the headlines about Putin's trust at a historical low."
Join our commenting forum
Join thought-provoking conversations, follow other Independent readers and see their replies