Putin cancels key appearances due to ill health for first time in years
From the day he took over from Boris Yeltsin, the Russian President has built physical fitness into his brand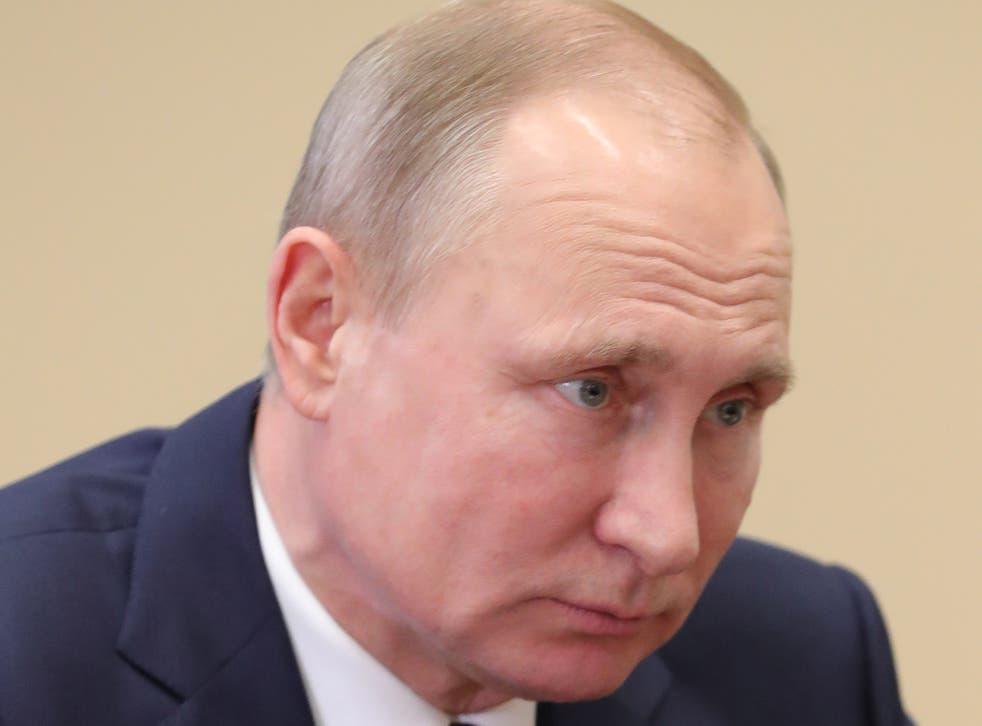 For the first time in years, Vladimir Putin has cancelled several public appearances due to illness – prompting speculation about the long-term durability of a leader feted for his virility.
On Monday, there was no visit to Sochi. Today, there was no discussion of microelectronics in the Kremlin. Tomorrow, the President will not make an appearance at the "Mentor 2018" forum in Moscow. And next week, he will not travel to the Russian Far East.
During his last public appearance, at the culmination of the Kremlin's "Leaders of Russia" talent competition, the President showed obvious signs of illness. His voice was weak and crackly and he coughed throughout. The Independent saw a similar picture when it accompanied Mr Putin on a campaign visit in Siberia last week. The President struggled with public speeches, made mistakes and seemed unfocussed.
On Tuesday, presidential press secretary Dmitry Peskov played down the suggestion of serious illness. Mr Putin would continue to work from the Kremlin or at his suburban residence in Novo-Ogaryovo, he said.
"There is still a working schedule, but it will take into account the President's cold – you all heard his voice," said Mr Peskov. "It's winter, you understand yourselves."
On Sunday, however, the press secretary had claimed Mr Putin cancelled his engagements to concentrate on the aftermath of Sunday's crash of Saratov Airlines Flight 703. The lack of clarity has only added to the many unverified rumours circulating around Moscow.
From the day he took over from the ailing Boris Yeltsin, Mr Putin has built physical fitness into his brand. From naked torsos to icy plunges, judo to swimming to other beautification methods, he has claimed immunity to the ageing process. The Russian people, tired of seeing their leaders at death's door, have largely delighted in it. But now the President is 65, and any period spent on sick leave may change their opinion.
It is not the first time that Mr Putin's health has been a matter of extended debate. In late 2012, he cancelled several foreign trips and disappeared from public view. Then, the Kremlin claimed Mr Putin was nursing an old "sports injury". Few were convinced at the time.
World news in pictures

Show all 50
Sources close to the Kremlin told The Independent that there were doubts that the President would embark on his fourth presidential campaign.
Mr Putin's health is no inconsequential affair. The more he has ruled, the more he has made himself synonymous with the fate of the country as a whole. It is unclear how his hyper-personalised political system can survive any transition. While the image of an all-controlling leader is an exaggeration, it is also true to say Mr Putin is the only man able to balance the competing – often warring – clans of Russian government.
In March, the Russian President will go to his electorate to ask for another six years in power. He will receive that mandate from them, but many will be wondering if he has a plan for what comes next.
Join our new commenting forum
Join thought-provoking conversations, follow other Independent readers and see their replies