Putin hugging Gerhard Schroeder: birthday pictures anger Germany amid Ukraine crisis
German government has quickly distanced itself after pictures emerge of former Chancellor's birthday party
Heather Saul
Tuesday 29 April 2014 16:05 Comments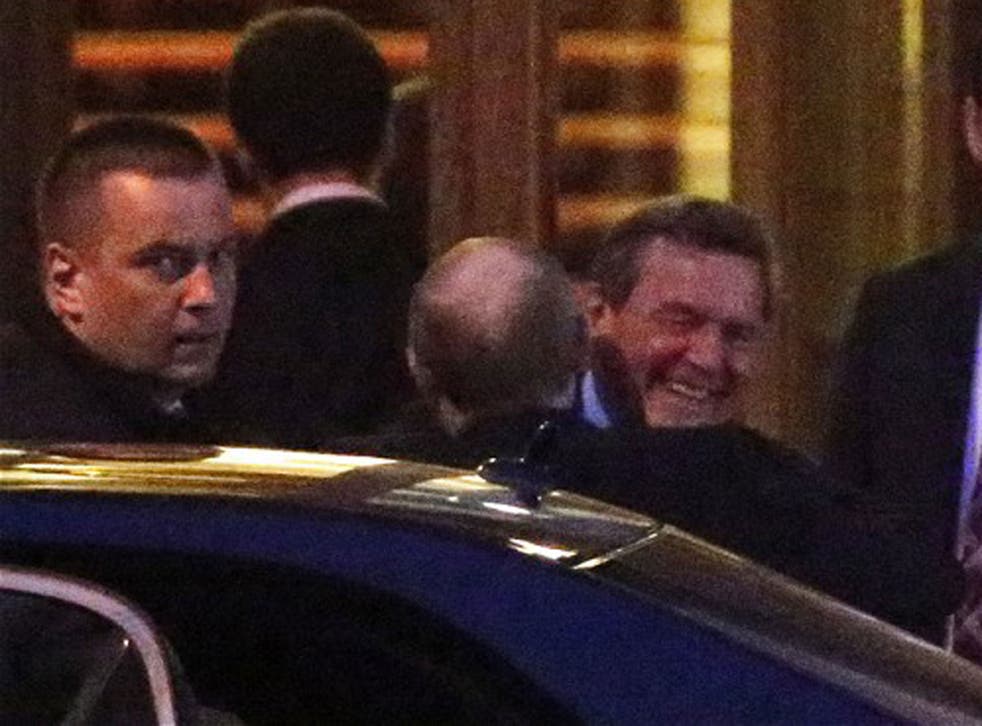 Photos of Vladimir Putin and Gerhard Schroeder sharing an embrace have caused the German government to quickly distance itself from the former Chancellor.
Mr Schroeder was seen enjoying a hug from the Russian President during celebrations for his 70th birthday at a party in St Petersburg outside the Yusupov Palace, according to German media reports.
"He does not represent the German government," a senior government official said when asked about the pictures of Mr Schroeder's meeting with Mr Putin. "It should be clear to everyone that Mr Schroeder left active politics some time ago."
His office had no comment to make on the pictures.
The publication of the images comes at a somewhat inopportune moment as tensions between the West and Russia continue to build over the Ukraine crisis.
Germany, which relies heavily on Russia for natural gas supplies, has been trying to defuse tensions over Ukraine and is seen in the West as reluctant to ratchet up sanctions against Moscow.
Clashes in eastern Ukraine

Show all 126
The European Union on Tuesday imposed asset freezes and travel bans on 15 Russians and Ukrainians. The US had also imposed new sanctions on allies of Mr Putin on Monday.
Mr Schroeder faced heavy criticism from German media on Tuesday, who condemned the former Social Democrat for not keeping a distance when a government including the SPD was trying to "stop his friend Vladimir from pursuing power-hungry policies".
"Schroeder celebrates his birthday with Putin and makes Germany's foreign policy look absurd," wrote Roland Nelles in a commentary for Der Spiegel magazine's online edition, which published a series of pictures showing Mr Schroeder first waiting for Mr Putin's car to arrive and embracing the Russian president.
Gerda Hasselfeldt, parliamentary leader of the Bavarian Christian Social Union (CSU) which is aligned with Merkel's conservatives, said: "I found the pictures alienating. I hope he used the opportunity to talk to him about the problems."
Andreas Schockenhoff, deputy parliamentary floor leader for Merkel's party, said Schroeder risked undermining the German government as well as his own protege, Foreign Minister Frank-Walter Steinmeier.
"The chancellor and foreign minister have tried to help stabilise Ukraine for weeks and keep the EU together while Putin is trying to destabilise Ukraine and divide the EU," he said. "Pictures like this play into the hands of Putin's propaganda."
Mr Schroeder, chancellor from 1998-2005, has come under fire previously for his close relations with Mr Putin. Schroeder became the board chairman of a German-Russian pipeline joint venture with gas monopoly Gazprom Nord Stream after leaving office.
Additional reporting by Reuters
Register for free to continue reading
Registration is a free and easy way to support our truly independent journalism
By registering, you will also enjoy limited access to Premium articles, exclusive newsletters, commenting, and virtual events with our leading journalists
Already have an account? sign in
Register for free to continue reading
Registration is a free and easy way to support our truly independent journalism
By registering, you will also enjoy limited access to Premium articles, exclusive newsletters, commenting, and virtual events with our leading journalists
Already have an account? sign in
Join our new commenting forum
Join thought-provoking conversations, follow other Independent readers and see their replies