Pro-Putin parties expected to win elections in Bulgaria and Moldova
A pro-Russian stance could slam the brakes on seven years of closer integration with the European Union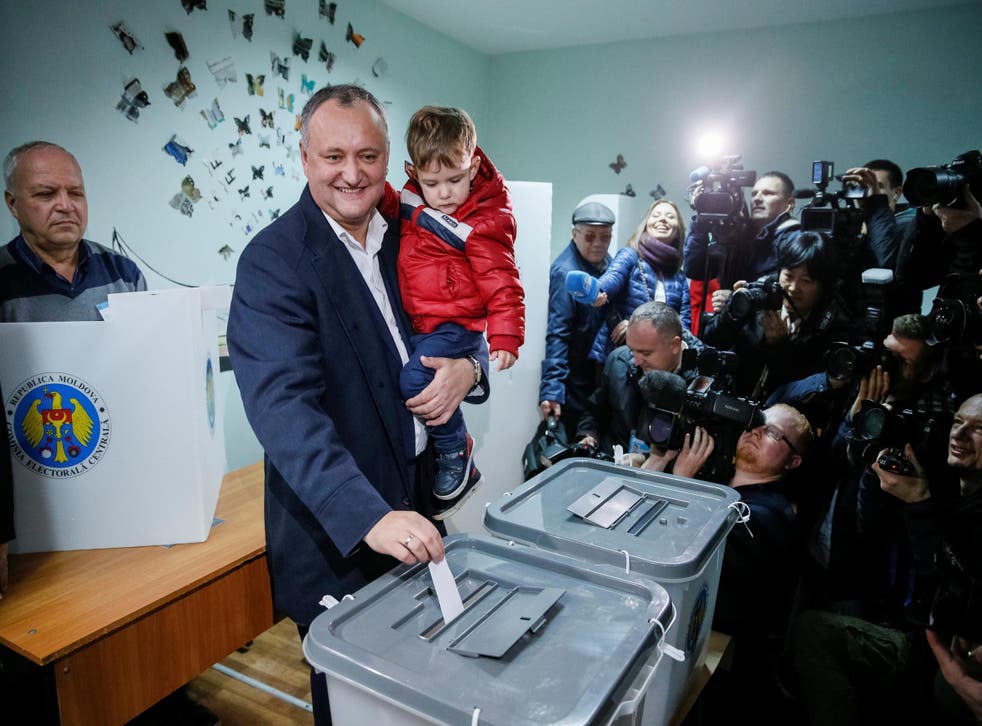 Moldovans cast their votes on Sunday in an election that could install a pro-Russian candidate as president and slam the brakes on seven years of closer integration with the European Union.
Socialist Igor Dodon has led the polls and narrowly failed to win an outright majority in the first round of voting at the end of October. His opponent, Maia Sandu, is a pro-Western former World Bank economist who had promised to tackle corruption.
Dodon's status as favourite is in part a reflection of a loss of trust in pro-European leaders in the ex-Soviet state of 3.5 million, which was plunged into turmoil after a corruption scandal came to light in late 2014.
In another potential blow to the European Union brand, Bulgaria - which also goes to the polls on Sunday - may similarly elect a pro-Russian candidate.
The scandal in Moldova involved the looting of $1 billion - the equivalent of an eighth of its economic output and highlighting the scale of corruption in Europe's poorest nation.
Former prime minister Vlad Filat - one of five prime ministers in three years - was implicated, handcuffed live on TV in parliament and later jailed.
Moldovans believe other members of the pro-EU elite were complicit.
"Local partisans of the West or EU have not only performed weakly but have performed perversely," said William Hill, a former head of the Organization for Security and Co-operation in Europe (OSCE) mission in Moldova.
"And this has gone a long way to discrediting popular faith in the ideals of the West and the prescriptions of the EU or the U.S. as effective medicine for what ails their societies and their economies."
Squeezed between Ukraine and EU member Romania, Moldova signed a political and trade agreement with the bloc in 2014 that damaged its ties with Moscow, which imposed trade restrictions on Moldovan farming exports.
Dodon's Socialist party wants to scrap that agreement in favour of joining a Eurasian Customs Union dominated by Russia.
In a sign of the waning enthusiasm for the EU, just 30.9 percent of Moldovans would currently support joining as a full member, compared to 44 percent favouring the Eurasian Customs Union, a survey by Moldova's Institute for Public Policy showed in October.
And 66.6 percent of Moldovans say they trust Russian leader Vladimir Putin, compared to 22.1 percent trusting U.S. President Barack Obama and 28.3 percent German Chancellor Angela Merkel.
"There is far less belief in what the EU is selling than there was in 2004, the time of the first big enlargement (of the bloc)," Hill said.
Reuters
Register for free to continue reading
Registration is a free and easy way to support our truly independent journalism
By registering, you will also enjoy limited access to Premium articles, exclusive newsletters, commenting, and virtual events with our leading journalists
Already have an account? sign in
Register for free to continue reading
Registration is a free and easy way to support our truly independent journalism
By registering, you will also enjoy limited access to Premium articles, exclusive newsletters, commenting, and virtual events with our leading journalists
Already have an account? sign in
Join our new commenting forum
Join thought-provoking conversations, follow other Independent readers and see their replies