The return of the godfather: How Putin's best friend in Ukraine is staging an improbable comeback
Viktor Medvedchuk counts Vladimir Putin as godfather to his daughter and his looking to put himself back on the political map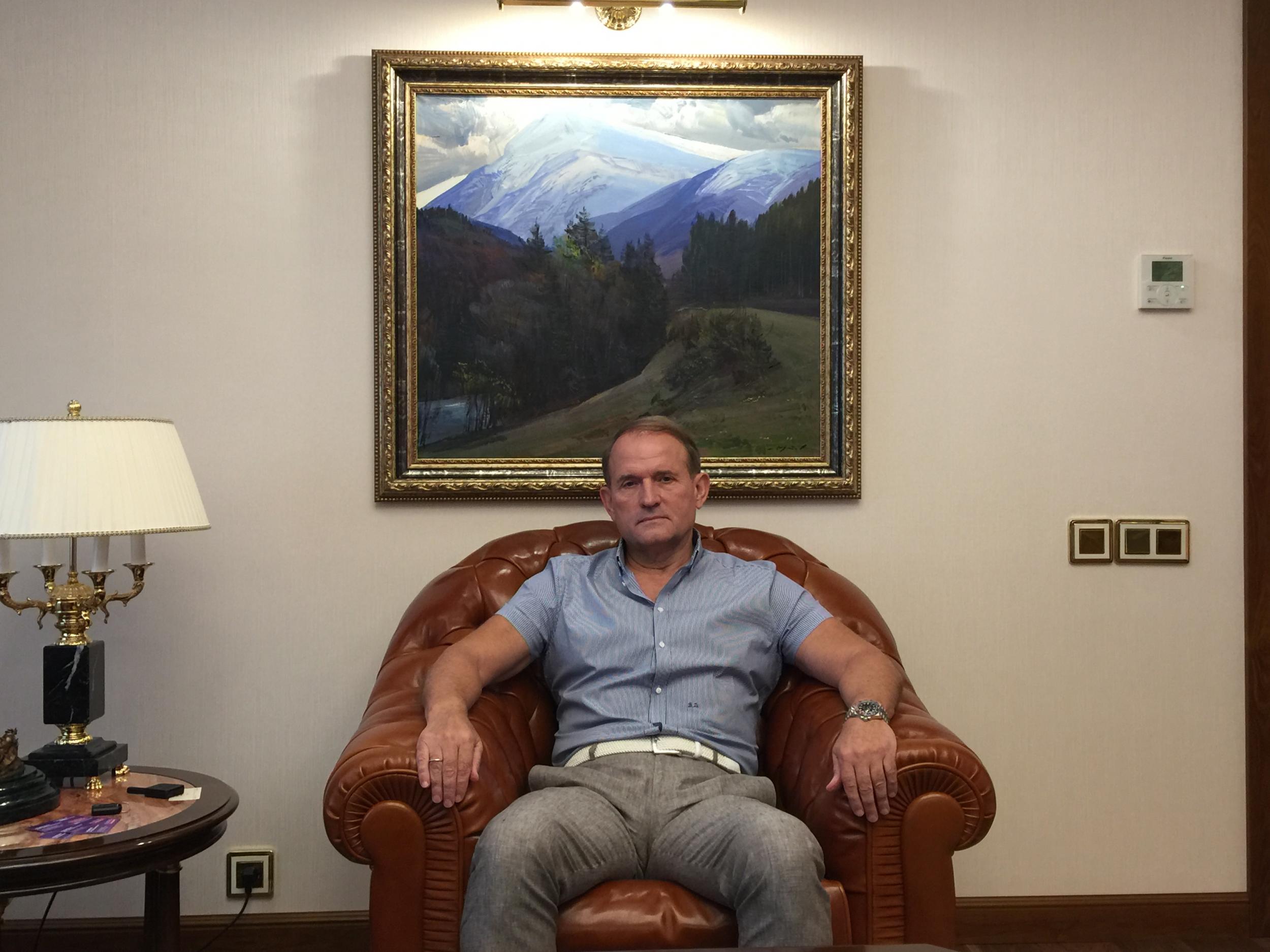 He is known to his critics as Ukraine's Prince of Darkness, a toxic presence. But Viktor Medvedchuk would like people to know that he's back.
The former lawyer, a man who counts Russian president Vladimir Putin as godfather to his child, was one of the very first people to be included on US sanctions lists.
He was largely sidelined and forgotten after the Euromaidan protests. Yet the pro-Russian operator seems to be engineering an improbable comeback, leveraging in his position as the only Ukrainian capable of negotiating with the Kremlin. First, he was invited to become a special representative at the Minsk peace process – aimed at ending the conflict in eastern Ukraine - and is in charge of prisoner exchanges.
Now, he says he will now put himself forward for election to parliament – on the lists of a new party, Za zhittya [for life].
Following the news, and a rare, extended TV interview, Kiev has filled with speculation about his long-term aims. Some say he is angling to become speaker in the next parliament. Others suggest he is looking to become the de facto leader of the country's pro-Russian minority.
In an exclusive interview with The Independent, Mr Medvedchuk offered little clarity on his political aims. He claimed he had no intention to "jostle for positions". But as if to underline his predilection for the shadows of politics, he added formal positions meant nothing – not in a government that had has "lost its entire point of being".
World news in pictures
Show all 50
"The government has no influence on life in the country. It has no monopoly of force," he said.
With presidential elections due next March, and parliamentary elections the following autumn, Ukraine is visibly stepping up a political gear. Campaign posters for the main presidential candidates have already appeared all across the capital, Kiev.
President Petro Poroshenko is basing his appeal on a traditionalist and militaristic call – "army, language and faith" read his posters. Yulia Tymoshenko, the phoenix of Ukrainian politics, is offering her voters the promise of a "new social pact". Ms Tymoshenko is the undoubted favourite in the campaign, having led major polls for over a year. But a third candidate such as former minister of defence Anatoliy Hrytsenko and the chart-topping rockstar, but yet-to-declare Svyatoslav Vakarchuk, may yet have a chance.
Putin warns of 'consequences' if Nato develops closer ties with Georgia and Ukraine
Mr Medvedchuk offered some endorsement for the "focused" and "well-prepared" Yulia Tymoshenko, who would fight "with every fibre" for the prize. In a run-off between Mr Hrystenko and Ms Tymoshenko, for example, it was "clear" the electorate should choose Ms Tymoshenko.
But he insisted there was no political relationship with Yulia: "There is no necessity for this. And we have different political positions."
Some have suggested that Ms Tymoshenko may take a more flexible approach to relations in Moscow. But Mr Medvedchuk, Ukraine's special representative for humanitarian affairs at the Minsk negotiations, dismissed such a prospect.
"I don't think she has any better chances than Poroshenko in the Donbass," he said referring to the conflict. "I don't see that Tymoshenko has the political will to go after peace any more than Poroshenko."
Mr Medvedchuk's own views on the resolution of the conflict are reliably pro-Moscow and have broadly evolved in step with the Kremlin.
Long associated with a campaign to federalise Ukraine, Mr Medvedchuk advocates granting comprehensive autonomy to the separatist statelets in eastern Ukraine. The two were separate processes, he said. On Donbass, he would "soon" be presenting a new proposal for the return of the regions to Ukraine. This would propose self-government on the terms formerly granted to Crimea.
Mr Medvedchuk said the offer would not include a veto on major foreign relations questions such as Nato membership. He denied his proposals would dilute sovereignty. "The threat for sovereignty comes from Washington managing Ukraine from afar and by the movement towards European and Nao integration," he said.
Mr Medvedchuk referred to the threat of Nato membership several times – despite also accepting it was "not a realistic prospect."
It was not the only talking point that might have been penned by the Kremlin.
The United States was interfering in the affairs of "brotherly" nations, he said. Putin wanted peace in Donbass. Putin would do everything to protect eastern Ukrainians from repressions from Ukraine's "party of war".
Yes, the OSCE videos released earlier this month seemed to show Russia violating state borders and providing weapons to separatist forces. But the US, Nato and the EU were doing "the same" by providing weapons to Ukraine.
"So one side is doing it publicly and the other side isn't? What's the question? What should I comment on?"
Mr Medvedchuk said he "often" discussed Ukraine with his compadre, Vladimir Putin. How often was for them to know. "More than once a year," he said, before winking. He would wink several times in the course of the interview.
His friendship with Vladimir Putin began in 2003. They were introduced by Alexander Voloshin, then Mr Medvedchuk's opposite number as head of the Kremlin administration. The two soon realised out they had close worldviews – "how else could we keep our relationship going?" – but they diverged on one key question.
"Putin thinks we are one nation, but I think it's not one nation, but two Slavic nations, with intertwined histories, religion. I tell him this all the time. I don't think it's one nation. You simply can't say this."
Writing in All the Kremlin's Men, the well-connected Russian journalist Mikhail Zygar claimed that Vladimir Putin believed that no question involving Ukraine could be solved without Viktor Medvedchuk. This is the major reservoir for the political operator's newfound power.
But Mr Medvedchuk insists it would be a "sin" for him not to use his close ties with the Russian president.
"I want people to be home with their families," he said. "When people say I helped release 481 people, that is just from the Ukrainian side, overall the numbers are 800-900. I know I'm the only one who can do it. Others tried and failed."
Mr Medvedchuk says he is currently negotiating hard for the release of Oleh Sentsov, now entering his 110th day on hunger strike. He says the Crimean director, who is taking nutritional support that may sustain him for several weeks, will not be allowed to die in prison.
"Do you really think that Russia will allow something terrible to happen? There is such a thing as force-feeding. This is allowed under the rules of detention."
But several issues of "form" and "substance" stand in the way of his release, says Mr Medvedchuk. Ukraine was responsible for creating a number of problems for itself, he said, by "creating political pressure" and "issuing ultimatums."
"You also have to think about the process of releasing him. You either show he is innocent with a verdict in the European court. Or you get a pardon. You need to make a personal application to Putin for the matter to be looked into."
This is not the first time that Mr Medvedchuk has been closely associated with the fate of a prisoner on hunger strike. Many have been quick to draw parallels with a case from 1980 when Mr Medvedchuk, then a 25-year-old lawyer, was assigned by the state to defend dissident Vasyl Stus from charges of anti-Soviet propaganda.
The dissident died in prison following a hunger strike in 1985. He was later pardoned and became a national hero.
According to friends, Mr Stus protested against Mr Medvedchuk's appointment and said that he sensed his lawyer was working for the other side. In official protocols of the court sessions, Mr Medvedchuk is recorded as agreeing with the "qualification" of the case.
When asked whether the case brought back memories, the smiles and winks disappear.
"I see nothing in common, no [common] fate between Stus and Sentsov," he said. Mr Medvedchuk was but a "young lawyer" at the time, sent to take on a case others were uncomfortable with, and he could not have operated differently: "Stus denounced the Soviet government, and didn't consider it to be legitimate. Everyone decides their own fate. Stus admitted he agitated against the Soviet government. He was found guilty by the laws of the time. When the laws changed, the case was dropped. Unfortunately, he died."
Nationalist-leaning parliamentarians and activist groups have begun a campaign demanding Ukraine's general prosecutor reopen an investigation into the affair. They have announced a protest rally for 4 September to this end. Meeting in "Pizza Veterano" a new restaurant opened by veterans of the conflict, organisers in the "Stop Revanche" movement told The Independent that they were "convinced" Mr Medvedchuk was working to undermine the results of the revolution.
"The evidence was enough to put him on sanctions lists," one reasoned.
Mr Medvedchuk said he would not be paying any attention to their campaign. "What do they expect me to do?" he said. "To quit? Never."
Join our commenting forum
Join thought-provoking conversations, follow other Independent readers and see their replies