Vladimir Putin renames Russian air force regiment after Estonian capital
Moscow said to be trying to destabilise Baltic region through 'strategic narratives'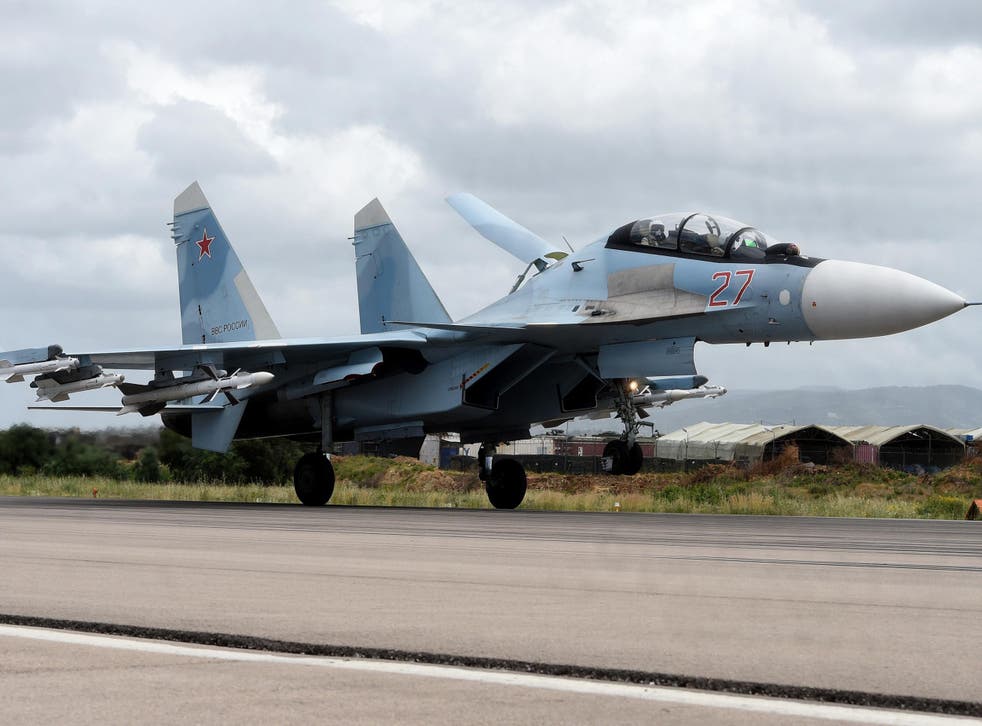 Vladimir Putin has renamed a regiment of the Russian air force after the Estonian capital, in a move likely to be seen as provocative by leaders of the former Soviet Baltic state.
A presidential order announced the 23rd Fighter Aviation Regiment would now be known as the Tallinn Regiment.
The decree said the unit's new name was intended to "raise spirit of military obligation" and "preserve holy historical military traditions".
Estonia was under Soviet rule for nearly 50 years after being occupied during World War II. Russia's annexation of Crimea from Ukraine heightened tensions in the Baltic states, and the Kremlin has been accused of attempting to destabilise the region.
Derek Averre, a senior academic who specialises in Russian foreign policy at the University of Birmingham, said Moscow's renaming of the regiment was likely meant to be "provocative".
"Russia is concerned that its influence is being further marginalised in the Baltic states and the dual NATO-EU enlargement has been pushed further eastwards," he told The Independent.
He said renaming an air force regiment after Tallinn, a former strategic outpost of the Soviet Union, was indicative of Moscow's use of "political narratives" to exert influence on former Soviet estates.
"The Russians like to make a point and as part of that the strategic narratives of Soviet Russian glories in the past," said Dr Averre, Reader in Russian Foreign and Security Policy at the university.
He added: "In the absence of actually being able to exercise full control over the sovereignty it tends to take the form of cyber-mischief, trying to destabilise a bit through strategic narratives, trying to make people in these countries see things the Russian way.
"That's been a feature over the last three or four years of Russian diplomatic intelligence operations.
"Part of the Russian narratives which have emerged since then are very much harking back to Russia's past. [They include] a lot of talk of Russia being the saviour of Ukraine and Eastern Europe, casting off the yolk of Nazism during the Second World War and really going back to past historical glories, during the Soviet period particularly."
World news in pictures

Show all 50
Upnorth, an English-language news website covering the Baltic region, described the regiment's renaming as "a naked attempt at intimidation" by Mr Putin.
The Soviet Union dropped thousands of bombs on Tallinn in repeated air raids during World War II. Hundreds of people, mostly civilians, were killed.
Last year Russia sent 2,500 troops to an airborne military drill in the Pskov region, which borders Estonia, raising anxieties about possible conflict in the region.
The UK has stationed troops in Estonia as part of a Nato mission to deter Russian aggression.
Join our new commenting forum
Join thought-provoking conversations, follow other Independent readers and see their replies