Putin says Russia will continue boosting military spending as country celebrates Victory Day
Parades are a traditional show of the Kremlin's military strength, but the militarisation of WWII memory has also provoked a split within society and Russian people themselves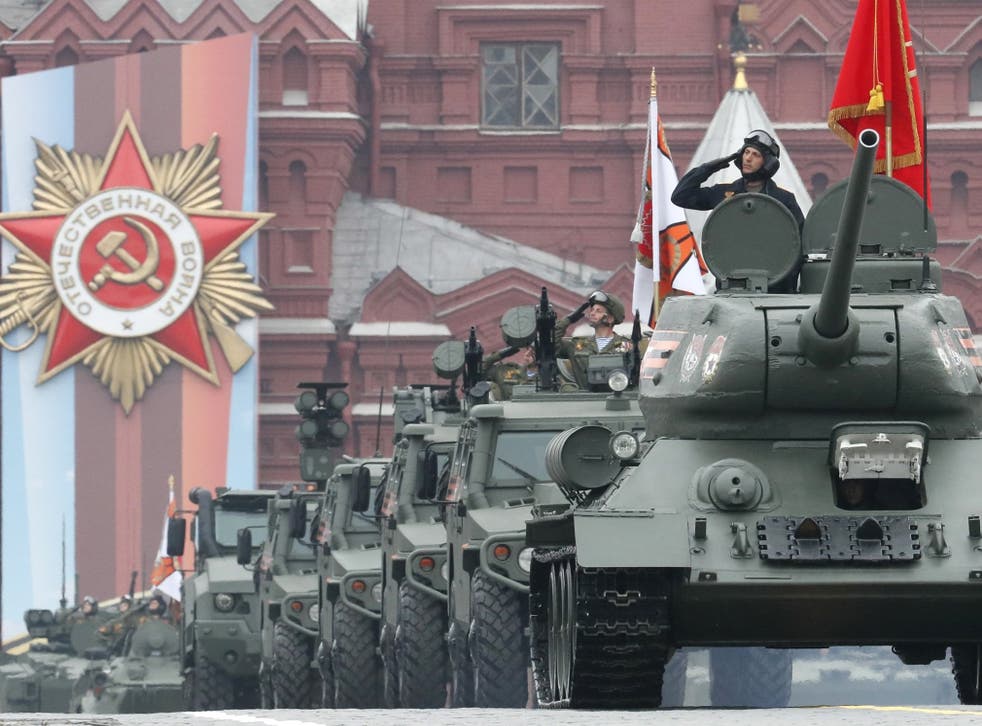 From an overcast Red Square on Thursday, Vladimir Putin evoked images of national unity, history and sacrifice to claim the mantle of defeating Nazi Germany and protecting against modern-day fascism.
"We understand the enduring value of our people's military triumph," he said. "Our people not only defended and saved [their] Motherland. They also became a rock for mankind, the main liberator of Europe."
Mr Putin's short speech, made at the beginning of Russia's traditional Victory Day parade, made no reference to the role allied powers or other nations of the Soviet Union played in defeating Hitler.
He also committed Russia to continue to boost its military and create "the most modern defence capacities". But in calling for security cooperation, and concentrating on the role of war veterans and their families, the president's rhetoric seemed to take a less aggressive route than previous years.
Kim-Putin summit: Leaders meet for first talks in Russia

Show all 10
The cloudy weather, meanwhile, made sure that the hardware part of the parade was similarly toned down.
Many of Russia's military top trumps rumbled over Red Square's cobblestones as before: beginning with vintage T-34 tanks and ending with cutting-edge S-400 anti-aircraft missiles and the behemoth Yars and Iskander launchers designed for intercontinental nuclear payloads.
But the second part of the parade, an aerial flyover, was cancelled at the last minute, with authorities citing safety concerns amid the poor weather.
In previous years authorities have been known to disperse clouds using silver iodide. With Sunday's tragic air accident at Sheremetyevo airport still fresh in the memory, they appeared to be taking no chances.
Watching on from the stands, alongside hundreds of posh-suited dignitaries including Steven Seagal, were a smaller number of surviving veterans.
According to various reports in Russian media, the VIP guest list resulted in only a fraction of the veterans who wanted to attend being given tickets.
But for those who did make the cut, it was an opportunity to dress up, remember fallen comrades and revel in rare attention.
"Victory Day is everything to me," said Nikolai Morozov, 91, who served as a young boy in the Russian navy from 1942 onwards. "It's like a gulp of air. You feel your old self again. Give me a new leg and I'll be down there marching with them."
Mr Morozov, who assisted British-led Arctic convoys in delivering crucial cargo and munitions to the Soviet Union, described himself as a committed supporter of the Russian president. But, he said, it was a matter of "great regret" that Russia's "resurgence" had come at the expense of relations with Europe.
"It's a mistake to break from Europe," he said. "I count many Englishmen as my friends. But making our army strong again is a good thing. We can't survive any other way."
With perhaps 20 million war dead, the Soviet Second World War sacrifice occupies a major role in Russian psychology. It is estimated that as many as three-quarters of the adult population tune in to watch the broadcast from Moscow.
The first parade to honour the fallen was held in 1945. But it was only two decades later, under the militaristic leadership of Leonid Brezhnev, that Victory Day became an event similar in style to today's parade. Even then, only four military parades took place: 1945, 1965, 1985 and 1990.
In his 19 years in power Vladimir Putin has pinned his presidential colours to the Victory Day mast, overseeing a massive increase in military expenditure and a growing militarisation of the parade. Ten years ago, military hardware was reintroduced for the first time since the end of the Soviet Union. Marching formations have also been extended to include police and security services – and latterly, and most controversially, children.
This is no accident, said Lev Gudkov, director of the Levada Centre, Russia's most respected sociological research group. Militarisation is the Kremlin's best shot at creating its much-sought national consensus, he said. "There is no other mechanism. They need the idea of an external enemy for Russians to accept all the sacrifices currently being imposed on them."
According to Grigory Yudin, professor at Russia's Higher School of Economics, the Kremlin has appropriated an obvious resource: the only "incontrovertible national celebration" outside of new year. "It is only natural that it would look to channel the collective emotion to support its militarism," he said.
But, he added, the recent militarisation has also provoked "a contradictory moment, and a split, not so much in society but in people themselves."
According to Levada's most recent research, less than 30 per cent of Russians say they are in favour of a militarised parade. On the contrary, more than half say the day should be spent taking better care of veterans.
Sociologist Gudkov, whose research famously introduced the idea of Homo Sovieticus, the Soviet creature who developed doublethink as a way to deal with the horrors of Stalinist repression, said a similar mechanism is again at play with Homo Putinus.
"It is not so much schizophrenia, as different levels of personality," he said. "On one level, contemporary Russian man feels pride; on another, he recoils at the falsity of it all.
"He is happy to embrace the collective rhetoric, but also is sure to keep his distance from government."
Join our new commenting forum
Join thought-provoking conversations, follow other Independent readers and see their replies