The Russian city accused of 'cleaning its smog' just for Putin's election visit
Activists say Krasnoyarsk's air is of international importance - as Russian president makes time to talk climate in Siberia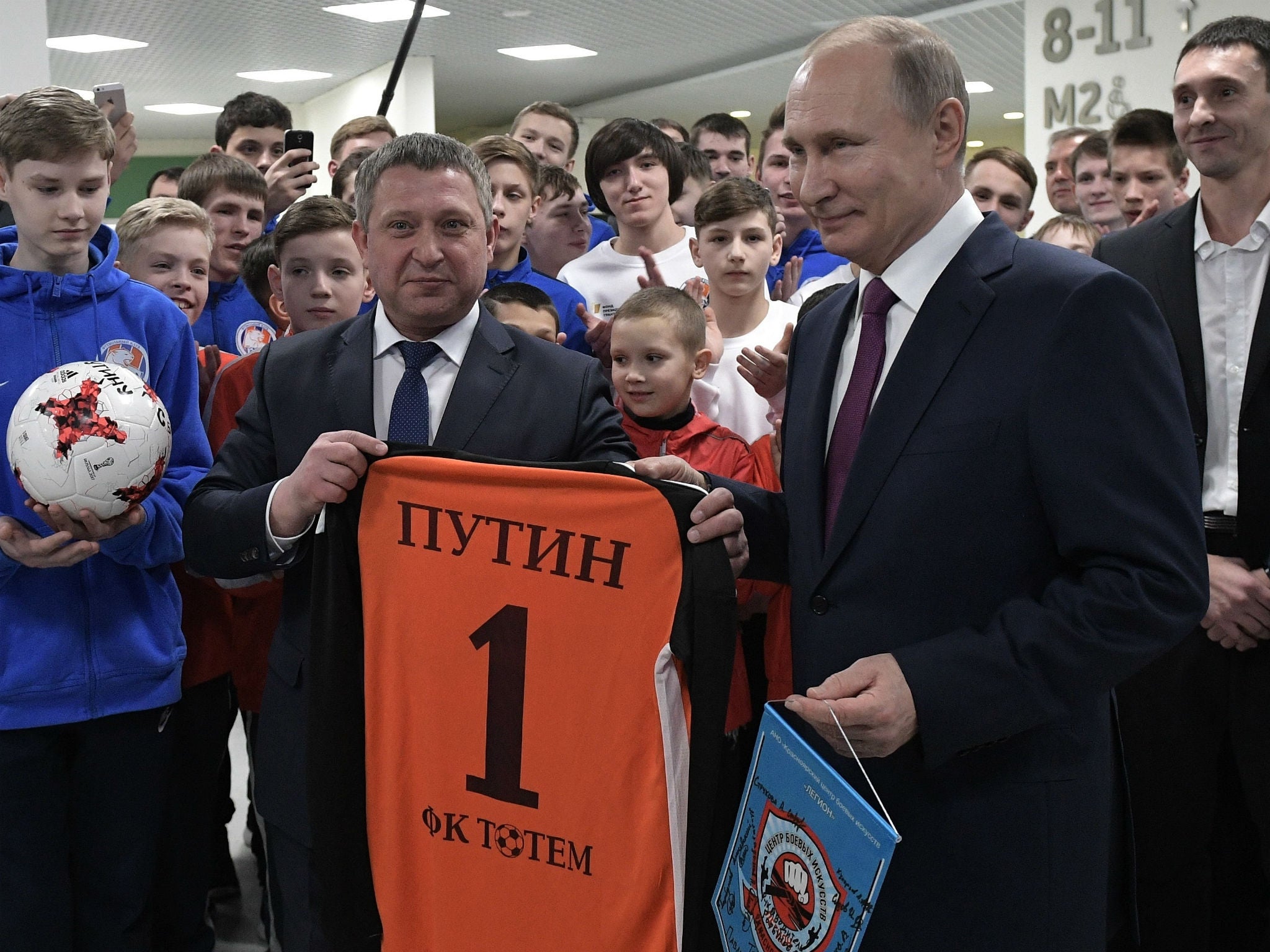 The crackle of a police walkie-talkie cut through the biting Siberian winds.
"Anybody with placards – I repeat – anyone looking like they are about to stage a rally, take them away," said the voice. Then a pause... "within the scope of the law."
Krasnoyarsk, a sharp, energetic industrial powerhouse 2000 miles east of Moscow, left little to chance in advance of Vladimir Putin's visit. A day earlier, as the mercury pushed -25C, municipal workers cleaned the city's roads, kerbs and rooftops. They levelled the snow in its central squares. On the day itself, hundreds of uniformed officers took up strategic spots around the city. And when the presidential plane arrived, the entire airport was closed, resulting in a full plane being abandoned mid-boarding, and passengers being left for two hours to endure sub-zero temperatures.
The talking point of the President's pre-election visit – it would be an exaggeration to talk about an election campaign – was supposed to be young people and sport. Mr Putin would arrive in town to inspect new facilities ahead of the opening of the Winter University Games in 2019. The event, so journalists were briefed, was an opportunity to provide Siberia with "the infrastructure for the future". There would be new airports, swimming pools, sports halls, stadiums, clinics and hospitals.
Much of the day went according to that plan. The President, who has prioritised spending on sports and international games, was in his element. There were photo opportunities at a multi-functional sports centre and at a new hockey stadium. He was reunited with a football team mentoring kids from state orphanages. The last time the President saw them, he gifted the team a sports centre. Team sports were key to development, Mr Putin told the excited boys. "Thank you, thank you," they shouted.
Earlier, with journalists tucked away in a restricted press centre, Mr Putin admonished officials for overspends and delays with the University Games. Questions, not answers, remain the President's clear preference.
Vladimir Putin's Photo ops – Russia's Man of Steel?
Show all 20
But there were last-minute amendments to the schedule. A centrepiece meeting with local officials was extended to include industry leaders. And there would be a new focus: ecology. The changes seemed to be in response to local pressure.
"We want Krasnoyarsk to be more than just a powerful international sports cluster," Mr Putin told the room of bureaucrats and businessmen. "We want it to be a place where people want to live ... We need to pay special attention to the problem of ecological control."
Few locals expected Mr Putin to say these words. Not that pollution in the city is not a problem. Quite the contrary: over the weekend, Krasnoyarsk became a world leader in smog, beating Calcutta and Dakka to the top spot in recorded air quality. But before the President's words, which come six weeks before elections, the issue of Krasnoyarsk's putrid air had interested few in Moscow.
The city has an unfortunate inheritance. It's a stunning natural backdrop – the city sits in a mountainous basin – has combined with Soviet industrial planning and dubious contemporary practices to produce clear signs of ecological catastrophe.
Whenever the wind is still, the city's cars, aluminium smelter, and power station pump illness into the air. The result is black smog and levels of benzopyrene, a particularly toxic substance that can reach 114 times above recommended levels. Cancer rates are high, and growing by as much as 2.5 per cent a year. There are especially startling rises among children.
People across the city casually talk about eco-emigration, says local journalist Alexei Tarasov. Some have already left – abroad, or to nicer Russian climes in Sochi or Krasnodar. The Siberian mindset is patient, he says, but ecology has proven to be one issue capable of uniting people. When, for example, authorities looked to rubber-stamp a new ferro-alloy plant in the city, 8,000 turned up to protest.
Putin bathes topless in icy lake at Orthodox monastery
At the front of the pushback is activist Igor Shpeht. His Krasnoyarsk.nebo project – nebo means "sky" in Russian – has crowdfunded a network of independent monitoring stations. From six spots across the city, Krasnoyarsk.nebo produces real-time air quality reports. When the first group went online last March, they did not only reveal systemic under-reporting, but catastrophic levels of pollution. "We saw figures five to 10 times safe ranges," he told The Independent.
By the time the President arrived on Wednesday, air quality had moved back from world-breaker levels. For some locals, this was no coincidence, nor the first time it had happened. A local pizza outlet decided to celebrate the clean air, offering free Margarita to anyone sharing the President's name and patronymic.
"Our database is still small, but we can say there have never been excessive levels when top officials are in town," said Mr Shpeht. "Logically you would conclude either they are careful with the days they choose, or our industry knows how to decrease pollution."
Galina Polyakova, senior researcher at the Sukachev Forest Institute in Krasnoyarsk, told The Independent that she was personally "certain" changes take place ahead of visits by officials.
"We're always very happy when the big officials come to town since we start to breathe more or less clean air," she said. "Over the weekend the air quality was awful – and that is entirely consistent with them emptying storage containers ahead of the visit."
Ms Polyakova believes the situation in Krasnoyarsk has a much wider significance.
"The Siberian forest remains one of the world's major lungs, and its waterways – the world's ocean," she said. "Sooner or later, our catastrophe will affect everyone."
Join our commenting forum
Join thought-provoking conversations, follow other Independent readers and see their replies