Putin says Wagner chief had 'complicated fate' – as officials suggest explosion on plane caused fatal crash
Russian leader says Yevgeny Prigozhin made 'serious mistakes in his life' in first comments about the crash that left no survivors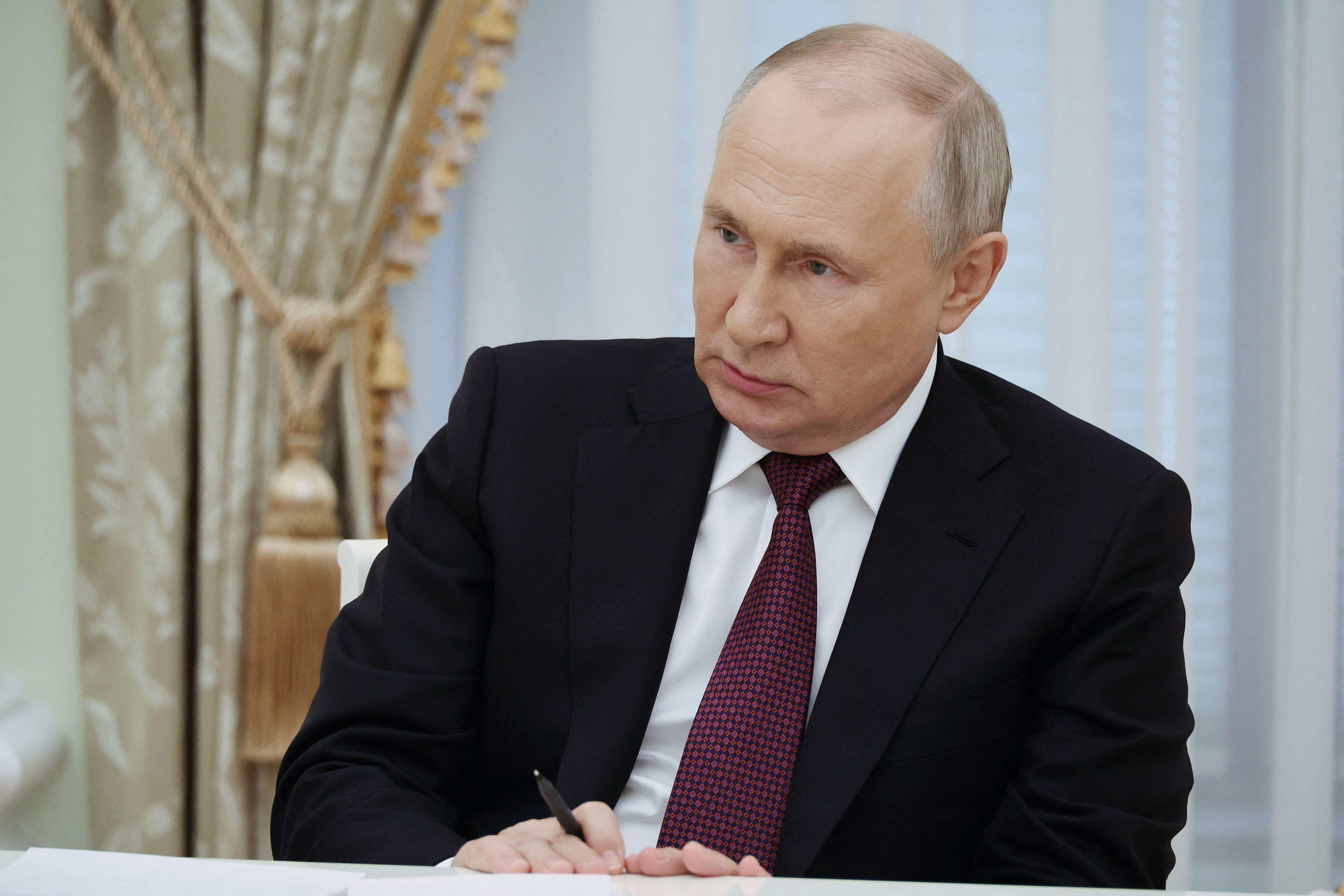 Vladimir Putin has said that the Wagner mercenary chief Yevgeny Prigozhin had a "complicated fate" in his first remarks about the plane crash said to have killed him.
In a televised speech, the Russian president offered his condolences to the families of the 10 people who died in the crash on Wednesday evening, while appearing to eulogise Prigozhin, 62, as a "talented businessman".
Putin said that the Wagner chief had made "serious mistakes in his life" – seemingly a reference to the attempted mutiny led by Prigozhin in June that was the most significant challenge to the Russian leader's authority during his 20 years in power.
It was that armed uprising, ended after 24 hours by a deal between the Kremlin and Prigozhin with Wagner fighters 125 miles from Moscow, that led many to believe that Prigozhin would face retribution from Putin. The episode was an embarrassment for the Russian leader of the kind he has repeatedly – and severely – punished over the years.
"I have known Prigozhin for a long time, since the 1990s. He made some serious mistakes in life, but he also achieved the necessary results for himself but also for the greater good when I asked him. He was a talented man, a talented businessman," Putin said from the Kremlin, speaking about Prigozhin in the past tense.
Speculation over the fate of the Wagner chief has been swirling for more than 24 hours, after the Russian civil aviation authority said that Prigozhin was on the plane that went down between Moscow to St Petersburg, leaving no survivors of the seven passengers and three crew on board. The passenger manifest included Prigozhin and his second-in-command, Dmitry Utkin, who baptised the group with his nom de guerre, as well as Wagner's logistics chief, a fighter wounded by US airstrikes in Syria, and at least one possible bodyguard.
US officials, speaking to The New York Times, have suggested that an explosion on the plane was the likely cause for the crash, but cautioned that no definitive conclusions had been drawn. One official also told the Associated Press that an explosion fell in line with Putin's "long history of trying to silence his critics".
In Russia, the Baza news outlet, which has sources among law enforcement agencies, suggested that Russian investigators looking into the crash were considering a theory that a bomb had been planted on board. While the Kremlin would see the benefit of such a line of inquiry, leaders of a number of nations have already suggested that nothing this big could occur in Russia without Putin being aware.
Ukraine's President Zelensky, whose nation Putin's forces invaded in February last year, suggested as much in announcing that his nation had nothing to do with the plane coming down. "We have nothing to do with this. Everyone understands who does," he said. Prigozhin's Wagner forces have been involved in some of the bloodiest fighting in eastern Ukraine, particularly around the city of Bakhmut, and have faced accusations of war crimes. "I can't say anything good about these subhumans," Mr Zelensky added, according to the Interfax-Ukraine news agency. "It's either a judgment at the Hague, or God's judgement."
Annalena Baerbock, the German foreign minister, said: "It is no coincidence that the whole world immediately looks at the Kremlin when a disgraced ex-confidant of Putin suddenly falls from the sky, two months after he attempted an uprising."
Putin said that those on the plane had "made a significant contribution" to the fighting in Ukraine. "We remember this, we know, and we will not forget," the president said, with Denis Pushilin, the Russian-installed leader of Ukraine's partially occupied Donetsk region, also present.
The Embraer Legacy 600 executive jet crashed near the village of Kuzhenkino in the Tver region north of Moscow. On Thursday, men were carrying away black body bags on stretchers. Part of the plane's tail and other fragments lay on the ground near a wooded area where forensic investigators had erected a tent.
Kuzhenkino resident Anastasia Bukharova, 27, told the Associated Press that she was walking with her children Wednesday when she saw the jet, "and then – boom! – it exploded in the sky and began to fall down". She said she was scared it would hit houses in the village and ran with the children, but it ended up crashing into a field.
Russian authorities said on Thursday that the investigation into the crash would be led by Ivan Sibul, a veteran investigator who has previously examined other high-profile plane crashes.
Prigozhin long railed against how Russian generals were waging the war in Ukraine. For a long time, Putin appeared content to allow such infighting – and Prigozhin seemed to have the unusual latitude to speak his mind. In the deal that ended his revolt, Prigozhin was due to head to Belarus with some of his fighters to settle. Thousands of fighters have set up in Belarus, including training Belarusian troops near the Polish border, but Prigozhin has been photographed back in Russia. Poland is sending up to 10,000 of its troops to its border with Belarus, with Prime Minister Mateusz Morawiecki believing that their threat will only grow. "The Wagner Group comes under Putin's leadership. Let everyone answer the question for themselves – will the threat be bigger or smaller? For me, that's a rhetorical question," he said on Thursday.
Putin said he was told that Prigozhin had returned from Africa – where Wagner has an extensive presence – earlier on Wednesday, shortly before his apparent death, and had held meetings with officials in Moscow. Seemingly referring to Wagner's extensive – and lucrative – deployment in Africa, which is essentially an extension of Russian power in the region, Putin said that Prigozhin had "worked not only in our country, and achieved results, but also abroad, particularly in Africa. He was involved there with oil, gas, precious metals and stones".
An informal memorial to Progozhin in St Petersburg attracted plenty of flowers on Thursday, and Putin's remarks on Wagner's service may be aimed at calming some of the vitriol that has come Moscow's way in the wake of the crash. "Prigozhin died as the result of the actions of Russia's traitors," wrote the Grey Zone, a social media outlet close to Wagner. "But even in hell, he'll be the best! Glory to Russia!" Other Wagner-affiliated sources suggested they would seek to avenge Prigozhin's death, with one video purportedly showing Wagner fighters carrying the message that Moscow should "expect us".
Reuters and Associated Press contributed to this report
Join our commenting forum
Join thought-provoking conversations, follow other Independent readers and see their replies