Russian artist who carried out 'scrotum protest' in Red Square seeks asylum in France
'I wouldn't say I was a threat, more a big inconvenience'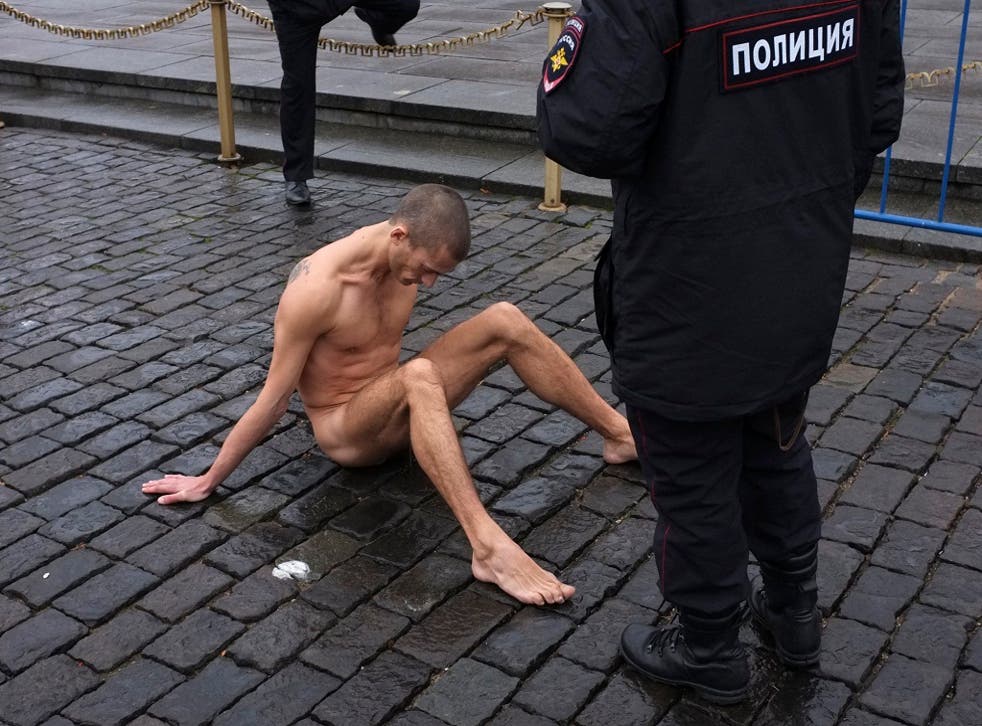 Russian dissident artist Pyotr Pavlensky, whose protests against the state have included nailing his scrotum to Moscow's Red Square, has said he plans to seek asylum in France.
Pavlensky, 32, fled to Ukraine with his partner last month to avoid being sent to prison on what he said were trumped-up allegations of committing a sex crime.
In his first interview since leaving, he said the Russia of President Vladimir Putin had become increasingly authoritarian and intolerant of dissenting voices.
"I wouldn't say I was a threat, more a big inconvenience, because lots of money and resources are spent on propaganda ... then I carry out some action and it's a strike on the propaganda machine," he said.
As their two young daughters played quietly in the next room, Pavlensky and his partner Oksana Shalygina - both dressed all in black - described how on Dec. 14 they had been detained by police at Moscow's Sheremetyevo airport.
During a nine-hour cross-examination by state investigators, they learned that they had been accused of committing a sex crime by an actress they had both slept with. The crime is punishable by up to 10 years in prison.
The couple, who are in an open relationship, deny the allegation, likening it to the denunciations that led to mass imprisonments in the repressive Soviet era.
"Through all of this we were shown that there were two ways for us to be got rid of, or taken out of the political context," Pavlensky said.
"Either (they could send us) to a prison camp for the next 10 years, where we'd describe how we had become victims of state security scheming, or (they could send us) beyond the border limits of passport control."
While they do not know if a criminal case has been officially opened against them, they decided it was too risky to remain in Russia. By the next day, they had collected their daughters and flown to Kiev, from where they plan to fly to France, he said.
Russia's Interior Ministry and its Investigative Committee did not reply to requests for comment from Reuters on Pavlensky's allegations.
The couple's decision to claim asylum is likely to draw further attention to Russia's patchy record on protecting freedom of speech. In 2012, the jailing of members of anti-Kremlin group Pussy Riot for performing a "punk prayer" in a church provoked international outrage.
Sewn lips
Pavlensky said the couple would not return to Russia until they believed they were no longer at risk of being prosecuted, even if this meant many years in exile.
"Probably it's a good option for them if we disappear (abroad) and aren't able to be heard at all and are completely dispersed, but this isn't going to happen," he said.
His works or "actions" have included sewing his lips together to protest at the treatment of Pussy Riot, and wrapping his naked body in barbed wire to express his opposition to laws he deemed repressive.
In 2015 Pavlensky was detained by Russian police after he set ablaze the wooden door of the Federal Security Service (FSB), one of the successor organisations to the Soviet-era KGB. He avoided prison, but was handed a fine of over $15,000 that he did not pay.
The performance, which he titled "The Threat", was meant to draw attention to what he called FSB terror tactics.
Pavlensky said the sex crime allegations illustrated the security services' preference for underhand strategies.
"It's clear that the people in the security services aim to work carefully and quietly, not messily or crudely. Probably they believe that beating someone and bloodshed is crude. If it's possible to do it quietly, they aim to do so."
Reuters
Join our new commenting forum
Join thought-provoking conversations, follow other Independent readers and see their replies