'Anti-semitic' comedian Dieudonné M'bala M'bala has his show cancelled in France after Nicolas Anelka's inverted Nazi salute
Show that has been widely condemned as anti-semitic is considered a threat to public order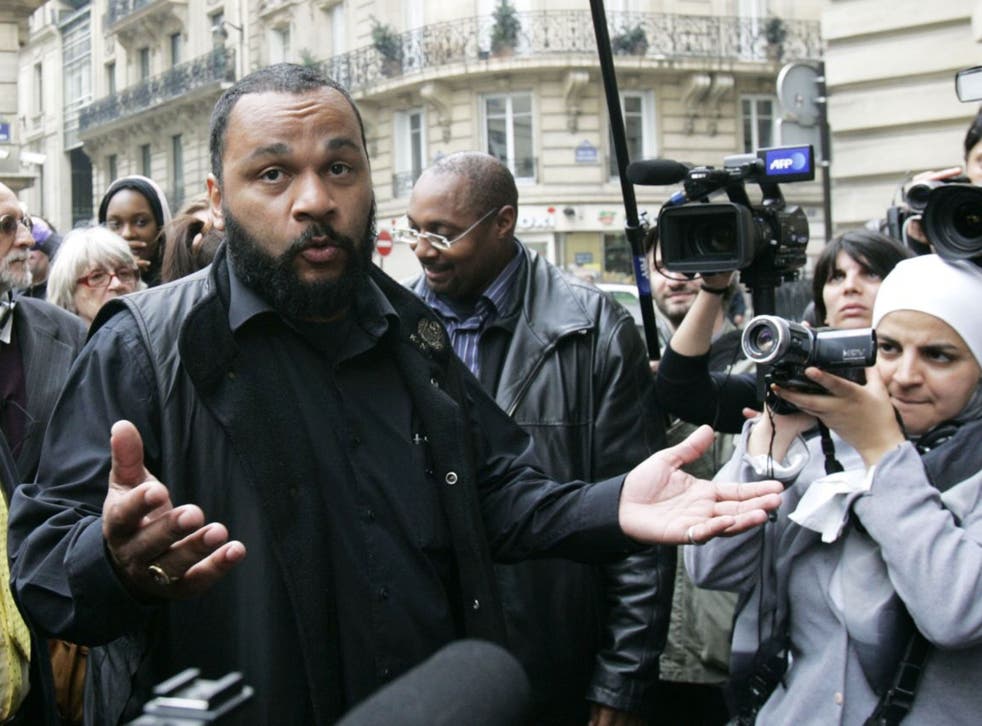 The first stage of a Tour de France by the controversial stand-up comedian Dieudonné M'bala M'bala was banned on Tuesday as a threat to public order – igniting a legal and political row over censorship and free speech. Dieudonné's show has been widely condemned as anti-semitic.
Almost all 6,000 places for Thursday's show in Nantes in western France had been sold at up to €43 a ticket before the local prefect, acting as chief of police, ordered the performance to be cancelled.
Several other towns on a 22-stage national tour by Dieudonné – the creator of the "quenelle", a hand-gesture which is alleged to resemble the Hitler salute – have already announced that the black comedian is persona non grata. Tuesday's decision follows a government circular which strongly recommends regional prefects to ban Dieudonné if they believe that his show could lead to "criminal offences".
Under the French constitution the national government cannot, in theory, issue a blanket ban on theatrical performances. It is up to regional prefects – the senior national government officials in charge of policing and other matters - to take decisions based on local considerations.
In practice, the wording of the circular issued by the interior minister, Manuel Valls, on Monday offered them little choice. President François Hollande removed any doubt by calling on the prefects on Tuesday to be "vigilant and inflexible" in implementing the recommended ban.
It also emerged on Tuesday that the landlords of the theatre in Paris which permanently hosts Dieudonné's one-man show have decided to give the comedian notice to quit the premises.
Mr Valls say that Dieudonné's act – which mocks the Holocaust and accuses Jews of running the world – is no longer artistic or comic but is a form of extremist political rally.  The comedian's lawyers announced that they would seek an injunction to overturn the ban.
They have a good chance of succeeding. Several previous attempts to prevent him from appearing have been struck down in the courts in recent years as an infringement of liberty of expression.
The decision to, in effect, censor Dieudonné had also been criticised by civil liberties pressure groups, centre-right politicians and the respected centre-left newspaper, Le Monde. The French branch of the League of Human Rights said that a blanket ban would "rally support for Dieudonné for those who consider themselves oppressed".
Dieudonne M'bala Mbala, 47, whose father was from Cameroon and whose mother is Breton, has a string of convictions for inciting hatred against Jews. His latest show includes a sketch which has resulted in another formal  investigation for "incitement to  racial hatred".
Talking about a well-known French-Jewish radio presenter, Dieudonné says: "When the wind turns, I don't think he'll have time to pack a suitcase. When I hear Patrick Cohen talking, you see, I think of gas chambers. Pity."
Ten days ago the French footballer Nicolas Anelka brought the controversy surrounding Dieudonne across the Channel. After scoring a goal for West Bromwich Albion at Upton Park, Anelka performed "la quenelle", the provocative gesture invented  by the comedian.
Anelka said the gesture was in "solidarity with his friend,  Dieudonné, who was already facing a ban in France. He insisted that the gesture was "anti-system" rather than anti-Semitic.
La quenelle or "the meat ball" consists of pointing towards the ground with a flattened hand while folding the other arm across the chest. Critics say that it is a merger between the Nazi salute and an obscene, French hand signal, the "bras d'honneur". They say that it is manifestly an anti-semitic gesture and understood to be so by the vast majority of Dieudonné's supporters (including an average audience of 1,000,000 for his shows on You Tube).
Register for free to continue reading
Registration is a free and easy way to support our truly independent journalism
By registering, you will also enjoy limited access to Premium articles, exclusive newsletters, commenting, and virtual events with our leading journalists
Already have an account? sign in
Register for free to continue reading
Registration is a free and easy way to support our truly independent journalism
By registering, you will also enjoy limited access to Premium articles, exclusive newsletters, commenting, and virtual events with our leading journalists
Already have an account? sign in