Bangladeshi girls born conjoined at head successfully separated by 35-strong medical team
Three operations needed to separate craniopagus-type twins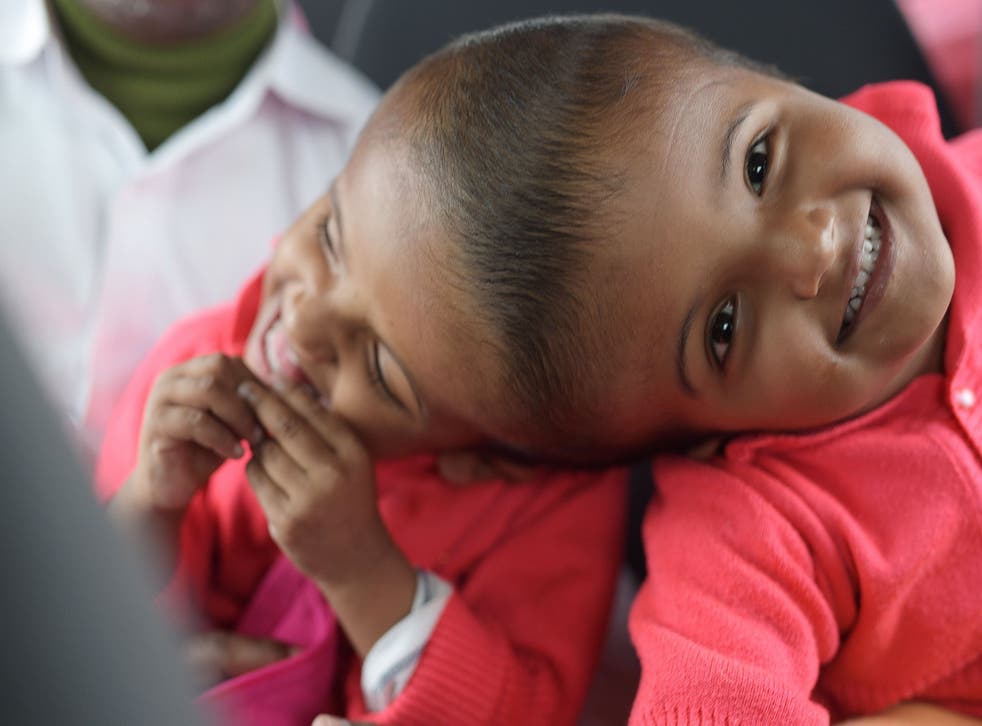 Two Bangladeshi girls who were born conjoined at the head have been successfully separated by a medical team comprised of 35 doctors.
The three-year-old sisters, Rabeya and Rukaya, were in a stable condition after the 30-hour procedure ended on Friday at a military hospital in Dhaka, the Bangladeshi capital.
The medical team of a Hungarian charity, Action for Defenseless People Foundation, led the operation.
The separation process dubbed "Operation Freedom" was a cooperative effort between doctors from both countries.
Three operations were needed to separate the craniopagus-type twins. Their condition is a rare phenomenon that affects one in every 2.5 million live births.
The process began last year in Dhaka with the separation of the shared cerebral vein parts.
Earlier this year, in Budapest, the twins were implanted with a special, Hungarian-designed system to expand their skin and soft tissue.
Following the successful second surgery, Andras Csokay, the neurosurgeon involved in the case, told Euro News it was a very complicated surgery with a high-mortality rate.
"The conditions of the twins are stable, but complications are possible," the organisation said.
It said despite the risks the surgery would give the girls "better life opportunities" and open the door to new treatment options for other conjoined twins.
The news follows a similar story of conjoined twins, Safa and Marwa Ulah, from Pakistan. In July, the girls, aged two, were successfully separated after a series of operations carried out at Great Ormond Street Hospital in London.
Their operations, totalling over 50 hours, were paid for by a private donor and used more than 100 members of hospital staff.
Additional reporting by AP
Join our new commenting forum
Join thought-provoking conversations, follow other Independent readers and see their replies