Raffaele Sollecito warns he 'will never accept being called an assassin' again after Meredith Kercher murder acquittal
Sollecito told press conference he is ready to defend his dignity after he and Amanda Knox were acquitted
Heather Saul
Monday 30 March 2015 13:04 Comments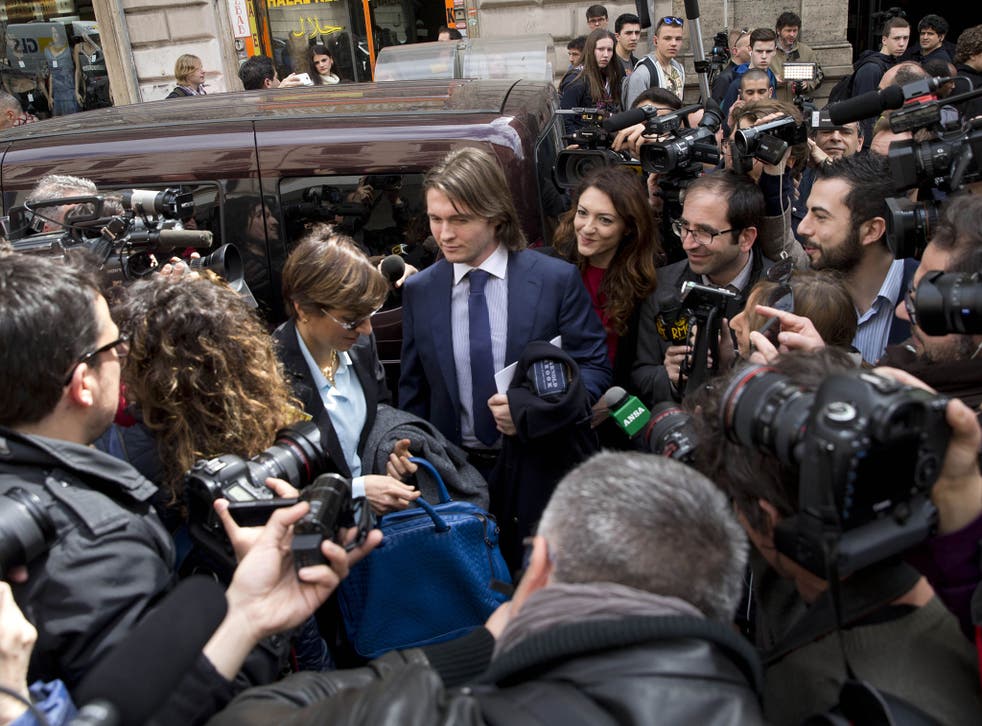 Raffaele Sollecito has warned he will no longer accept being called an "assassin" by anyone discussing the killing of Meredith Kercher in a strongly worded statement after he and his former girlfriend Amanda Knox were acquitted of her death by Italy's highest court.
Sollecito and Knox were acquitted of the British student's murder on Friday in a final verdict after a near eight-year legal battle. Both he and Knox, who lived with Kercher, spent four years in prison over her death before being freed in 2011 and then found guilty again in a subsequent re-trial.
In his first press conference since the decision was announced, the 31-year-old described the ruling as a "rebirth" and said he hoped it could pave the way for him to have a normal life after living an "unbearable tragedy" for seven years and five months.
However, he told journalists he had an "infinite list of horrible moments" and compared his situation to a "wound that will never stop bleeding", highlighting his arrest as the "worst moment".
"Another awful moment was when people close to me were also criticised," he went on. "I felt people didn't respect me, and so if people didn't respect me anything could happen. Why did people have such a strong lack of respect for me and my family?
In pictures: The trial of Amanda Knox and Raffaele Sollecito

Show all 14
"Even today, I am asking myself why people hated me so much. After this press conference, I no longer want to talk about the actual trial. There is no doubt that my mind and my soul will be marked for life – this wound will never stop bleeding because I feel that it will never heal.
He urged anyone reporting on or discussing the case to be "very cautious", warning: "I don't accept from now on to be called an assassin or a suspect ever again and I will be ready to defend my dignity.
"I was accused of being an assassin without an element of truth. You can't possibly imagine what it feels to see your own life and your own family in pieces for nothing."
He then discussed the possibility of writing a book, saying: "Maybe one day I will write a book, and maybe I won't. But today I want to carry on living and forget this awful thing that has happened to me."
Sollecito thanked his family and his lawyers for their support and said they were all "extremely happy" at the final outcome.
He denied reports that he had not expected to be acquitted, saying: "This is absolutely not the case.
"This is the reality and of course it had to finish in the way, but in the same time after everything that has happened, of course I was really scared.
"The most beautiful moment was one that put an end to a nightmare - the call from my sister after reading the sentence and the total acquittal. I hope to live like a man of my age without having to have any worries anymore. I am hoping to have a future.
"I never committed any kind of crime, I am completely outside of this whole case. I had to respect the sentence but I was always convinced that justice would prevail."
Sollecitio also took a moment to address reports about the relationship between him and Knox, telling the conference: "My relationship with Amanda was simply affection between two young people and neither of us could have envisioned this absurd and never-ending story."
Register for free to continue reading
Registration is a free and easy way to support our truly independent journalism
By registering, you will also enjoy limited access to Premium articles, exclusive newsletters, commenting, and virtual events with our leading journalists
Already have an account? sign in
Join our new commenting forum
Join thought-provoking conversations, follow other Independent readers and see their replies