Real Madrid v Atletico Madrid: Spanish capital picks sides for the Champions League final
The team of the Establishment faces the working-class heroes of the Spanish capital in a game which has captivated the city and beyond
When Real and Atlético Madrid battle it out in the Champions League final on 24 May in Lisbon, the game between the Spanish capital's two biggest teams in football's top annual tournament will be much more than a battle for supremacy between two sides whose stadia are separated by just four miles.
Real – Los Blancos – are true football royalty. With a record nine European titles to their name already, the club may have a far superior track record to that Atleti – 32 domestic league titles compared to Atlético's nine – but both garner widespread support throughout Spain.
For decades, Real Madrid has been regarded as the traditional favourite of the country's elite. Atlético's fans (with some notable exceptions like Crown Prince Felipe) are traditionally more working class: less well-travelled and less-well-off, maybe, but perhaps less snobby, and at least as passionate.
The all-Madrid duel and what some see as a sporting battle between two different strands of Spanish society became inevitable last week after Atlético blew Chelsea away at Stamford Bridge. Just 24 hours earlier, Real had crushed defending champions Bayern Munich.
For two teams from the same country to vie for top honours in La Champions, as it is known here, is not unusual – it has happened four times since 2000, most recently last year with Germany, but for two teams from the same city to fight for the Champions title is unprecedented in its 59-year history of Europe's premier club competition.
Atlético and Real Madrid, despite their markedly different track records, are so closely linked geographically that supporters' traditional assembly points for celebrations, the Cibeles and the Neptuno fountains in central Madrid, are just a few hundred yards away. Only one will be busy with celebrating fans come the 24th.
The game will split some families of Spanish football supporters, in and outside the capital, neatly down the middle. "We'll lay in the beer and tapas and then spend the evening sitting on opposite sides of the living room table watching the game, like as not wearing our respective teams' shirts" Jose Luis Ballesteros Ramos, a 31-year-old Spanish doctor who supports Atlético, and whose father backs Real, told The Independent.
Chelsea 1 Atletico Madrid 3 player ratings

Show all 23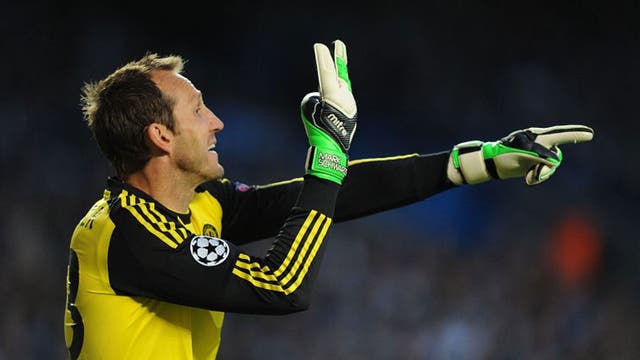 "There won't be much tension, at least not on my part. I'm pleased we've got that far, it's only the second time we've reached the Champions' final in our history. It's Real – battling for their tenth title – who've got more to lose."
Many Spanish 'neutrals' will be backing under-dogs Atlético. "My father-in-law usually roots for Barcelona, but he'll be supporting Atlético in Lisbon in the hope Real don't get that title," taxi driver Antonio López Sanchez, 43, a keen Real Madrid supporter, says.
"Though if it was the other way round and Barcelona were playing Atlético, I'd be supporting Atletico for exactly the same reason. What else are we supposed to do?"
But while passions run deep, fears that trouble, rather than good-natured banter, may flare between supporters during the month-long build-up are thankfully low.
"There is not nearly the same degree of violence in Spanish football as you might get in some other European countries" Madrid-based freelance journalist Mark Elkington tells The Independent.
"Both clubs have their sets of diehards, the Ultrasur [for Real Madrid] and the Frente Atlético and I've seen some nasty incidents. But it's more like between rival gangs, not general."
Fans could be hard pushed to deny, though, that although Atlético and Real play in Spain's top league, La Liga, in terms of image and finances they remain poles apart.
Last year in the midst of Spain's worst ever modern-day recession, for example, Real's budget of €500m saw them spend a widely reported €100m, football's biggest ever transfer fee, on Welsh player Gareth Bale. That's nearly 80 per cent of Atlético's total budget of around €120m. And whilst Real Madrid's finances are solid, Atlético reportedly owes the Spanish government millions in back taxes. The fact that they have reached the Champions' League final at all is astonishing – the club's wage bill, for example, is less than that of second-tier Queen's Park Rangers.
"Real Madrid are often seen as the Establishment team," points out Mr Elkington, "the fact they won the first five European Cups [between 1956 and 1960] set them up as a default version of the national team." Furthermore, back in that era where any international sporting success was immediately hijacked by General Franco and his regime, in 1956 when Real won the short-lived Latin Cup tournament the entire line-up were awarded the insignia of the Spanish Fascist Party.
Those extreme-right associations have long faded, but polls these days still show that left-leaning Spaniards are twice as likely to prefer Barcelona, whilst those voting for the right-wing Partido Popular are three times more likely to support Real Madrid. The PP's former Spanish premier Jose Maria Aznar, for example, is a card-carrying Real Madrid fan.
Atlético on the other hand have all the feel of being the team from the wrong side of the Madrid tracks. Whereas Real's Santiago Bernabeu is in the heart of a central business district, Chamartin, the tattered-looking Vicente Calderon stadium is to be found in the blue-collar Arganzuela district next to a demolished brewery factory.
Traffic rumbles constantly underneath one corner of the Calderon, too, in a tunnel carrying the M-30 motorway.
"It [Atlético] is the working man's team," said captain Gabi Fernandez in a magazine interview.
For the most high-profile cliched image of an Atlético supporter, look no further than Inspector Torrente, the cigar-chomping, overweight police officer anti-hero, starring in a series of four box office cinema smashes by Madrid director Santiago Segura. In Torrente 2: Mission in Marbella, Torrente drives around the glitzy coastal resort – whose former mayor, property tycoon Jesus Gil, just happens to have once owned Atlético – in a red Ferrari plastered in red-and-white Atlético shields, before deciding, in a fit of chest-beating patriotism, to blow up Gibraltar with a guided missile.
Both Torrente and Atlético have the reputation of being ever-optimistic yet doomed losers, and the team even made a tongue-in-cheek television advert in 2006, where a young child asks his father "Dad, why do we support Atleti?"– to which the father is stumped for an answer.
In recent years, Atlético have been breaking with their own traditions for inconsistency, and winning, even against Real. Argentine manager Diego Simeone – best known to English football fans as the recipient of a kick from David Beckham in 1998 World Cup – is credited with the transformation of the club's track record.
Not only could they win the 2014 Champions' League, Atleti are ahead of Barcelona at the top of La Liga. And as Sports Illustrated pointed out recently, "one of Simeone's greatest achievements has been to end his team's curse against Real Madrid: a run of 25 games and 14 years without a win."
Join our new commenting forum
Join thought-provoking conversations, follow other Independent readers and see their replies