Rebuilding a Roman death trap: Ancient machine that carried animals into Rome's Colosseum reconstructed by archaeologists
Up to a million animals are estimated to have been killed by the Romans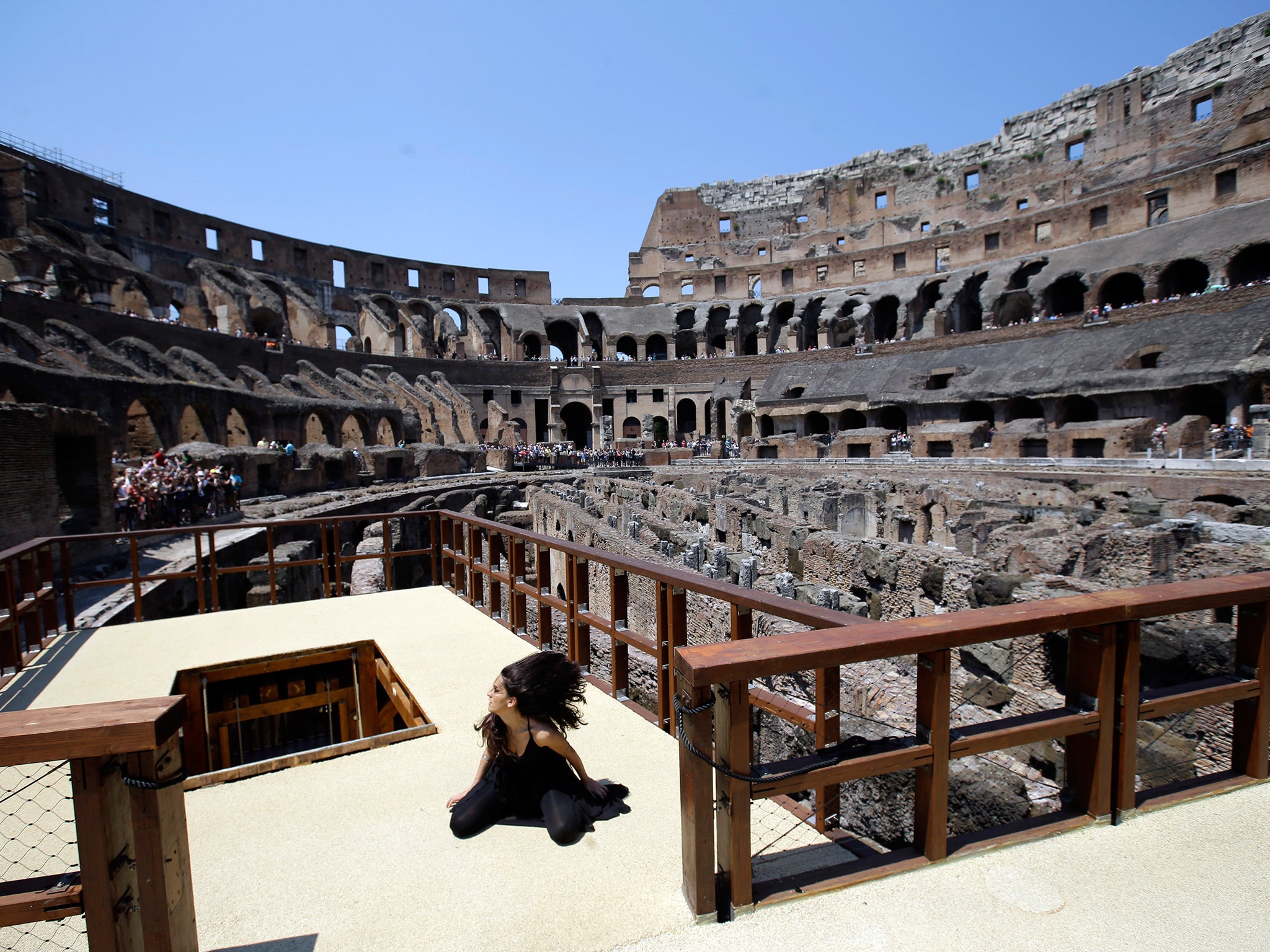 It is a spectacle that has come to embody our perception of the Roman world and, in Gladiator, inspired a box-office smash that scooped a Best Picture Oscar.
Now, the thrilling, bloodthirsty history of gladiatorial combat has been brought to life after archaeologists reconstructed one of the ingenious machines that hoisted wild animals into the Colosseum in Rome.
The structure, unveiled on Friday in the huge, partially-ruined amphitheatre, features a sophisticated pulley-based lift and trapdoor system and would have been used to carry lions, leopards and bears to be slain in the ancient arena. Eight slaves would have been needed to operate each of the original lifts.
Some 28 such machines were used in the Colosseum and the reconstructed version, which was based on ancient texts and clues gleaned from the tunnels in the amphitheatre, is capable of carrying animals weighing up to 300kg.
Rossella Rea, the current director of the Colosseum, told the International Business Times: "The number of lifts here was more than in any other Roman amphitheatre and Roman sources talk of 100 lions appearing together."
The reconstruction took 18 months, using authentic Roman materials, and was featured in the PBS documentary Colosseum: Roman Death Trap. In the film, the machine was shown in action hoisting a wolf into the arena.
The documentary's American director, Gary Glassman, said: "It was the first time that a wild animal had been released into the Colosseum in 1,500 years.
"I would love to have used a lion, but there were obvious safety issues involved. In the end we chose a wolf because it is the symbol of Rome."
The venationes, the practice of hunting and slaying wild animals from the far reaches of the Roman empire in the amphitheatre, was a key part of the tradition of gladiatorial combat, with a venation usually preceding an afternoon of gladiatorial duels.
The inauguration games in 81AD featured the slaughtering of a reported 9,000 animals, with a million estimated to have been killed in total. A venation is last recorded as having taken place at Rome's Colosseum in 523AD by the Roman senator Anicius Maximus.
Join our commenting forum
Join thought-provoking conversations, follow other Independent readers and see their replies