Germany has seen an increase in violence since it opened its doors to refugees... due to attacks on refugees
'Nazis are threatening refugees and therefore our democracy,' says left-wing politician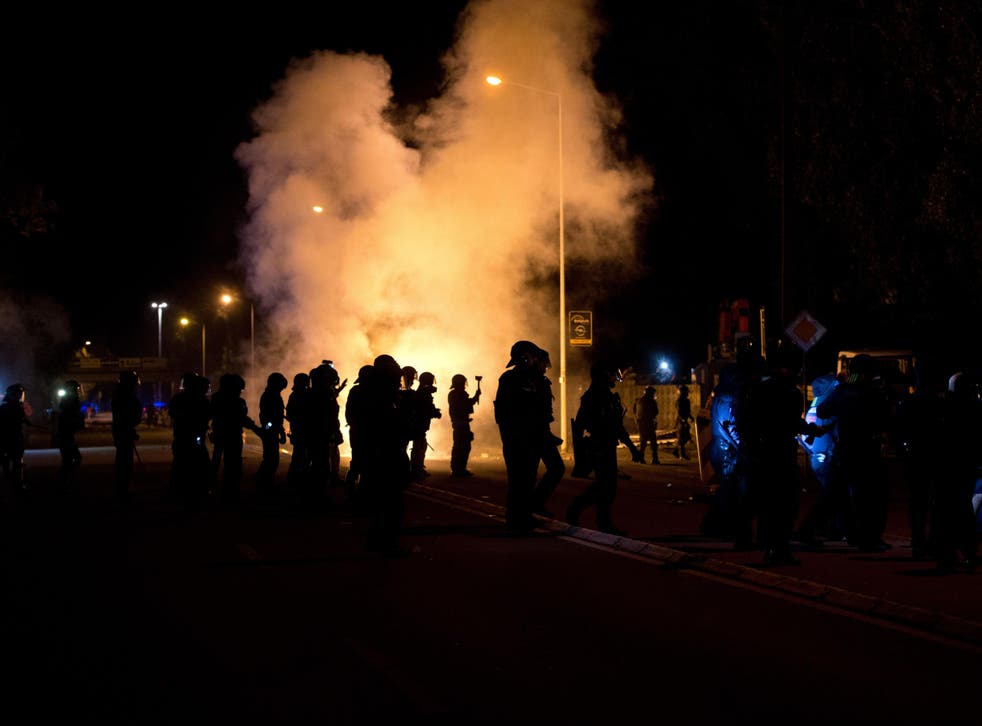 An average of nearly 10 attacks a day were carried out on refugees in Germany last year, according to the country's interior ministry.
Attacks injured 560 people, including 43 children, and prompted accusations that the country's hardened stance on the refugee issue was encouraging hate crimes.
According to the ministry, there were more than 3,500 attacks on refugees and asylum hostels
Three quarters of attacks were against individuals outside buildings housing refugees, with 1,000 attacks on the building themselves.
A further 217 refugee organisations and volunteers were targeted, according to the preliminary figures released by the ministry.
Germany has been struggling with a backlog of asylum applications although the number of refugees arriving in the country fell to around 280,000 last year, down around 600,000 on the year before, following the closure of the Balkan migration route.
The authorities have recently toughened its refugee procedures, bringing in strict benefits rules, speeding up the removal of failed asylum seekers and paying refugees to return voluntarily to their own countries.
The government, which released the figures in response to a parliamentary question, said in a statement it "strongly condemns" the violence, adding: "People who have fled their home country and seek protection in Germany have the right to expect safe shelter."
Chancellor Angela Merkel has faced a backlash for her decision to open the country to people fleeing conflict and persecution, and the issue expected to be central to the federal elections in September.
Opinion in Germany is polarised with the government under fire for not taking action against a reported rise in hate crime.
World news in pictures

Show all 50
A politician for Germany's left-wing Die Linke party, Ulla Jelpke, blamed the violence on far-right extremists and called for the government to take stronger action.
"Do people have to die before the right-wing violence is considered a central domestic security problem and makes it to the top of the national policy agenda?" she told regional news agency Funke Media Group.
She called for the government to "stop giving the impression through new tougher asylum laws that refugees are a threat'.
Ms Jelpke continued: "Nazis are threatening refugees and therefore our democracy."
A spokesperson for Amnesty International said: "There are structural problems in Germany with how it prevents and deals with hate crimes.
"We need to see better risk assessments, more protection at certain locations and prosecutions of these appalling racist crimes."
The total number of attacks could not be compared to previous years, since 2016 was the first year the numbers were collected in this way.
Register for free to continue reading
Registration is a free and easy way to support our truly independent journalism
By registering, you will also enjoy limited access to Premium articles, exclusive newsletters, commenting, and virtual events with our leading journalists
Already have an account? sign in
Register for free to continue reading
Registration is a free and easy way to support our truly independent journalism
By registering, you will also enjoy limited access to Premium articles, exclusive newsletters, commenting, and virtual events with our leading journalists
Already have an account? sign in
Join our new commenting forum
Join thought-provoking conversations, follow other Independent readers and see their replies