Angela Merkel urges EU leaders to keep faith with Turkey refugee deal as Austria holds firm on asylum cap
Plans would see Ankara tightening controls to prevent two million Syrians in Turkish refugee camps heading to Europe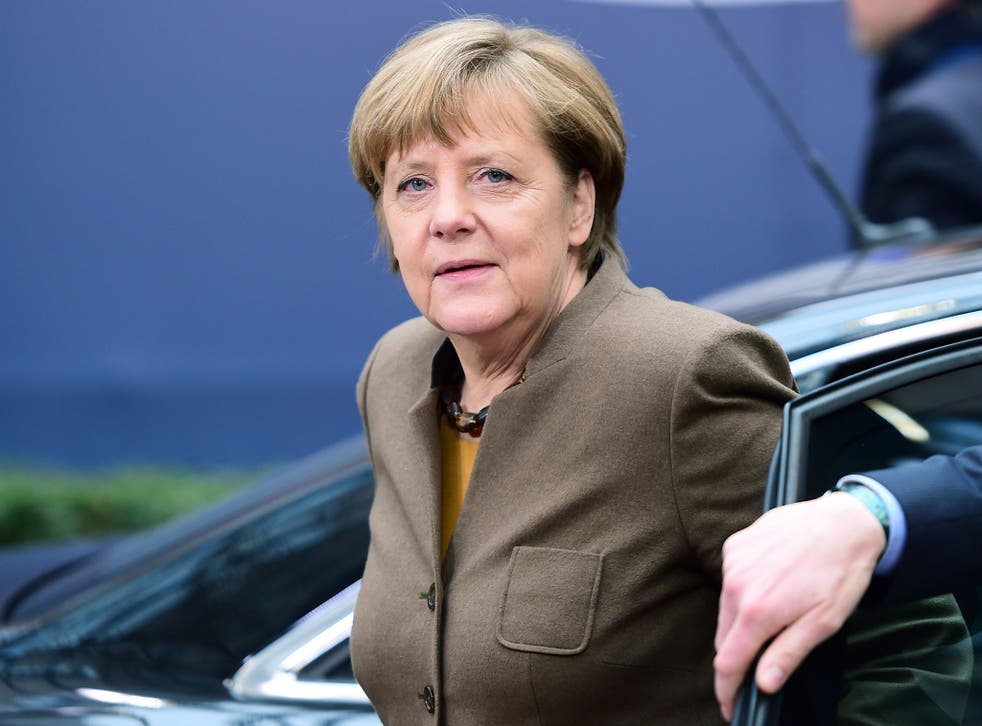 German Chancellor Angela Merkel has pushed EU leaders to keep faith in a €3bn (£2.3bn) deal with Turkey aimed at slowing the flow of refugees to Europe, as Austria insisted that it would push ahead with a cap on the number of people it takes in.
The refugee plans with Turkey, drawn up at the end of last year, would see Ankara tightening controls to prevent the two million Syrians currently in Turkish refugee camps from heading to Europe.
Only parts of the plan have been applied, and its effects have been hard to discern: the number of refugees having crossed the sea in the first six weeks of 2016 has significantly increased compared to the same period last year.
Frustrations over an inability to put a plan into effect has led to a number of EU nations beginning to tighten border controls, and Austria's Chancellor Werner Faymann said that his country would push ahead with plans – announced this week – to let in no more than 3,200 people and cap asylum claims at 80 per day.
"It is unthinkable for Austria to take on the asylum seekers for the whole of Europe," Mr Faymann said on arriving at a two-day EU leaders' summit in Brussels aimed at helping to end Europe's fragmented response to the crisis.
The plan drew a strong rebuke from the EU's top migration official, Dimitris Avramopoulos, who told Austria that a cap on the number of people who can apply for asylum is unlawful.
In a letter to Austrian interior minister Johanna Mikl-Leitner, Mr Avramopoulos wrote: "Austria has a legal obligation to accept any asylum application that is made on its territory or at its border."
He added that a ceiling on asylum-seekers "would be plainly incompatible with Austria's obligations" under EU and international law.
In response, Mr Faymann said that "Legal opinions will be answered by lawyers. Politically I say: we'll stick to it".
Ms Merkel insisted that a deal was the key to resolving the EU's migration crisis. "We want to give priority to the implementation of the EU-Turkey migration agenda, including the protection of our external borders," she said when she arrived at the summit. "It is good if EU and Turkey share the burden, but we need protection of external borders, we have to find ways to allow legal migration."
Mrs Merkel said that if Turkey succeeds in holding back refugees, it would give EU breathing space to set up registration systems and border guards along Greece's long, unprotected coastline, where most of the refugees have been arriving.
But she is facing tough resistance from some of the EU's eastern members, who say the EU needs to seal Greece's borders to Macedonia and Bulgaria in April if the Turkey deal fails. EU officials also fear that Austria's restrictions will be copied by the countries on the main Balkan passage into northern Europe: Slovenia, Croatia, Serbia and Macedonia have said they will also set up new roadblocks along the way.
Although Ms Merkel says more time is needed for the measures agreed with Turkey to take effect, many officials suspect Ankara of dragging its feet in the hopes of securing more EU funding.
"The numbers are still too high at this stage, which will have to be improved," said Dutch Prime Minister Mark Rutte.
Mrs Merkel last week met Turkish Prime Minister Ahmet Davutoglu in Ankara and said the only way to end the flood of illegal immigrants was to allow the EU to screen refugees on Turkish soil and bring in legally those who qualify for asylum.
More than 76,000 refugees have made the sea crossing from Turkey to the Greek islands so far this year, up from less than 5,000 in the same period in 2015, according to the United Nations' refugee agency.
Join our new commenting forum
Join thought-provoking conversations, follow other Independent readers and see their replies