Refugee crisis: Dutch Prime Minister Mark Rutte stands in for David Cameron at Malta talks
Mr Cameron was unable to attend because he was welcoming his Indian counterpart, Narendra Modi, to London
Nigel Morris
Deputy Political Editor
Thursday 12 November 2015 20:55 Comments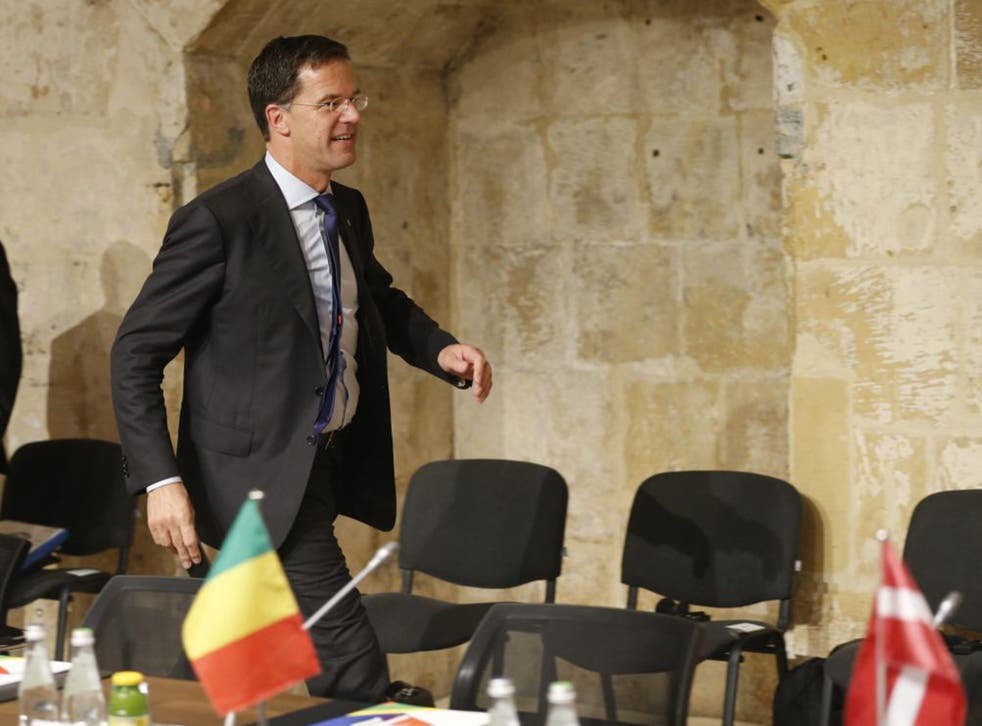 When David Cameron surveys his 27 fellow European Union leaders, the closest he has to a friend and ally is Mark Rutte, the Prime Minister of the The Netherlands. The two men share a liberal-conservative outlook, both lead north European countries with deep public anxiety about immigration, and have developed a strong personal rapport.
So when Mr Cameron needed someone to stand in for him when heads of government met in Valletta, Malta, to discuss the refugee crisis, it was inevitable he should choose Mr Rutte.
Mr Cameron was unable to attend because he was welcoming his Indian counterpart, Narendra Modi, to London and was required to nominate another leader to advance Britain's view. The move prompted the accusation from Eurosceptics that Mr Cameron was selling out national sovereignty by allowing another country to deputise for Britain.
It also seemed to have caught Mr Rutte by surprise. He told reporters: "I will be representing you as England tonight. The endless amount of people. Can you imagine? After four wars between the UK and the Netherlands, four wars – well, the last one was in 18th century, some time ago, I know – I am now representing the United Kingdom."
Asked what he would say, he replied: "I have had careful instructions from my dear colleague, the Prime Minister of the United Kingdom. I'm not sure I'm at liberty [to say]."
Mr Rutte sympathises with many of Mr Cameron's demands for EU reform, including the return of power to national parliaments. But he recently warned that Britain would be a mid-sized economy "in the middle of the Atlantic Ocean, in neither America nor Europe" if it left the EU.
Register for free to continue reading
Registration is a free and easy way to support our truly independent journalism
By registering, you will also enjoy limited access to Premium articles, exclusive newsletters, commenting, and virtual events with our leading journalists
Already have an account? sign in
Join our new commenting forum
Join thought-provoking conversations, follow other Independent readers and see their replies