Refugee crisis: Greek governor calls for state of emergency over thousands of people stranded on border
Upcoming summit will attempt to tackle the humanitarian crisis on the Greek border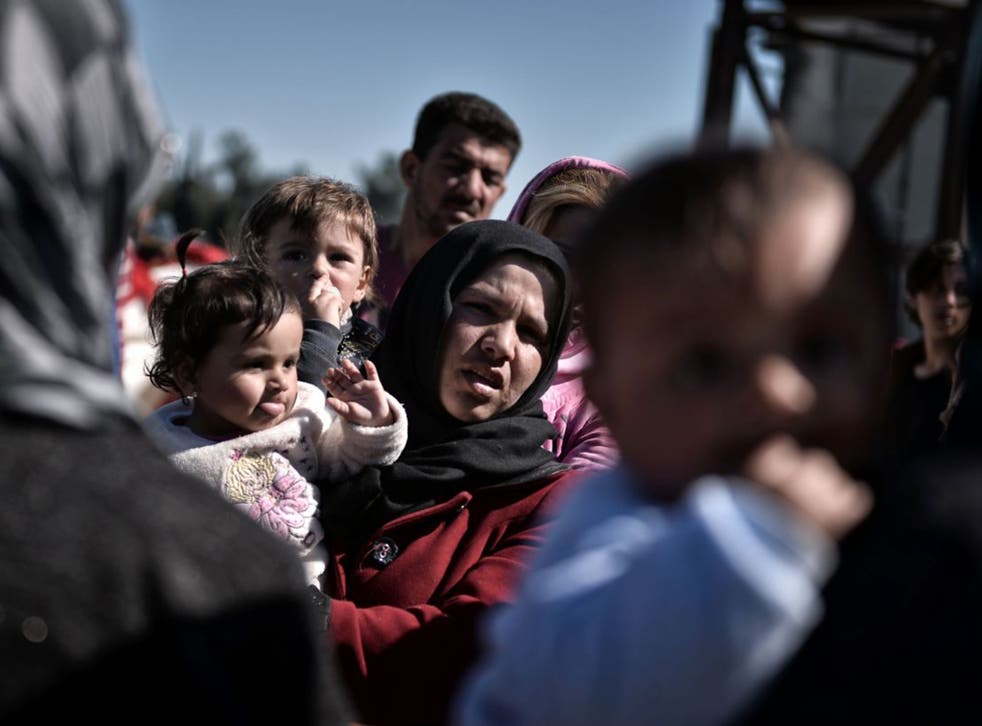 Ahead of a summit on 7 March aimed at trying to find a solution to the migration crisis engulfing Europe, a Greek governor has made an urgent call for help, asking his government to declare a "state of emergency" over the thousands of people stranded on the Greece-Macedonia border.
Some 13,000 to 14,000 people are trapped in the area surrounding the Idomeni border crossing, while another 6,000 to 7,000 are being housed in refugee camps around the region, said Apostolos Tzitzikostas, governor of the Greek region of Central Macedonia. That means the area handles about 60 per cent of the total number of migrants in the country.
"It's a huge humanitarian crisis. I have asked the government to declare the area in a state of emergency," Mr Tzitzikostas said during a visit to Idomeni to distribute aid to the Red Cross and other non-governmental organisations. "This cannot continue for much longer."
The neighbouring former Yugoslav republic of Macedonia has stopped all but a trickle of Iraqi and Syrian refugees from crossing, following similar restrictions by countries further north on the migration route. The moves have caused a huge bottleneck in Greece, whose islands' proximity to Turkey has made it the preferred entry point for refugees and other migrants seeking better lives in Europe.
Greek authorities said only 184 people crossed the border between 6am on 4 March and 6am the following morning, while another 100 crossed between 6am and 6pm yesterday.
"The former Yugoslav republic needs to open immediately its borders, and the European Union needs to implement severe action against the countries that are closing borders today, whether they are members of the European Union or candidate members," Mr Tzitzikostas said. "This is unacceptable."
The governor said the region needed the emergency measures – or for the law to be amended – so that regional authorities can obtain the necessary emergency supplies and food to support the refugees and improve their living conditions. He also called on the government to provide a comprehensive plan on how to handle the migration crisis.
The refugee camp at Idomeni has a capacity of about 2,000, and has dramatically overflowed, with new arrivals daily setting up small tents along the railway tracks next to the camp and spilling out into surrounding fields.
The Greek call comes ahead of the summit between the EU and Turkey, which has also been seriously affected. More than 2 million people have crossed its borders since the crisis began, as people fled war zones in Syria and Iraq.
According to officials, Turkey is ready to accept the return of failed asylum seekers under a deal set to be agreed at the summit in Brussels on 7 March.
The agreement, which Turkey's Prime Minister Ahmet Davutoglu is expected to endorse, would mean that migrants who land on the Greek islands could be returned to Turkey if their asylum applications fail. Even Syrians caught in Turkish and international waters, including by Nato patrols, would be taken to camps in Turkey.
Refugees break through Macedonia border fence in February

Show all 15
The deal is seen as a key part of the EU's broader response to the crisis. Around 130,000 people have crossed the Mediterranean to Europe already this year, and there were 1.26 million asylum applications last year.
Although the EU and Turkey agreed a €3bn (£2.3bn) deal last November to prevent the 2 million Syrian refugees on Turkish soil heading for Europe, it is only now that Ankara is ready to take steps to enforce it. European Council President Donald Tusk – who will lead the summit – says that Turkey has agreed to "accelerated relocation", in which migrants who do not meet the requirements for international protection are sent back to Turkey from Greece. At the same time, the European Commission has agreed the first pay-outs from the deal, confirming more than €95m in aid for education projects in the Syrian refugee camps.
However, doubts are being raised about whether the measures would slow the stream of refugees from war-torn regions, who account for most of the asylum seekers. Under United Nations refugee rules, their claims cannot be rejected as they are escaping war and persecution.
Mr Tusk said last week "economic migrants" – as opposed to refugees – should not attempt the hazardous crossing to Europe as their claims would be rejected. But according to the UN refugee agency, UNHCR, this year, over 90 per cent of refugees arriving in Greece are from the top 10 refugee-producing countries, such as Syria, Afghanistan and Iraq.
Mr Tusk last week met with Mr Davutoglu in Ankara and Turkish President Recep Tayyip Erdogan in Istanbul, as well as leaders in Vienna, Ljubljana, Zagreb, Skopje, Athens and Belgrade – the route the migrants travel as they head towards northern Europe.
Mr Tusk says a "European consensus" is emerging in the countries he visited to end a policy of simply waving migrants through. "It will not solve the crisis but it is a necessary pre-condition for a European consensus," he said. Some 30,000 migrants are stuck in Greece, as Macedonia has closed its border. More are arriving at a rate of 2,000 to 3,000 a day.
Join our new commenting forum
Join thought-provoking conversations, follow other Independent readers and see their replies