Refugee crisis: Human traffickers 'netted up to £4bn last year'
Drug runners have found a lucrative new trade. By Charlotte McDonald-Gibson in Brussels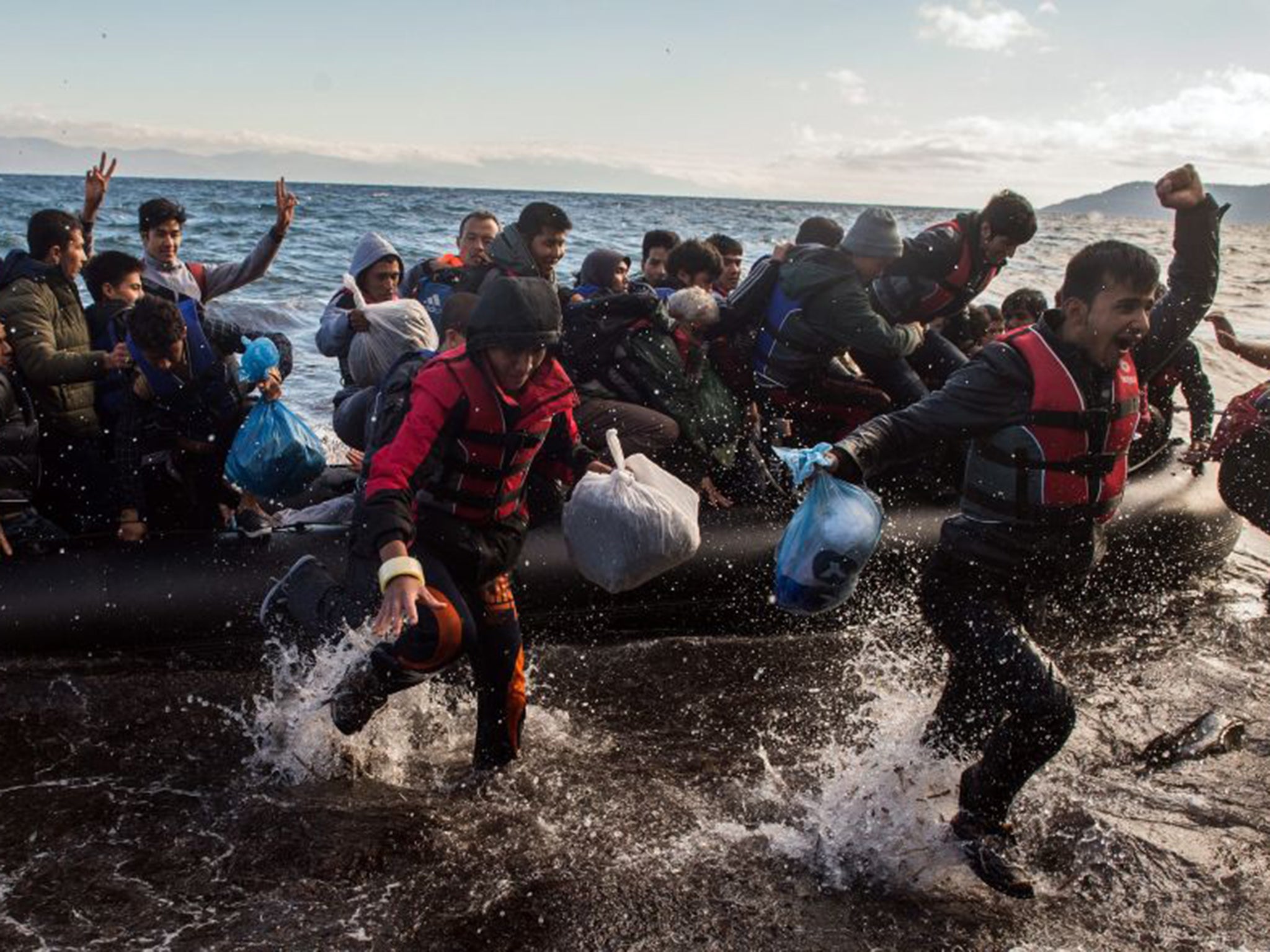 Human smugglers made a record profit last year of between $3bn and $6bn (£2bn-£4bn) by exploiting the misery of refugees – which means governments must up their game or risk further growth of this ruthless industry, the head of Europol has told The Independent on Sunday.
The business of human smuggling is now in the "Champions League" of criminal enterprises in Europe, Rob Wainwright said, close to rivalling the trade in illicit drugs. New research by the EU's law enforcement body based on debriefings with 1,500 asylum-seekers, refugees and economic migrants showed that 90 per cent had paid a criminal gang to reach Europe.
With the UNHCR estimating that more than a million people have fled war, poverty and persecution in the past year risking their lives on the clandestine journey to Europe, that "means a lot of people making a lot of money", Mr Wainwright said.
"We also know that, on average, each migrant is paying between $3,000 and $6,000 to a criminal facilitator for their journey. So you do the simple math, and you're up to a turnover in 2015 of between $3bn- $6bn. They are big figures. It's running into billions of dollars made by criminal networks in one year alone in Europe."
"Last year has been seismic in the development of the people-smuggling trade in Europe in particular, and we are now talking about its being a multibillion-dollar industry in the way it hasn't before, and the Champion's League of criminal sectors in Europe alongside drugs."
The criminal networks stretch from sub-Saharan Africa to Scandinavia, with tens of thousands of people involved in the trade. Mr Wainwright said that Europol identified 10,700 suspects last year alone, hinting at the scale of the illicit enterprise. The facilitators range from petty criminals, making fake passports, to taxi drivers taking migrants across countries and over borders, to established organised crime syndicates.
A person fleeing their home will pay different smuggling gangs at different points throughout their journey. A Syrian may have to pay to leave their country without detection by the security forces, then buy fake documents in Turkey, before purchasing their perilous passage on a rubber dingy or boat launched into the waves, towards Greece.
If they arrive safely on Europe's shores, another smuggler is engaged to taken them over the buffer of Balkan states to reach the passport-free Schengen zone and the chance of a safe life in richer nations such as Germany, Austria or Sweden. With Hungary and a number of other countries in Europe shutting down their borders and building fences, the migrants are forced to part with ever-increasing amounts of money to reach safety.
Abuses are reported all along the migration routes: smugglers disappear with a family's life savings, scuttle boats on purpose to stop anyone returning to shore, or sell the most desperate people to kidnapping and extortion gangs.
Refugee crisis - in pictures
Show all 27
With many of the people-smuggling networks now getting involved in other criminal enterprises such as narcotics trafficking, security services and governments need to redouble their efforts to shut them down, Mr Wainwright said.
"Criminals that were active in the drugs business or predominantly active in the people-smuggling business are now turning their hand to a bit of both and are finding that their contacts and networks and routes and methods of concealment can work in both fields."
The first challenge for governments and policing agencies was dealing with the scale of the new arrivals. If a million more people want to come to Europe this year, there is "a natural demand for these criminal services, which will therefore sustain a long-term growth model for this particular criminal sector", Mr Wainwright said.
"We're going to have to up our game in terms of dismantling this criminal infrastructure in a more successful way then we have done in the past," he added.
Countries in the EU needed to work on a coordinated response to the crisis, both at the entry point to the Union and in intelligence-sharing to target the criminal kingpins. Better planning of international arrest operations would help, he said, while police forces across the bloc needed to prioritise complaints related to smuggling.
And intelligence-sharing and cooperation between nations was all the more important, given indications that terror groups may be now exploiting the chaotic response to the refugee crisis.
Two members of the gang of Isis-affiliated attackers who killed 130 people in Paris on 13 November had apparently entered Europe using the Balkan migration route, and Mr Wainwright said it was crucial to make sure Greece was supplied with the technology, manpower and resources to carry out effective security screening of all new arrivals.
"When you put the external border of the EU under such strain that it has to cope with a million new arrivals at just a few of the external border points, then you can see how difficult it is to run a systematic and reliable screening process," he said. "This is the single most important thing to get right: to make sure that we can help the Greek authorities, who have been swamped."
Germany proposes fuel levy to fund European aid for refugees
Germany's finance minister, Wolfgang Schäuble (above), has floated the idea of a European tax on petrol to help finance the Continent's efforts to manage the crisis. The EU has struggled to find common ground. Germany and Sweden have allowed large numbers of refugees in but others are reluctant to share the burden.
"If the funds in national budgets and the European budget aren't enough, let's agree, for example, to raise a levy on every litre of gasoline," Mr Schäuble told the daily newspaper Sueddeutsche Zeitung. "Why not agree this at the European level if the task is so urgent?"
Meanwhile, the UN's refugee agency, the UNHCR, is to seek more resources for Turkey, the world's largest host of refugees, and has called for a "massive resettlement" of Syrian and other refugees within Europe.
"We will do whatever we can to help the Turkish government find additional resources for people living here under temporary protection to make their lives as good as we can," said Filippo Grandi, who took the helm at the UNHCR this month and met refugees at camps near the Syrian border.
AP
Join our commenting forum
Join thought-provoking conversations, follow other Independent readers and see their replies