Refugee crisis: Hundreds walking from Hungary to Austria after international trains blocked
Hungarian officials have stopped international train services in Budapest for three days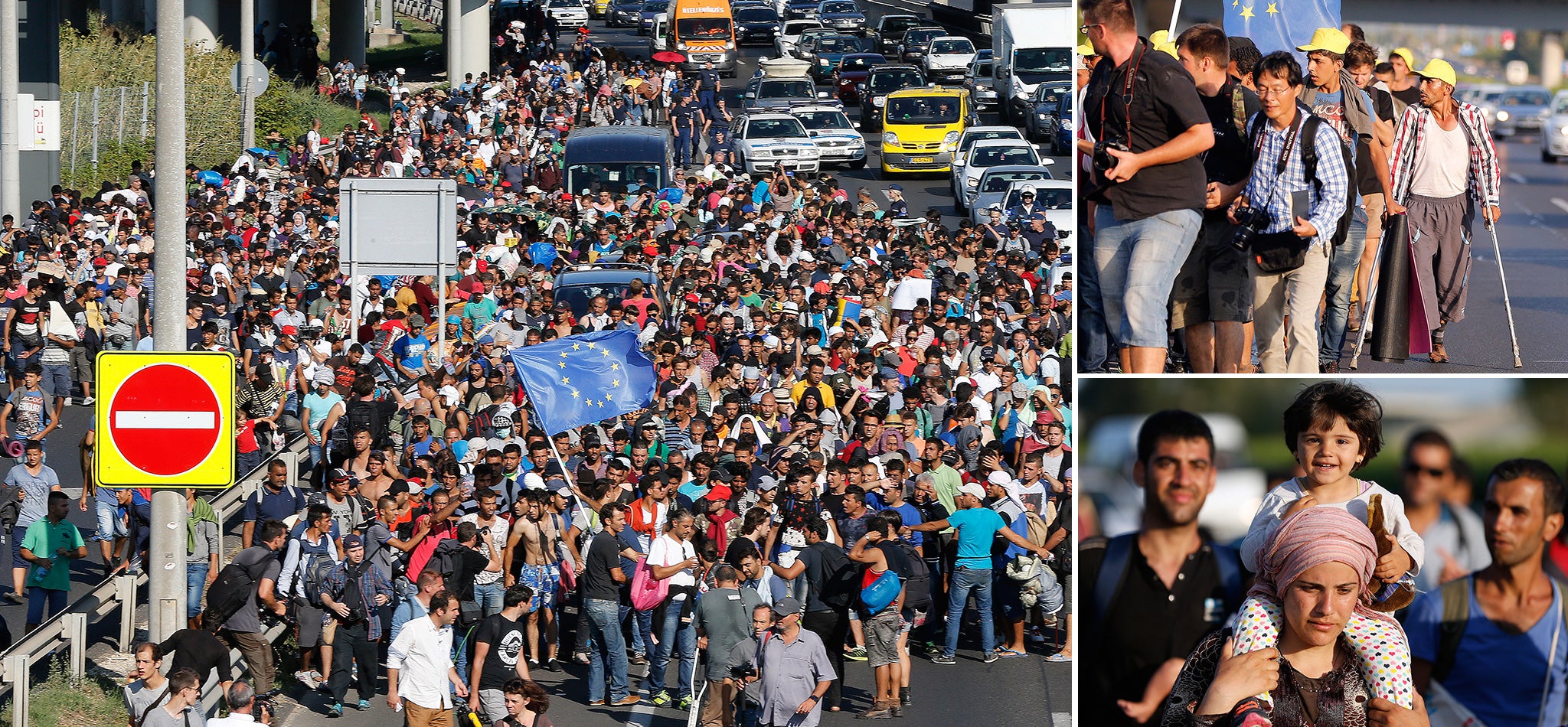 As Hungarian officials continue to stop refugees from boarding international trains from the capital, hundreds of people have taken matters into their own hands and embarked on the 135km (85mile) walk to Austria.
A nearly half-mile long line of people streamed from the Keleti rail station in Budapest onto a main road on Friday, while a separate group in Bicske overwhelmed police officers to flee from a train near a migrant reception centre, and headed west.
Images from the scene showed the desperate refugees, both young and old, clutching their belongings as they started the gruelling walk to Austria, from where many are expected to head to Germany.
Some were braving the walk barefoot, while others appeared determined to cross the border despite being in wheelchairs or on crutches.
The mass-exodus was in response to attempts by the Hungarian authorities to prevent thousands of people from boarding international trains, as refugees – many from war-torn Syria – sought refuge in western Europe.
Hungary has been a land entry point to the EU for tens of thousands of refugees. The situation in Hungary has gradually escalated since the beginning of the week, when officials started blocking refugees from boarding international trains from Keleti, and people were forced to camp outside the station.
Ticket-holders were allowed to board trains which they believed were heading to Austria and Germany on Thursday, but were stopped at the Biscke - the location of a camp for asylum seekers. There, police ordered passengers to register their applications before they could legally travel on to other Schengen-area countries.
Elsewhere in the town of Roszke, riot police used tear gas on refugees as they attempted to flee a camp on Friday. Some 300 people successfully broke out of the facility. Police officers said they later caught the group, Sky News reported.
Refugees march from Hungary to Austria
Show all 10
The government has argued that its crackdown is part of its attempt to implement the Dublin Regulation, which states that asylum seekers must be registered in the first country they enter. But many are keen to avoid remaining in Hungary, which is economically depressed and is more likely to return refugees to their countries of origin.
"The government of Hungary is very bad," said Morzar, who studied pharmacology at Aleppo's university. "The United Nations should help."
The country's parliament has responded to this week's turmoil by tightening its immigration rules, approving the creation of transit zones on the Hungarian border with Serbia where refugees would be kept until their asylum requests were decided within eight days.
Click here to sign The Independent's petition
Additional reporting by PA
Join our commenting forum
Join thought-provoking conversations, follow other Independent readers and see their replies